Journal News
From the journals: JBC
The gene–diet link in Type 2 diabetes. Scaffolding and structure in brain development. Antibody mimetics vs SARS-CoV-2. Read about papers on these topics recently published in the Journal of Biological Chemistry.
The gene–diet link in Type 2 diabetes
Diabetes affects one in five Americans and is the seventh leading cause of death in the U.S. While Type 1 diabetes stops the body from making insulin, Type 2 diabetes, or T2D, prevents the body from using insulin properly and from maintaining normal blood sugar levels. T2D is driven by insulin resistance, which prevents glucose uptake and as a consequence induces a chronic state of hyperglycemia. While overt diabetes involves beta-cell dysfunction and insulin resistance, researchers do not understand fully the cascade of events that leads to T2D.
Insulin resistance affects glucose uptake via glucose transporter type 4, or GLUT4, and is the primary defect preceding T2D. Austin M. Reilly of Indiana University and collaborators previously generated an insulin-resistant mouse model with human GLUT4 promoter-driven insulin receptor knockout, or GIRKO, in muscle, adipose and neuronal subpopulations. The results indicated that additional factors and events lead to overt diabetes.
In a recent article in the Journal of Biological Chemistry, Reilly and a team of researchers characterized the metabolic phenotypes of GIRKO mice fed a high-fat diet, or HFD, to identify other metabolic challenges required for T2D progression. These mice stayed lean on the HFD but developed other features of insulin resistance such as hyperglycemia, impaired oral glucose tolerance, dyslipidemia and increased inflammatory cues in the gut associated with HFD microbiome modifications and higher serum lipopolysaccharide.
Using these mice as a model for insulin resistance, the authors were able to show that an HFD increased T2D progression and that important gene–diet interactions contribute to this phenotype that might be used to develop more efficient treatments.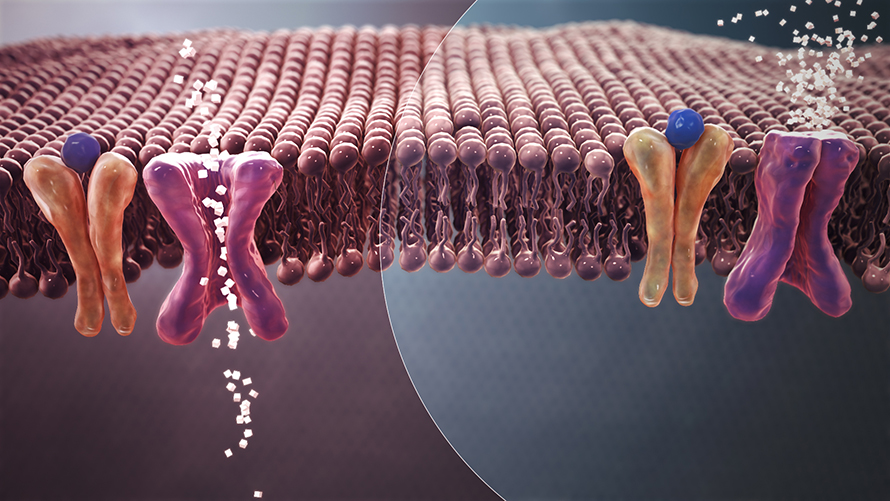 Wikimedia Commons
This illustration shows the mechanism of normal blood sugar absorption (left) versus insulin resistance in Type 2 diabetes (right).
Scaffolding and structure in brain development
Human neurodevelopmental disorders have a spectrum of phenotypic characteristics involving social interaction; intellectual disability, or ID; and cognitive and memory deficits. In ID disorders such as fragile X syndrome, Rett syndrome and Down syndrome, these traits are the result of developmental disruptions in different regions of the brain, including the hippocampus, which is essential for learning and memory.
Mutations in several genes located in the X chromosome associated with cognitive function can lead to ID and autism; however, many other genes involved, such as connector enhancer of KSR-2, or CNKSR2, remain poorly characterized despite evidence implicating their essential functions in brain development and disease. CNKSR2 is a scaffold protein involved in various intracellular signaling pathways combined with different molecular partners. Its expression is enriched in the brain, and mutations in this gene have been identified previously in people with ID and epilepsy; however, researchers understand little about its function.
In a recent article in the Journal of Biological Chemistry, Hidenori Ito of the Aichi Developmental Disability Center and colleagues identify a complex comprising CNKSR2 and the guanine nucleotide exchange factor cytohesin 2, or CYTH2, necessary for proper neuron development in the mouse hippocampus. They show that CYTH2 binding prevents CNKSR2 degradation. In addition, silencing of CNKSR2 or CYTH2 affects their cellular localization. CNKSR2- and CYTH2-knockdown cells exhibited characteristics of immature granule cells —potentially involving these proteins in neuron differentiation.
The authors conclude that CNKSR2 interaction with CYTH2 is necessary for proper cellular development within the hippocampus via the formation of a stabilization complex of these two proteins.
Antibody mimetics vs SARS-CoV-2
Designed ankyrin repeat proteins, or DARPins, are a class of antibody mimetics, an alternative to immunoglobulins, that recently have been used as research tool in protein therapeutics. DARPins' potential applications include protein engineering, protein–protein interactions and drug development. They are based on ankyrin repeat proteins composed of 33 amino acids flanked by N- and C- terminal capping repeats, and one single polypeptide chain is able to form a multispecific DARPin as opposed to four polypeptide chains in immunoglobulins.
The recent development of ensovibep, a multispecific anti-SARS-CoV-2 DARPin that entered clinical trials in late 2020, further enhances DARPins' potential. Ensovibep combines five DARPin domains on a single polypeptide chain in which two domains bind human serum albumin and three domains bind the SARS-CoV-2 spike protein. While the C-Cap of DARPins had been investigated in depth, the thermostability of the N-cap of DARPins had not.
In a recent Journal of Biological Chemistry article, Johannes Schilling of Athebio AG and collaborators used computer analysis and a rationally guided alanine scan to determine that position 17 of the N-terminal capping repeat plays a key role in overall protein thermostability. The authors report that the melting temperature increased by 8 C to 10 C when they replaced Asp17 with leucine, valine, isoleucine, methionine, alanine or threonine. They then transferred the Asp17Leu mutation to different backgrounds and showed that in all cases thermostability improved. This mutation, the authors suggest, could be partly responsible for the very high melting temperature (over 90 C) of ensovibep. The authors conclude that N-terminal capping repeats with increased thermostability could be useful for development of innovative drugs based on DARPins.
Enjoy reading ASBMB Today?
Become a member to receive the print edition monthly and the digital edition weekly.
Learn more
Get the latest from ASBMB Today
Enter your email address, and we'll send you a weekly email with recent articles, interviews and more.
Latest in Science
Science highlights or most popular articles