Blotter
ASBMB joins amicus brief
Society and other nonprofits raise concerns about racial profiling by federal investigators and prosecutors' attempts to criminalize administrative errors
The American Society for Biochemistry and Molecular Biology has joined an amicus brief filed Aug. 20 in federal court by the nonprofits Asian Americans Advancing Justice–AAJC and Asian Americans Advancing Justice–Asian Law Caucus.
The brief, submitted into the record in the case of the United States v. Feng Tao, provides evidence of racial profiling by federal investigators of Asian American scientists and raises concerns about federal prosecutors' attempts to criminalize what have been considered in the past administrative errors.
Tao, a tenured associate professor at the University of Kansas since 2014, was originally indicted in August 2019 on one count of wire fraud and three counts of program fraud. A superseding indictment on Jan. 15 charged Tao with two counts of wire fraud and one count of program fraud. Federal prosecutors allege that he failed to disclose to KU his affiliation with a university in China. Tao has denied wrongdoing.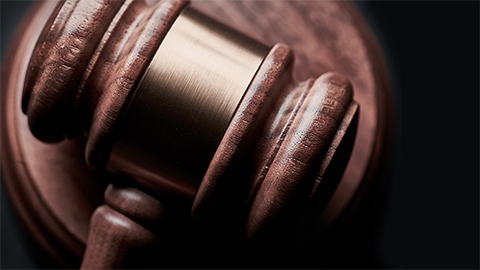 Tao's case is just one of hundreds brought in recent years by the U.S. Department of Justice against American citizens of Chinese heritage. The amicus brief points to both prosecution and sentencing disparities and attributes them, in part, to "politicized Anti-Asian rhetoric" and "scapegoating" that has ultimately influenced "decision-making, structures, and training at federal agencies."
The case against Tao
Tao, a chemical engineer, conducted research at KU's Center for Environmentally Beneficial Catalysis, which has contracts with the U.S. Department of Energy and the National Science Foundation.
In the indictment, the government alleges that Tao signed a five-year contract in 2018 with a talent program sponsored by the Chinese government and failed to disclose the agreement to his university, allowing him to maintain his existing position, to continue receiving a salary partly covered by federal funds, and to continue conducting research funded by the DOE and NSF.
Tao has denied signing a contract appointing him to a professorship at Fuzhou University and has denied defrauding KU or federal funding agencies.
John C. Yang, president and executive director of AAJC, told ASBMB Today that even when such disclosure violations do occur, "these have been administrative violations" requiring retroactive disclosures and sometimes institutional disciplinary action.
Tao's defense
Tao's defense lawyers argue that the DOJ is trying to criminalize what would in the past have been considered administrative errors so that it can show that its China Initiative is having results "without having to produce evidence of intellectual property theft or export control violations."
The DOJ's China Initiative is intended to counter Chinese national security threats by identifying and prosecuting people engaged in trade secret theft, hacking and economic espionage. The agency's website states that one goal is to "(d)evelop an enforcement strategy concerning non-traditional collectors (e.g. researchers in labs, universities and the defense industrial base) that are being coopted into transferring technology contrary to U.S. interests."
Yang said the initiative "puts pressure on prosecutors to look for cases to charge individuals with, and, as a result, you end up with charges which are not typically considered criminal economic espionage cases but ... administrates cases (that) escalate so that (the DOJ) can claim that they are fulfilling the mission."
The amicus brief
The amicus brief was filed just days after Tao's lawyers filed a motion asking the court to throw out the charges. Twenty-seven organizations and individuals, including the ASBMB, joined the brief.
It warns that "unwarranted and racially motivated investigations and prosecutions of Asian American scientists and researchers will result in irreparable harm to these professionals' reputations, careers, and livelihoods, and foment prejudice against Asian Americans more broadly."
It also characterizes the China Initiative as having a reach that "has become overbroad." It states: "While determining real security threats is necessary, the FBI and other government agencies should rely on real evidence rather than racial profiling and gross generalizations to create suspicion about an entire race or ethnicity."
The brief documents how the DOJ has increased pressure on universities and academic institutions to investigate Asian American scientists and has sought to criminalize conflicts of interest and disclosure violations.
Yang said the brief's co-signers are "trying to bring in some of the broader perspectives about what is happening nationwide with respect to the China Initiative (and) what is happening nationwide to Chinese American scientists.
"It's important to make sure that the court understands that this is part of what we perceive as a potential pattern and practice by the government. And it's not limited to this one individual case."
Funding agencies
The DOJ is not the only federal agency scrutinizing researchers' ties to China.
The National Institutes of Health has been investigating scientists with undisclosed ties to foreign governments since 2018. According to Michael Lauer, deputy director for extramural research, 93% of the 189 cases the NIH is investigating have ties to China. The vast majority of scientists under investigation are Asian or Asian American men in their 50s.
The National Science Foundation also has been investigating scientists suspected of violating the science funding agency's rules regarding foreign influence. The Office of Inspector General has reassigned, suspended or terminated funding for 16 to 20 scientists. All but two cases have ties to China.
Scientists wrongly accused
Prosecutors have abandoned several recent cases against American citizens for lack of evidence.
Sherry Chen, Xiaoxing Xi, Guoqing Cao and Wei Su all saw charges against them dropped after it became clear that prosecutors had insufficient evidence of wrongdoing. However, their careers still suffered.
Xi, the Laura H. Carnell professor of physics at Temple University, spoke to ASBMB Today about his experience. "At that time, I had absolutely no idea (the FBI was) targeting me until they showed up in the early morning at my house … (and) arrested me in front of my family and then charged me for having made a device for Chinese collaborators, which I never did."
Xi urges the scientific community to protect Asian American scientists from being wrongly targeted.
"You don't have to do anything wrong to become a target as long as you have collaboration with colleagues in China. And now ... if you have a relative or a friend you talk to in China, you could become a target. And that's very, very scary," he said.
Yang said the targeting of scientists with ties to China is likely to have lasting effects.
"There are scientists who have come to this country because they believe in the freedoms the United States has to offer," he said, "and yet, they are looking at the environment they're in now and wondering if this environment is that much better than (those of) the countries they came from."
Enjoy reading ASBMB Today?
Become a member to receive the print edition monthly and the digital edition weekly.
Learn more
Get the latest from ASBMB Today
Enter your email address, and we'll send you a weekly email with recent articles, interviews and more.
Latest in Policy
Policy highlights or most popular articles