Art
The Petri painter
To scientists, Petri dishes may be just another lab consumable. To artist Klari Reis, they are containers for vivid, mesmerizing creations.
In her early 20s, Klari Reis was diagnosed with the chronic immune disorder Crohn's disease. Reis was in London for art school at the time and eager to learn all she could about the disease and its treatments. Her doctor also happened to be a researcher at King's College London, and, noting Reis' determined interest, he invited her into the lab to view her blood cells reacting to immune suppressants and additives. Fascinated by the cellular structures and the bright nuclear stains she saw, Reis decided then and there to translate what was under the microscope into art.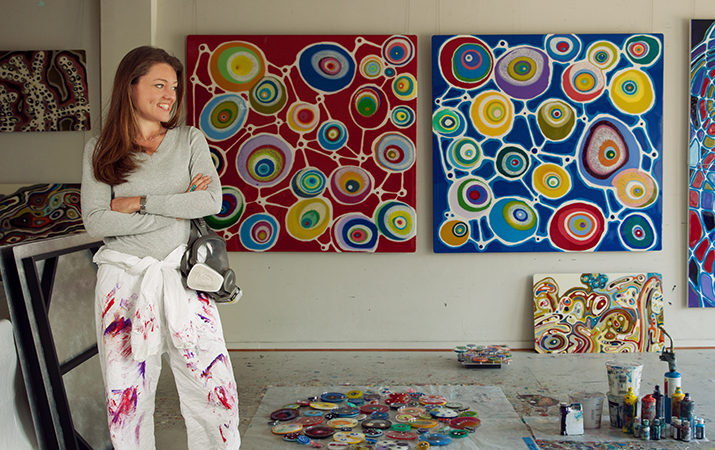 The artist in her San Francisco studio.
THOMAS KUOH PHOTOGRAPHY
Reis, who is now 38, already had been creating unique works by painting with epoxy polymer, a material similar to resin that commonly is used in the production of surfboards, high-gloss floors and cars and which gave her paintings a shiny, plastic appearance. As she considered fusing her novel method with explicitly biological subject matter, using Petri dishes to encapsulate the paintings seemed like a natural next step.
"When I started to paint biological images, I immediately thought that Petri dishes would be an excellent substrate or container for the paintings. It just took about four years of practicing and trial and error to get the composition of epoxy to work correctly within the Petri dishes," she says.
Reis' petri dish paintings evoke cellular processes.
Reis resembles a lab virologist when at work in her San Francisco-based studio. She dons an airtight coverall suit, gloves, a respirator and goggles before breaking out the epoxy. As she fills the Petri dishes with a combination of epoxy and a choice of paints, powders or dyes, the various chemicals react in a pushing, dividing, stretching and bubbling of bright hues that resembles mitosis or cell motility. The process is never quite the same, and taken together, her finished dishes reflect the expansive variety of life that can be viewed under the microscope.
Reis describes her dishes as "colorful and personal, yet approachable." Initially she thought the collection would be small, maybe no more than 150 pieces. But she says, "I just realized that I loved making them and I kept going, and I am still making them today!"
In 2009, Reis began the project "A Daily Dish," for which she unveils a new Petri dish painting each day on her blog of the same name (www.adailydish.com). The project was initially conceived to run for a year but Reis continued making the dishes and restarted the blog in 2013. She makes the dishes she posts in batches and prices them to sell individually or in groups. "I work on five to 15 at a time, and it takes about a week to complete," she says. All of this productivity allows Reis to exhibit the dishes together as larger installations. They've been hung in patterns of circles inside larger circles, as dancing waves, and as rising walls of color in public and private settings around the world.
In addition to her Petri dish collection, her portfolio includes pieces that seem to derive from a similar molecular starting point but are more systemic in nature. They resemble cells in a network communicating with other cells, highlighting the interconnectedness of living systems. In the collection "Street Anatomy," Reis recreated topographical maps of major cities. But instead of mimicking the grey grids cities appear to be from the air, "Each block ended up looking like a cellular form and the city looking like a bodily system," she says.
A topographical map from Reis' "Street Anatomy" collection.
ALL PHOTOS OF ARTWORK COURTESY OF KLARI ART
Over the past several years, Reis' ability to create works that represent the dynamic nature of living systems has garnered the attention of the scientific community. One of her paintings graced the cover of the journal Nature Chemical Biology, and biotech and pharmaceutical companies alike have requested custom works. In 2014, Reis was commissioned to create an expansive installation for the Life Sciences Building at Clemson University in Clemson, S.C., which features 600 Petri dish paintings and spans three floors.
Clemson art professor David Detrich is impressed with the science-meets-art intersectionality of Reis' work. "The fact that the installation embodies attributes of both disciplines is a thing of beauty in and of itself … There is an inherent beauty in the way the piece functions visually, but also conceptually and intellectually when we ponder the seeming disparities between art and science," he says.
Detrich imagines viewers of Reis' work will be challenged to step outside the comfort zones of academic divisions and begin to ask questions about the relationship of art to science. "The end run suggests that there is perhaps a seamless, coexistent connection between the two," he says.
Although Reis' art may challenge its viewers to explore a melding of these worlds, the artist herself is humble about the implications of her work. When asked why she thinks it is so appealing to researchers, she says, "(The paintings are) creative experimentation and hopefully give off that expression."
Join the ASBMB Today mailing list
Sign up to get updates on articles, interviews and events.
Latest in People
People highlights or most popular articles