Profile
Messages on bottles
A scientist and wine entrepreneur celebrates winemaking creativity through artfully designed labels.
Silvery grapevines under purple skies wrap around the label of a 2012 bottle of cabernet sauvignon. The label on a 2013 blend of sauvignon blanc and sémillon reads, "Rain or shine, I'm on your side," in bright hues of gold, pink and blue.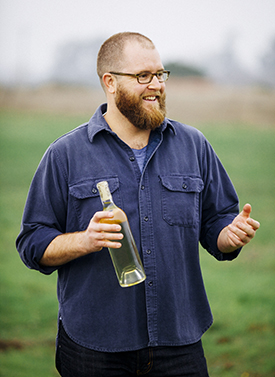 Corey Miller is a medically trained scientist and the founder of Bare Bottle.
All images courtesy of Corey Miller
Both wines are produced by Bare Bottle, a California-based wine company that believes what's on the bottle can matter as much to today's wine drinker as what's in it. The company teams winemakers with graphic designers to produce the visually arresting labels.
Given the emphasis on label artistry, it's surprising to discover that Bare Bottle is the brainchild of a medically trained scientist. Corey Miller is a self-proclaimed wine geek who set out to become a physician-scientist. But a stint in San Francisco that cemented Miller's commitment to research also triggered an unexpected foray into the wine industry.
Unexpected perks of doing science
Miller says his father, who also was a physician-scientist, handed down a love for science and medicine. "He showed me that the two paths could influence each other. He laid out a great example," Miller says.
Miller started his research career as a summer student examining chemical mechanisms in an organic chemistry lab. But he soon found doing science for science's sake was not enough. More interested in thinking about biology from the perspective of disease, he completed a bachelor's degree in biochemistry at the University of Michigan and then pursued an M.D./Ph.D. in the immunology department at the University of California, San Francisco.
Time at UCSF brought revelations. After the first two years of medical school, he started doctoral work on T-cell biology and found that unlike clinical practice, academic research offered him a greater degree of creative freedom. The relaxed pace of research also afforded him the time and opportunity to reignite one of his longtime interests – wine.
The San Francisco Bay Area is the epicenter of American wine culture. It contains two major wine regions, Napa Valley and Sonoma Valley, both located a short driving distance from San Francisco in the region's North Bay. It is also home to a deep market of local wine connoisseurs and hobbyists that extends throughout Northern California. Miller tapped into this community and found some professionals in the area's East Bay. "There are a number of wineries in Berkeley that operate as cooperatives," says Miller. "It is a collaborative environment with a mix of hobby winemakers and professionals."
Miller approached the cooperatives to learn about the basics of winemaking. And that's when things fell into place. "I realized that all the biochemistry and microbiology courses I took as an undergraduate and during medical school prepared me equally well for a career as a winemaker. That realization gave me the hubris to believe I could make good wine," says Miller.
But as he learned from his first winemaking attempt, there's more to great wine than just mixing and waiting. Reminiscing about that not-so-stellar first vintage, Miller says, "It was a disaster. The wine turned out thin, flavorless and horribly undrinkable."
Like any seasoned scientist, Miller sought to understand the disaster by analyzing the variables. He found that a large batch volume and greater quantities of yeast were necessary to keep the temperature high enough to extract maximum flavor from the grapes. Soon, he became proficient enough to sell his own wines to retail stores and restaurants in the Bay Area. The venture was not commercially successful, but he gained insight into the craft of winemaking and the industry and became even more intent on making a mark in the world of wine.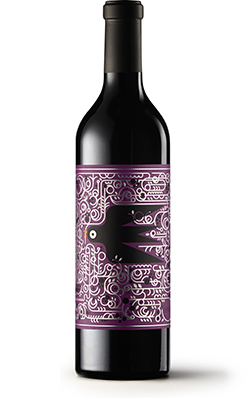 "Wine meets design"
The general perception of wine is that it's highly technical and requires focused study and special knowledge to fully appreciate. But Miller saw wine and winemaking as a creative endeavor that could be accessible to all. While winemakers may adhere to techniques and parameters, they also push boundaries of the craft through experimentation, analysis and imagination. In the wine label, Miller saw a bridge that could showcase that creativity while also providing a visual story.
It was this idea of pairing design with wine that provided the foundation for Bare Bottle, which Miller first began working on in 2012 during his graduate school years. "I want to bring the winemaker out from behind the winery and tell a story about their creative process through an equally original label," he says.
Finding funding was no easy task. Early on, Miller's biggest hurdle was convincing potential investors that he had what it takes to run a wine company, especially given his professional background. "It was challenging to adequately articulate Bare Bottle's concept to investors and prove that I, a scientist, am the right person to take this concept to market," he says.
Miller says he was lucky that San Francisco has a large startup culture and many investors looking for the next big idea. After finishing his M.D./Ph.D. in 2014, Miller raised the seed capital he needed to launch Bare Bottle.
For each release, Miller works with his team to pair a winemaker with a designer. The winemaker creates a custom blend, and the designer tastes and draws inspiration from the wine. The result is an evocative piece of original art that shares a visual interpretation of a tasting experience.
Bare Bottle released its first two wines in the summer of 2015. True to Miller's original vision, Bare Bottle's website also features audio interviews and photo-essays of the winemaker and designer that offer glimpses into each maker's unique creative process.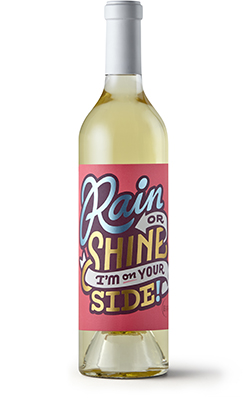 Looking to the future
Miller is now a postdoctoral scholar at UCSF where he studies T cell development and the thymic stromal cells that are responsible for negative selection and immune self-tolerance. Juggling a research career with the responsibilities of a startup is daunting. Despite the challenges, Miller believes that young scientists should be open to entrepreneurship, which can be an equally fulfilling way to use their training.
"In my view, scientific training helps you identify interesting questions and problems that other people don't see. That is also the foundation of entrepreneurship," says Miller. And considering the precarious nature of academic funding, Miller says entrepreneurial success also can provide a certain degree of financial buffer and independence.
With science and winemaking eating up most of his days, Miller has little time to unwind. But he says he doesn't need to because he finds catharsis in working on completely different projects. "For me, balance comes from the fact that, on average, one of the two things I'm focused on will be going well at any given time," he says. "In the end, if you are doing what excites you, you shouldn't be so unhappy as to need mental recharging and escape."
So what does Miller's ten-year plan look like? He laughs out loud and says, "I don't have one. There may come a time when I have to grow up and pick either science or Bare Bottle. But for now, I am excited about working on both."
After this story went to press, Corey Miller informed ASBMB Today that his company had been rebranded. Its new name is Barrel + Ink.
Join the ASBMB Today mailing list
Sign up to get updates on articles, interviews and events.
Latest in Careers
Careers highlights or most popular articles