Jobs
Combining project management and people management in industry
Isha Dey's job at Thermo Fisher Scientific combines the three things about which she is most passionate: cell biology, science communication and people.
Over the past five years, since Dey earned her Ph.D. in physiology and biophysics, she has risen through the ranks at the company and worked on research projects that bring people with different scientific training and expertise together to work as problem-solving teams.
"What I learned here is that no question is a stupid question," she said. "The diversity of backgrounds and diversity of knowledge is something that I really appreciate."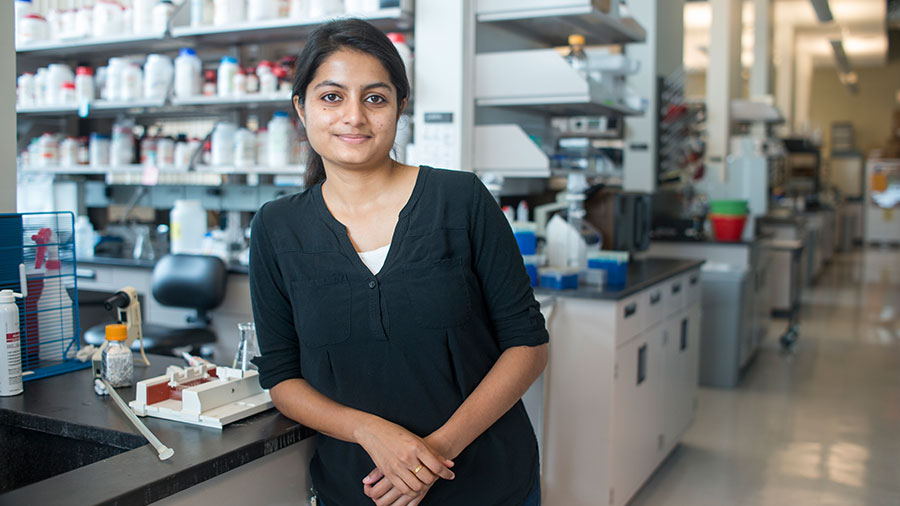 Courtesy of Isha Dey
Dey studied microbiology as an undergraduate at St. Xavier's College in and biochemistry as a master's student at the University of Calcutta, both in India. While both degrees involved cell biology, her master's work focused more on human cells and signaling pathways.
She went on to earn her Ph.D. at the Rosalind Franklin University of Medicine and Science in Chicago. There, she used cell-culture techniques, including 3D cell culture, to study enzyme expression regulation of human lemur tyrosine kinase 2, an enzyme involved in regulating fluid transport across the intestine.
After completing her doctorate, Dey joined Thermo Fisher as a scientist II in Bengaluru, India. She was promoted in 2021 to her current position, which requires both project management and people management.
All in a day's work
Dey's team develops applications for company products, such as cell culture plastics and media, cancer cells, stem cells, primary cells, advanced cell models, tissue engineering and protein expression workflows.
This work requires bench experiments, analyzing and documenting data, and providing technical and application notes on the procedures and products.
For example, Dey and her team once developed protocols for generating 3D cancer spheroids. These are physiological models for the study of cancer cell behavior and drug discovery on ultra-low-attachment cell-culture vessels for high-throughput assays. The protocols are available on the Thermo Fisher Scientific website for use by any researcher.
The team also once developed a method for mimicking bone metastasis of cancer in vitro using a specialized cell-culture vessel called cell culture inserts. The method was published in a peer-reviewed journal.
Dey also interacts directly with Thermo Fisher Scientific customers, providing troubleshooting assistance and workflow solutions. When a new problem arises, she said, she and her team of scientists from different fields meet to suggest solutions.
"I really enjoy interacting with people and talking about their work," she said. "My team members have come with different experiences, so sometimes when we have a problem each member of the team brings their own angle of looking at the problem."
Initial skill development
While her doctoral studies did not explicitly prepare her for working in industry, Dey said, she developed many skills needed for taking charge of both projects and people.
"There are common things required everywhere when you do research — like troubleshooting, problem solving, project planning," she said. "In graduate school, it's essential to nurture these skills along with developing technical skills."
When it comes to project planning and execution, Dey noted several differences between being a graduate researcher and being an industry scientist. When you are a graduate student, she said, you are often the main person responsible for completing your project, but you're not necessarily the leader of a group. Her role today, she said, is more like that of a postdoctoral researcher.
"A postdoc takes the lead on executing a project, and it's the same for my role as well. When you do project execution, the team lead has multiple people of different skillsets working," she said. "This requires efficient delegation of responsibilities. Skills like project planning are not specifically corporate."
During her graduate studies, Dey became interested in science communication. She found that she had a passion for learning about the work being done by scientists outside of her field and enjoyed presenting her data in a way that was understandable to a broader audience.
To hone her written science communication skills, Dey became a contributor for ASBMB Today in 2016 when she was still a Ph.D. student. Over the years, she's written about two dozen articles about new research findings, award-winning scientists, research conferences and science careers.
"The Ph.D. does help you learn a lot of technical things, but what I really enjoyed during my Ph.D. was science communication," she said. "That was also one of the motivations for me to write for ASBMB."
Written science communication, she said, is a skill she uses a lot in her work today. For example, she often writes protocols and technical notes for Thermo Fisher Scientific products and procedures developed by her team.
Becoming a leader
When she was interviewing for her first position at Thermo Fisher Scientific back in 2018, Dey was asked how she imagined herself in five years. She said that saw herself as a leader of a scientific team.
"I was very clear that I wanted leadership responsibilities and people-management responsibilities," she said.
To gain the people-management skills she would need to become a manager, Dey applied a learning technique called 70/20/10. When you want to learn something using this framework, 70% of the learning comes from working on the job, 20% comes from watching the people around you, and 10% comes from formal training.
Dey said that she was fortunate to be surrounded by good leaders in her company who served as models for her.
Her current role includes supporting the professional-development goals of her team members.
Time management and time off
Thermo Fisher Scientific is a multinational company with research-and-development sites across the globe, and all those sites collaborate with one another. Dey's team works on India Standard Time.
"When you are in a collaborative work environment, that requires regular meetings to discuss projects," Dey said. "I won't say I have a 9-to-5 job, because that doesn't work in our case. We are doing global business. But I do have a very good work–life balance here."
Instead of coming home from work and continuing to think about tasks there, Dey said, she turns off the work part of her brain and relaxes.
She also uses stress-management techniques and takes vacation time.
She said this keeps her mind sharp when it is time to work again.
Preparing for an industry career while in grad school
Dey said that her team includes scientists who do not have doctoral degrees but that getting a Ph.D. is certainly good preparation for an industry career.
For example, she offered, trainees can work on developing their critical thinking skills by reviewing both failed and successful experiments that they perform. After all, she said, the protocols that she and her team develop are created to be the most efficient for the scientists using them. Optimizing your own protocols is good practice.
"If you take 10 minutes after every experiment and review, it helps you create a more efficient experiment," she said.
She recommends asking yourself: "Was there anything I could have done better, or was there anything I could have done faster?"
Overall, Dey said, a career in industry is not out of reach of any scientist, even if they feel they do not have the professional training needed.
"A lot of times, when we talk about industry research and what is required for it, we get very intimidated," she said. "If you love doing research, there is nothing to be intimidated by."
Enjoy reading ASBMB Today?
Become a member to receive the print edition monthly and the digital edition weekly.
Learn more
Get the latest from ASBMB Today
Enter your email address, and we'll send you a weekly email with recent articles, interviews and more.
Latest in Industry
Industry highlights or most popular articles