Defying Stereotypes
'More than pretty'
Former Miss America Nina Davuluri confronts stereotypes about beauty, ethnicity and intelligence
Beauty. Glamour. Style. These are the characteristics normally associated with beauty queens. And make no mistake: Miss America 2014 Nina Davuluri has each of them in abundance. But she also is smart as a whip, with a degree in brain behavior and cognitive science and a passion for STEM education. These qualities have helped make Davuluri one of the most visible examples of how misleading stereotypes can be.
COURTESY OF BRUCE BOYAJIAN/
THE MISS AMERICA ORGANIZATION
Nina Davuluri
"Science was pushed in my household since I was very young," says Davuluri, a Michigan native of Indian descent. "It was something I really excelled in." As the daughter of two physicians, she concedes, "it was just my mindset that I was going to be a doctor because that's what my parents told me."
Helping to motivate her were the teachers who took the time to foster her interest in science and math. Davuluri has particular affection for her fifth-grade teacher: "I was struggling with grasping a concept in a math class," she recalls. "She took the time after school to sit down with me and help me through that process. It was the first time I remember having a breakthrough moment when something just clicks in your brain and the lightbulb goes off and you go, 'Oh, I get it!'"
Outside of the classroom, Davuluri's determined nature drew her to a number of competitions, starting with a dog/owner lookalike contest that she won when she was in third grade. When she was 16, Davuluri started competing in beauty pageants. She was named Miss Michigan Outstanding Teen in 2006 and came in second in the 2007 Miss Teen America competition, collecting enough winnings to support her undergraduate education at the University of Michigan, from which she graduated in 2011.
Motivated by the allure of scholarship money that could help support her pursuit of an advanced degree in medicine, Davuluri returned to pageantry competition in 2012. After being named Miss New York 2013, she was selected as a contestant for the Miss America pageant. On Sept.15, Davuluri beat out 51 other competitors to become Miss America 2014.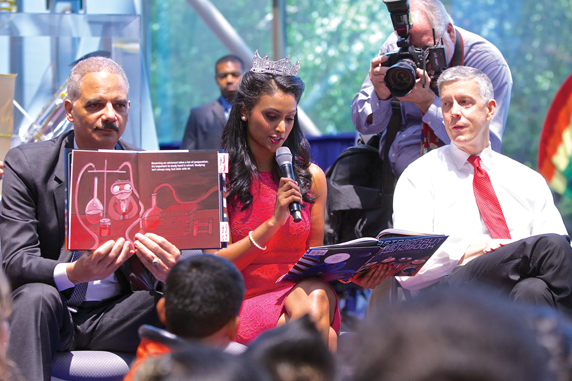 COURTESY OF THE U.S. DEPARTMENT OF EDUCATION
Then-Miss America Nina Davuluri at an event with U.S. Attorney General Eric Holder, left, and U.S. Secretary of Education Arne Duncan.
However, after being crowned, Davuluri was subjected to a slew of disparaging comments about her ethnicity. Never one to back down, she faced her critics head-on, establishing her personal Miss America platform as "Celebrating diversity through cultural competency." "The biggest thing I realized is that many of these remarks aren't necessarily meant to be malicious but are simply a factor of ignorance," she explains.
The goal of her platform is to focus attention on "understanding everyone's beliefs and backgrounds and finding that common ground so we can all communicate in an open, honest and respectful manner," says Davuluri. "This is something I've essentially been promoting my entire life."
There She Is, Miss America
There she is, Miss America
There she is, your ideal
The dream of a million girls who are more than pretty
Can come true in Atlantic City
For she may turn out to be the Queen of femininity

There she is, Miss America
There she is, your ideal
With so many beauties she took the town by storm
With her all-American face and form

And there she is
Walking on air, she is
Fairest of the fair, she is
There she is – Miss America
Credit: Bernie Wayne
Davuluri also has used her spotlight to advocate tirelessly for STEM. She has traveled more than 200,000 miles in the past year, giving dozens of speeches promoting science, technology, engineering and math at middle and high schools, lobbying members of Congress and appearing at high-profile events with the likes of President Obama and U.S. Secretary of Education Arne Duncan. "I'm out there meeting with people, advocating for causes that are very important," she points out. "The general public sees that one night of the competition" on TV, she laments. "They don't see what we do the other 364 days of the year."
Davuluri insists she is not any different from her fellow contestants. "A wide array of talent is on the Miss America stage," she says. "We really do go on to become doctors and lawyers and physicians and engineers." To support the effort of these women in their scholarly pursuits, the Miss America organization established the Miss America Foundation STEM Scholarship in 2013, which Davuluri is helping to underwrite with a portion of the $92,000 she won from the pageant.
Davuluri's connection to education came full circle when she gave a speech last year at her alma mater, St. Joseph High School in Michigan, where she got to thank her former teachers and "tell them how much of an impact (they had)," she says. "I can honestly say I wouldn't be as good of a Miss America if it weren't for my education." Now a role model herself, Davuluri has helped ensure that the next time a little girl hears the line in the pageant's theme song about how Miss America is "more than pretty," she'll be able to believe it.


Enjoy reading ASBMB Today?
Become a member to receive the print edition monthly and the digital edition weekly.
Learn more
Get the latest from ASBMB Today
Enter your email address, and we'll send you a weekly email with recent articles, interviews and more.
Latest in People
People highlights or most popular articles