Defying Stereotypes
A curious mind
Once a scientist and now a bestselling romance writer, Stephanie Laurens says curiosity drives both professions
What if?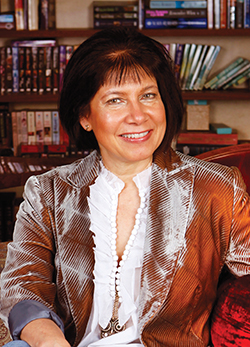 Stephanie Laurens
That is the question that has driven Stephanie Laurens through her entire career. Asking "what if?" helped Laurens develop her passion for science as a kid. Asking "what if?" led to her transition from running a lab to becoming a romance novelist. And asking "what if?" has been the central starting point for each of the more than 50 novels she has written over the past 20 years, 32 of which have been on the New York Times bestseller list.
By continually exploring new territories, Laurens has chartered an unusual career path to become one of the most successful romantic fiction authors today.
As a preteen in Australia, Laurens showed an aptitude for math and science, so teachers encouraged her to follow the science trajectory. She got a bachelor's degree from Monash University in Australia with honors in immunology followed by a Ph.D. in biochemistry with a heavy leaning toward immunochemistry.
After a four-year stint at the Imperial Cancer Research Fund in the U.K. in the early 1990s, Laurens, her husband and two daughters moved back to Australia, settling in Melbourne, where they reside currently. Laurens became the head of an oncogene research laboratory at the Peter MacCallum Cancer Centre.
But she soon grew dissatisfied with the work. In desperate need of a break from the grant proposal she was working on, Laurens went to pick up a historical romance novel to take her mind off of science for a while. However, she discovered she had read all the ones set in her favorite era, the Regency period of British history (1810 – 1822).
So she went home and began to write her own novel simply for her own enjoyment. "It wasn't intended for publication at all," Laurens remembers. "It was purely for me."
But it turned out to be not for her enjoyment alone. At her mother's suggestion, Laurens sent her manuscript to a publisher. The result was "Tangled Reins." With that, Laurens had stumbled upon the beginnings of a new career, one that she kept as a hobby while maintaining her position as a researcher.
During that time, Laurens was forced to keep her novel writing quiet among her scientist colleagues, because "nobody would have believed it, quite frankly," she says. "I was so entrenched in the science hierarchy [that] it would have been a shock to most people." Laurens even wrote under a pseudonym, a practice which is common among English writers.
But she was getting buried under grant writing and committee work and not getting much opportunity to work at the bench. "That was the point where I sat back and thought, 'Do I really want to stay in [science] for the rest of my life?'" she says. "I decided no, I didn't." When a round of cost cutting began at the institution where Laurens was working, she took a severance package and embarked on her new career as a writer of romance novels full time.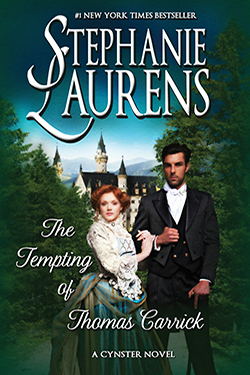 Laurens says that her skills as a scientist are always at work behind the scenes in her novels. The abilities to research and organize information have been crucial in constructing her novels. "My husband often laughs when he sees how organized my writing is in terms of the analysis that goes behind a plot," Laurens says. "I'll graph certain things like emotional relationships. You see intersecting sine curves."
Furthermore, Laurens' science background played a key role in helping her to develop the kind of financial astuteness required to translate her part-time hobby into a full-time business. "I had a patent which came out of my research in London that paid out royalties for 25 years," she remarks. This experience made Laurens keenly aware of the long-term financial gains from intellectual property, and she made sure she got the same reward for her writing.
When scientists find out she was once one of them, they often ask Laurens for writing advice. While she mentions the need for every author to find his or her own style and voice, she believes even more important is that every writer be a reader first.
"A lot of scientists actually are not readers. They think they have a book in them, but they haven't actually read enough to get a feel for what the audience wants," she says. "You have to be able to write something that other people want to read. If you're a big reader, it's much easier because you write for yourself, which is what I did."
Laurens points to her own interest in reading historical romance set during the Regency period, where she bases the vast majority of her novels. Right now, she is outlining a series of four books called "The Adventurers Quartet" where much of the action takes place in West Africa in 1824. "I'm having a marvelous time researching," says Laurens. "I spent a lot of yesterday on the Internet searching through all sorts of old maps of Freetown, Sierra Leone … I've learned all about schooners and the very early precursors of clipper ships and how their riggings were, how the masts were set, and how fast they went."
Despite having left behind the world of scientific research, Laurens actively encourages young people to consider a scientific education. "To me, a science training is possibly one of the best trainings you can have," she says. It is "amazing how adaptive scientists can be." The inherent curiosity and the ability to learn the skills needed to answer a question or solve a problem are assets in both science and writing, claims Laurens. "I think it all comes back to that curious mind."
Enjoy reading ASBMB Today?
Become a member to receive the print edition monthly and the digital edition weekly.
Learn more
Get the latest from ASBMB Today
Enter your email address, and we'll send you a weekly email with recent articles, interviews and more.
Latest in People
People highlights or most popular articles