Health Observance
The doctor told him, 'Go live your life'
Stuart Baum pivoted from plants to patents and trademarks after being diagnosed with multiple sclerosis as a postdoc
Many graduate students, especially doctoral students nearing the end of their degree, may feel panicked about the prospect of leaving school. The search for a full-time career becomes more daunting when the student is marginalized by their gender, their race or their disability status. For marginalized people, the big question "Who will hire me?" isn't the only one you have to answer; maybe an even bigger question is "Where do I have the ability to work?"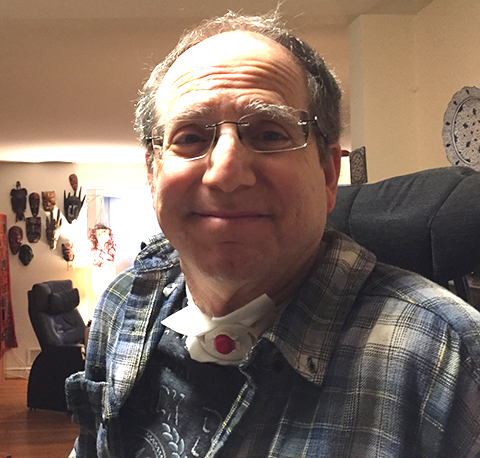 Courtesy of the Baum family
Stuart Baum works for the U.S. Patent and Trademark Office. He earned his Ph.D. in plant development from the University of California, Davis.
Always on the lookout for career paths that are not tenure-track professorships, I leapt at the opportunity to speak with Stuart Baum, who has a Ph.D. in plant development and works as a federal patent examiner. Stuart is the father of my partner and the only person with multiple sclerosis, or MS, that I know. His career calls on the knowledge he gained during his doctorate, which can be something of a rarity for scientists who leave their field.
A path to plant science
Stuart had a nontraditional path through school even before his MS diagnosis. He was born the youngest of three in Cincinnati, Ohio, in February of 1957 and lived in Cleveland for most of his childhood. His family briefly moved to Israel, where he completed first grade, before returning to the United States.
After high school, Stuart considered moving to Israel to live with his parents, who had left America permanently after he graduated. Instead, he bounced around between jobs in Wisconsin and California for five years before enrolling in Santa Rosa Junior College in 1981. Stuart became a horticulture major after a conversation with a college adviser. Stuart recalled, "Almost verbatim, I said, 'I used to live above a flower shop.' And (my adviser) said, 'Oh, you like plants? OK, horticulture.'"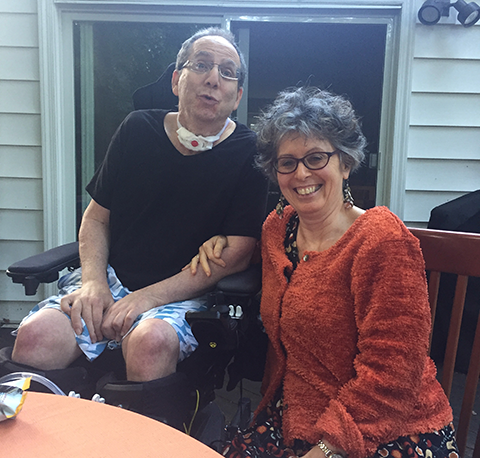 Courtesy of the Baum family
Stuart Baum met his wife, Noa, in Israel more than 30 years ago when he was pursuing his master's degree in plant development.
Despite the unconventional start, Stuart enjoyed a botany class he took, which was more theoretical than the practical horticulture classes. "It was because of my (botany) instructor I went to Davis," he said. He completed a Bachelor of Science in plant development at the University of California, Davis, and then moved briefly to Tel Aviv, Israel, to earn his master's degree, also in plant development.
In Tel Aviv, he met Noa, who is now his wife, a professional storyteller and award-winning author, through a family friend. "(Noa) usually went out with poets and authors and creative people," said Stuart. Noa wondered what she had in common with him until she remembered the ailing plants on her balcony. She asked him for advice, and it began a connection that has lasted more than 30 years. Their house and yard are full of plants to this day.
A frightening diagnosis
Stuart and Noa moved to America in 1990 when Stuart began a doctoral program in plant development at UC Davis. He studied developmental changes in root apical meristem architecture during plant ontogenesis using the model plant Arabidopsis thaliana. His dissertation study provided data to construct a three-dimensional model of the Arabidopsis meristem that described its dynamics.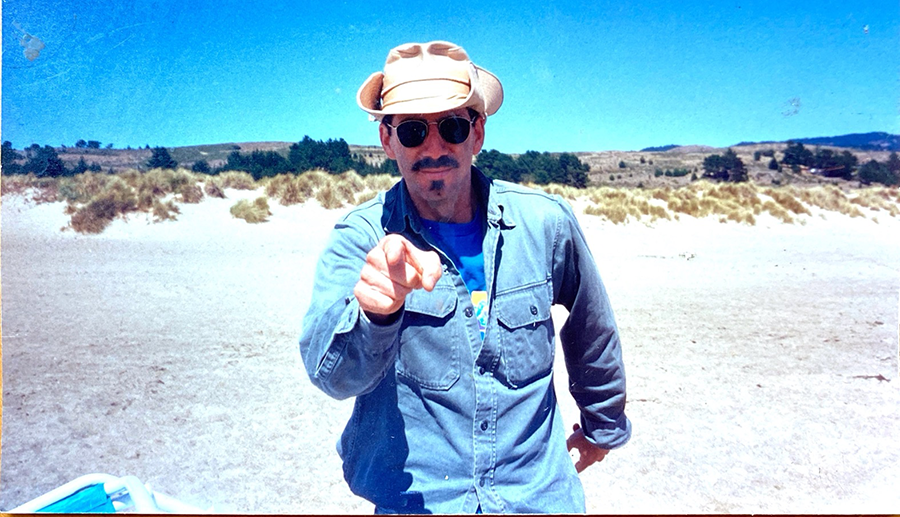 Courtesy of the Baum family
Stuart Baum in 1996, around the time he first began having symptoms of what he later learned was multiple sclerosis.
The Baums had their first child in 1991 and their second in 1993. Stuart graduated with his Ph.D. in 1996 before starting a postdoctoral position, also at Davis. He had planned to continue his career in academia until, in the mid-1990s, he started to experience numbness in his feet.
Stuart saw a doctor who dismissed his concerns and sent him on his way. He did not get any real answers until he was nearing the end of his postdoctoral position. "It wasn't until '98 … that I went back, and instead of being seen by a doctor I was seen by a nurse practitioner," said Stuart. "She was the first one who said, 'This is a nerve issue. It may be nothing, but why don't you go to a neurologist?'"
When he did, Stuart asked the neurologist what he thought the problem was. The doctor replied, "My first guess is multiple sclerosis."
A few months later, that guess was a confirmed diagnosis. MS is an autoimmune disease that damages the nerves, causing numbness or paralysis that can worsen over time. Even today there is no specific laboratory test. But Stuart's MRI had revealed plaques in his nervous system that are a calling card for active MS. He was 41.
When he asked the doctor what he should do next, Stuart said, "He told me, 'Go live your life.'"
The young Baum family had been planning to move back to Israel since they had left almost a decade before, but it seemed they would have to stay in America for the foreseeable future. "The only thing we knew was that there are two things that make MS worse," said Noa. "Heat and stress. Going back to Israel became really scary, because we knew there would be a lot of heat and stress there, and the job he was offered didn't have a lot of stability."
Now, Stuart had to make a decision. Finding a stable job with enough flexibility to accommodate his disease and a large enough salary to support a family might mean that his science had to take a backseat. Despite his narrowing career options, Stuart said, "I wanted to do something where I could use my science knowledge."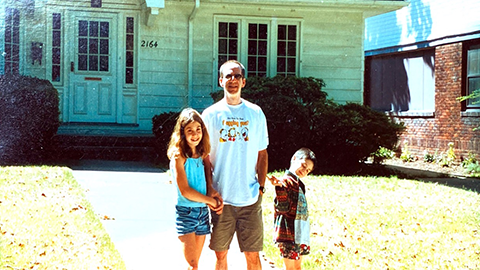 Courtesy of Baum family
Stuart Baum with his children, Maya and Ittai, in 2001.
Luckily, a conversation with a graduate student in his postdoctoral lab gave him an answer. Stuart said it was clear that this student didn't want to do bench work; when Stuart asked him what he did want to do, the student mentioned intellectual property. "He talked to me about it, gave me an article, and I started looking at what options I had," said Stuart.
A lawyer who worked at the Office of Technology Transfer at UC Davis told Stuart that a job at the United States Patent and Trademark Office in Washington, D.C., would be a good fit for a scientist, because they could easily train him in patent law. It was much harder to train law professionals in science.
"A couple of months later, I saw an ad for a plant developmental biologist at the Patent Office," Stuart said. "And I said, 'That's my job.'"
A career at the USPTO
For the past 20 years, Stuart has worked as a patent examiner for the United States Patent and Trademark Office. As his disability has progressed (he used a walking stick in the early 2000s and uses an electric wheelchair today), the patent office has been accommodating.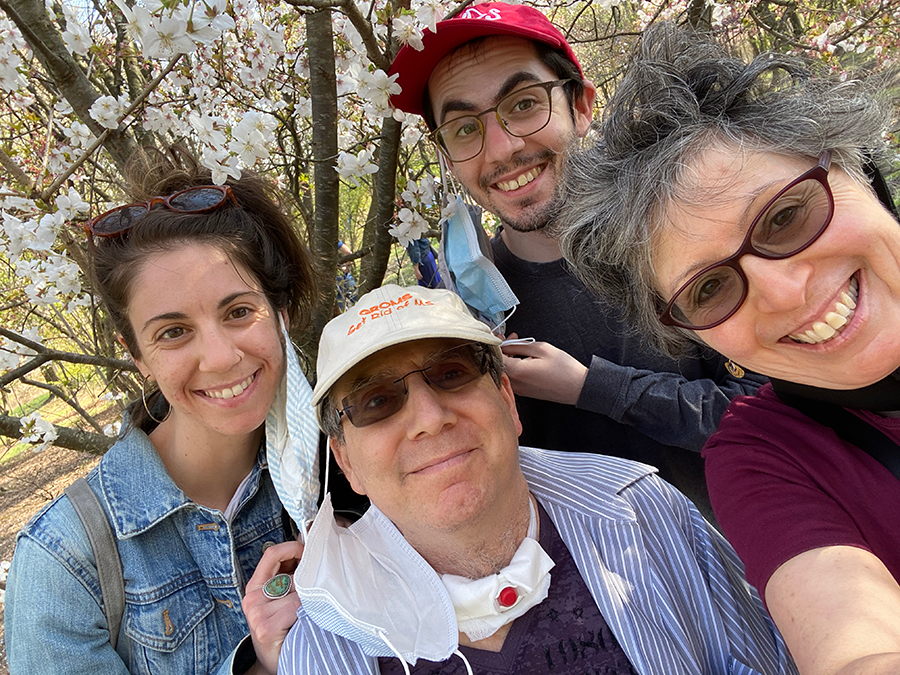 Courtesy of the Baum family
The Baum family in April 2021. From left: Maya, Stuart, Ittai and Noa.
Stuart examines patent applications for new varieties of soybeans, beans and corn from companies such as Pioneer and Monsanto. He also covers cases where the patent applicant has transformed a plant with novel DNA. Although he technically has left the research field, the job requires that he keep on top of the latest in science and in law. "Initially, I remember doing development, but as the science matured new topics were coming in," Stuart said. "Now I'm doing DNA replication and parthenocarpy, but also some other bizarre cases that I was never trained in. What I was trained in was how to go about doing research."
Each case requires a staggering amount of background research. To me, it seemed to mirror the experience a doctoral student has during their first few years of graduate school. Patent applicants send a list of relevant articles, but Stuart often does additional reading. He had to learn early on in his career that breadth sometimes has to be sacrificed for time. "I think of it as an intellectual sweatshop," Stuart said of the expected biweekly caseload. "The most important bit of advice one of the instructors gave me at the very beginning was to do the best job you can in the time allotted."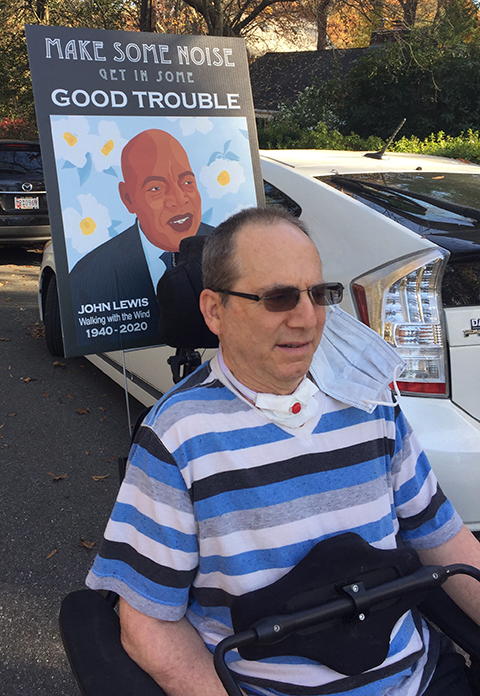 Courtesy of the Baum family
Stuart Baum decked out his motorized wheelchair during election season in 2020.
The patent office has strived to provide reasonable accommodation for Stuart's physical disability, he said. After transitioning from paper files and applications to digital copies, the patent office started a partial work-from-home program in 2005 to attract workers who could not afford to live in the Washington, D.C., area and did not want to commute over an hour in some cases. Workers had to come in occasionally to the office, where they reserved a place to work by the hour.
"When I started (that work arrangement) in 2007, you had to come in for at least an hour a week," Stuart said. But his disability and distance from the office made the commute unfeasible. Instead, the reasonable accommodation made for Stuart was that he used one hour of sick leave per week instead of coming in. "I gladly gave that up," Stuart said. "To go in for that one hour, it was at least an hour spent commuting one way, and at least an hour, if not more, on the way back!"
As Stuart's physical challenges progressed, the patent office also provided voice recognition software and a touchpad for Stuart to use at home. Now he works at home on a full-time basis, with a flexible schedule that enables him to work evenings and weekends because it is difficult for him to sit at his desk for long stretches.
During the pandemic, many workers with disabilities found it much easier to work from home after commuting was discouraged, both because work-from-home accommodations were more available and because commuting is stressful and time-consuming for nondisabled people and disabled people alike. Even in 2005, the patent office cited the quality-of-life increase that working from home could bring employees. As some employers transition back to office work, I think it is important to remember that while commuting may be inconvenient for nondisabled people, it is often impossible for disabled people.
Stuart gave me some good advice at the end of our talk that is applicable to disabled and nondisabled scientists alike. "When I decided to look into this, I just talked to people," Stuart said. "It was actually a pretty good feeling, if I could talk to a professional without looking for a job. Just getting information about what they do."
One in four American adults has a disability with major impacts on their everyday activities. Most people know someone with a disability or will have one themselves at some point in their life. Talking with Stuart about what options he considered once he received his MS diagnosis helped affirm to me that just because your career options in science change does not mean they completely disappear, and that you shouldn't sacrifice what you're passionate about without exploring every possibility.
A long way to go for employment equity
This October, we observe the 33rd annual National Disability Employment Awareness Month. Americans are using this month to highlight the extensive contributions of people with disabilities to the United States workforce as well as acknowledging the strides society has yet to make to increase employment equity between disabled and nondisabled people.
The journey to employment equity is reflected in the name of the observance itself. In 1945, Congress passed Public Law 176 to declare the first week of October "National Employ the Physically Handicapped Week." Congress removed the word "physically" in 1962, acknowledging invisible disabilities and the broad spectrum of disabled people. Then Congress extended the observance week to a month, removing the word "handicapped" too. A handicap, as defined by the World Health Organization, is a disadvantage resulting from an impairment or disability. Advocates say that the word "handicap" is too focused on circumstances, which can be changed to provide accommodation.
The most recent amendment to the Americans with Disabilities Act was signed into law in 2008. It expanded the definition of disability to provide employment discrimination protections to a broader group of individuals. Despite the expanded ADA coverage, advocates say the gap in employment reflects a lack of access and accommodation for persons with disabilities. The 2020 labor force characteristics reported by the U.S. Department of Labor show that the unemployment-to-population ratio, or percent employment, of persons with a disability is 17.9. This is a shockingly low number compared with the unemployment-to-population ratio of persons with no disability, 61.8.
Enjoy reading ASBMB Today?
Become a member to receive the print edition monthly and the digital edition weekly.
Learn more
Get the latest from ASBMB Today
Enter your email address, and we'll send you a weekly email with recent articles, interviews and more.
Latest in People
People highlights or most popular articles