Research Spotlight
M.D.–Ph.D. student seeks to uncover telomere-based therapeutic strategies
Margaret (Maggie) Pruitt talks about the experiences that led her to pursue a career in medicine and research and about the resources and habits she uses to succeed in her M.D.–Ph.D. training. Her answers, originally published on the minority affairs page of asbmb.org, have been edited.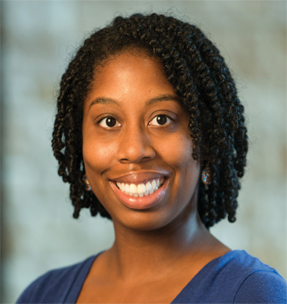 Personal experiences in her family alerted Maggie Pruitt to the relationship between science and medicine.
courtesy of maggie pruitt
Tell us about your current career position.
I am an M.D.–Ph.D. student at the University of Kansas Medical Center in Kansas City, Kansas. As a seventh-year student in the program, I have completed the first two years of medical school and four years of graduate school. Recently, I defended my doctoral dissertation and returned to medical school for the last two years of training. My research is conducted under the mentorship of Peter Baumann at the Stowers Institute for Medical Research and uses fission yeast as a model to investigate the role of telomere sequence in telomere function, telomerase activity and cell survival. My overarching goals are to identify mutant telomere sequences that can be used to destabilize telomeres in cancer as well as functional, non–wild-type telomere sequences that can inform our understanding of telomerase catalytic activity.
What are the key experiences and decisions you made that have helped you reach your current position?
Personal experiences with illness and loss in my family alerted me to the relationship between science and medicine. I explored different types of research ranging across the basic to clinical continuum. I then took time to focus on cancer research in a translational environment and confirmed that I wanted to be involved in both patient care and scientific discovery. These experiences also gave me the chance to find fantastic mentors from different careers and career stages. Among so many other things, they have provided professional support, networking opportunities and advice.
What skills have you learned during your scientific training that prepared you for your current role?
For M.D.–Ph.D. training, important skills include critical thinking and communicating your science. Additionally, give yourself a good foundation for academic success by honing your studying and test-taking abilities.
M.D.–Ph.Ds obtain two types of training. Medical school teaches you how to diagnose and treat clinical conditions and exposes you to an array of medical specialties. Graduate school provides you with skills to generate new information through the process of forming a hypothesis, experimentally testing that hypothesis and analyzing data to form conclusions about the hypothesis. Doing the two together gives you a unique perspective on relevant clinical problems and scientific approaches to address them.
Helpful websites
What is the biggest challenge that you have faced in pursuing your career? What have you done to overcome it?
As a graduate student, I spent most of my time running experiments. Despite all of my preparation, one experiment proved to be particularly difficult. This was frustrating because I was dedicating too much time to troubleshooting. I realized that I was doing my research with tunnel vision and decided to expand my view by presenting my research in any forum available and broadening the scope of my literature review. I'm glad I did, because each interaction and article stimulated my thinking, and soon I found alternative approaches to achieve my experimental goal. Beyond that, it generated several other questions that were equally important and could be addressed with different experimental strategies.
What advice would you give to young persons from underrepresented backgrounds who want to pursue a career in science similar to yours?
Explore. Discover research questions and clinical problems that are important to you. As you work with a research mentor or volunteer in a clinical setting, think about where there are gaps in knowledge and how addressing them might improve patient care.
Become a life-long learner. Stay hungry for information and feed your curiosity. As a physician-scientist, you will constantly gain new information and skills. Embrace the opportunity to find, learn and apply them.
Seek good colleagues. From college to medical and graduate school, the steps toward becoming an M.D.–Ph.D. can be long and rigorous. Therefore, it is essential to surround yourself with equally motivated and passionate individuals. Find friends who provide diverse perspectives and fresh ideas to help stimulate your thinking along the way.
About the Research Spotlight
The American Society for Biochemistry and Molecular Biology's Research Spotlight highlights distinguished biomolecular and biomedical scientists from diverse backgrounds as a way to inspire up-and-coming scientists to pursue careers in the molecular life sciences. Eligible candidates include Ph.D. students, postdoctoral fellows, and new or established faculty and researchers. To nominate a colleague for this feature, contact education@asbmb.org.
What can young scientists do to learn more about careers in your field?
Seek out research and clinical mentors. Talk to current M.D.–PhD students. Look up their email from a program that you're interested in and contact them.
What are your hobbies?
I enjoy traveling, dancing and playing cards.
What was the last book you read?
My most recent read was "The Immortal Life of Henrietta Lacks" by Rebecca Skloot.
What is it that keeps you motivated?
I enjoy interacting with and caring for people. I'm inspired by how medicine can target molecular processes that ultimately determine whole-organ function or dysfunction. And I find that I am most motivated when I can contribute to and share these ideas with fellow researchers, worried patients and concerned family members.
Join the ASBMB Today mailing list
Sign up to get updates on articles, interviews and events.
Latest in People
People highlights or most popular articles