Student Chapters
Chapter president works to build community
When she was an undergraduate at Goucher College, Kelly Budge saw a need to connect biochemistry students across the campus, so she worked to start an American Society for Biochemistry and Molecular Biology Student Chapter.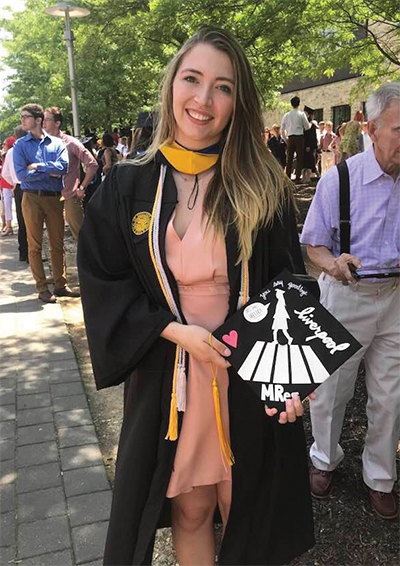 Kelly Budge graduated from Goucher College this year and moved to England. She's enrolled in a master's program at the University of Liverpool.
Courtesy of Kelly Budge
"I wanted to join an academic club that reflected my interests," Budge said, but she found she was "torn between the established chemistry and biology clubs."
With the help of Judy Levine, a professor of biological sciences and chemistry, and future club officers, Budge created the ASBMB Student Chapter and served as president until she graduated in May.
Budge now lives in England, where she will soon start a master's program at the University of Liverpool. Originally from Old Tappan, New Jersey, she began her undergraduate degree at Goucher College in Baltimore in 2014.
While at Goucher, Budge traveled to Muhuru Bay, a remote town in Kenya, to shadow doctors in a clinic. Most of the patients were pregnant women and young children suffering from dehydration, she said. This eye-opening experience inspired Budge to pursue a master's degree in biomedical science and translational medicine, which also will help her attain her goal of attending medical school.
Along with her interest in medicine, Budge is devoted to scientific research. As president of the ASBMB chapter, she led a team to design a model protein through the Connect Researchers, Educators and STudents, or CREST, program. After spending several months on the protein design, Budge and her team had the chance to print a 3-D model and present it at the 2018 ASBMB Annual Meeting in San Diego. Budge said her experience with the CREST program helped her gain an understanding of the research opportunities available outside the wet lab.
Budge said she plans to combine her interest in research with practicing medicine as a physician. Her graduate research will focus on women's, children's and perinatal health. "I hope to find a specialty within this field in my later career," she said.
Looking back on her experience as an ASBMB Student Chapter president, Budge said her success was due in part to a fantastic support system of professors and fellow student leaders. She also said she wants to build a similar community of scientists and educators in graduate school.
"Take this as your own," Budge advises future ASBMB chapter leaders. "You can only do as much as the effort you put into it."
Join the ASBMB Today mailing list
Sign up to get updates on articles, interviews and events.
Latest in People
People highlights or most popular articles