BMB in Africa
'Science in Africa — we do it well too!'
When Nigerian doctoral student Folashade Olabinri describes her journey as a scientist, she exudes self-assurance, an easy yet palpable comfort with herself.
Growing up, she had no science role models, but she did have a discerning mother.
"I will always want to know, and most especially, I'm very curious about what is happening to the food we eat," Olabinri said. "I could remember back then I used to ask my mom, what happens when we eat? Is it that there is a grinder in our stomach that grinds seeds."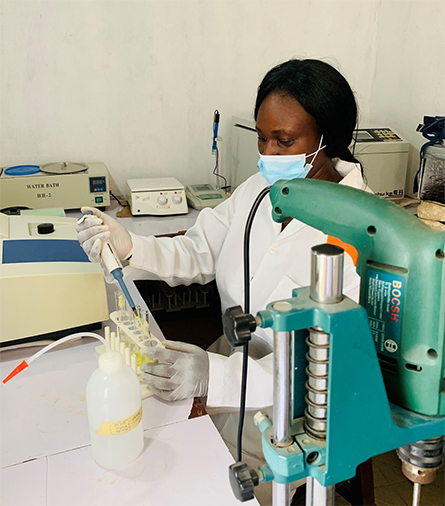 Courtesy of Folashade Olabinri
Folashade Olabinri's doctoral studies at the Ladoke Akintola University of Technology
in Nigeria focus on the effect of agbo, an herb-based home remedy, on the inner
mitochondrial permeability transition pore as a possible drug delivery conduit.
To this, she said, her mother laughed and responded, "It looks like you want to be a scientist."
Olabinri told her mother, "I don't even know what it means to be a scientist. … What I just want to know is what is happening? Why are people getting sick? What happens to the food we eat?"
Her mother advised her to get on the science track, one of three typical tracks for secondary school students in Nigeria.
In school, her questions were not encouraged. "I would think, seeing my curiosity, someone will groom me as a scientist," she said. However, "I found that teachers want students to cram and repeat what they are taught — I see myself not really liking cramming things. I just like to use my hands to do things and (then) explain what I understand."
Her grades weren't perfect, but this did not quench her passion.
"We did not get a lot of science practicals, but when we did, my eyes get enlightened, whether biology or physics," she said. "Like, wow — so this is it ... science."
These moments spurred her decision to study biochemistry at the Ladoke Akintola University of Technology, a large institution in Oyo State. Chemistry was a challenge. "I saw the (chemical) structures and thought, wow," she said. "Others complained regarding this, but I worked on understanding."
She succeeded in understanding, earning both bachelor's and master's degrees in biochemistry. She's now a lecturer and pursuing a doctorate at the same university because, she said, "I want to be able to ask more questions and learn more to teach my students better. To see how far I can take the research I'm doing."
The quest for scientific findings that can help people underlies all her research endeavors. Her undergraduate project centered on assessing toxicity levels of several varieties of a Nigerian staple food, garri, that's made by grinding cassava and roasting it in a pan for hours. Correct processing is critical to avoid poisoning from the cyanide found in raw cassava.
For her master's project, Olabinri studied how an extract of Kigelia Africana, a plant also known as a sausage tree for the shape of its poisonous fruit, works against cardiotoxicity caused by the anti-tumor medication doxorubicin.
Her doctoral studies focus on the effect of a polyherbal mixture on the inner mitochondrial permeability transition pore as a possible drug delivery conduit, especially in cancer, in Wistar rats. This mixture, known as agbo, is a traditional home remedy in Nigeria made by boiling or infusing leaves, roots and bark of different trees, depending on the purpose; it often is unregulated and understudied and is linked to severe kidney dysfunction.
And what does Olabinri want her international colleagues to know about scientific research in Africa?
"Science in Africa — we do it well too!" she said. "The process might not be smooth, but our research is sound and done appropriately."
Enjoy reading ASBMB Today?
Become a member to receive the print edition monthly and the digital edition weekly.
Learn more
Get the latest from ASBMB Today
Enter your email address, and we'll send you a weekly email with recent articles, interviews and more.
Latest in People
People highlights or most popular articles