Member News
Bjornsti, Justement begin FASEB terms
Wooldrige wins Va. Tech award; remembering Davie
Bjornsti, Justement assume leadership positions at FASEB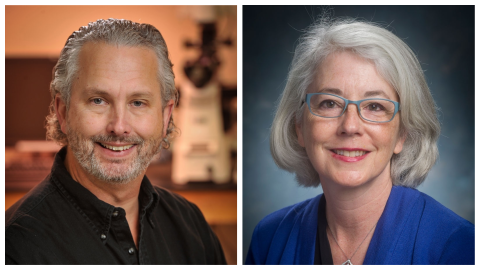 Louis B. Justement is FASEB's new president. Mary-Ann Bjornsti is FASEB's new vice president for science policy.
Louis B. Justement, a professor of microbiology at the University of Alabama at Birmingham, took office as the new president of the Federation of American Societies for Experimental Biology on July 1. FASEB is a coalition of 29 scientific societies (including the ASBMB) that advocates for sound scientific policy and increased research funding in the biological and biomedical sciences. It also publishes rigorous and reproducible research and hosts the Science Research Conferences series.
Justement, whose studies focus on signaling pathways involved in B cell terminal differentiation, directs UAB's graduate and undergraduate programs in immunology and has published on biomedical education and training.
In a Q&A that FASEB published, Justement emphasized his plans to redouble the organization's advocacy efforts to promote the role of science as a source for apolitical, factual information to policymakers and legislators. He said he also intends to increase FASEB's efforts to improve diversity, equity and inclusion in science and to work diligently with the FASEB board and staff to mitigate the impacts of the COVID-19 pandemic on FASEB's finances.
Mary-Ann Bjornsti, who chairs the department of pharmacology and toxicology at UAB and is the associate director for translational research at the O'Neal Comprehensive Cancer Center, has become FASEB's vice president-elect for science policy.
Bjornsti studies the role of the small ubiquitinlike modifier, or SUMO, in response to DNA damage during replication, with particular interest in protein SUMOylation during chemotherapy and the potential for modulating the SUMO pathway as a new cancer therapy.
She also serves as secretary/treasurer for American Society for Pharmacology and Experimental Therapeutics, a FASEB member society, and previously was president of the Association of Medical School Pharmacology Chairs.
Wooldridge wins Virginia Tech award for undergraduate research
Rowan Wooldridge, an undergraduate at Virginia Polytechnic Institute and State University, won the university's inaugural Undergraduate Research Excellence Award.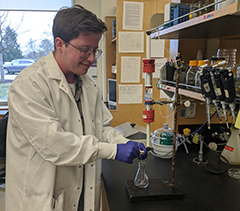 Rowan Wooldridge will graduate this fall with a degree in biochemistry and will go on to graduate school.
Wooldridge, a member of Virginia Tech's American Society for Biochemistry and Molecular Biology Student Chapter, was one of three undergraduates to receive the award after the Dennis Dean Undergraduate Research and Creative Scholarship Conference, which was held virtually after the university's midsemester shift to remote learning. The daylong celebration was aimed at offering undergraduates the opportunity to gain experience communicating their research or creative scholarship while engaging faculty and other students.
During the conference, Wooldridge presented his work on molecules that bind to two uncharacterized receptors in Sinohizombium meliloti, a bacterium that fixes atmospheric nitrogen and forms a symbiotic relationship with certain legumes. His findings highlight how a better understanding of this process could lead to a reduction in chemical fertilizer use.
"This experience as an undergraduate researcher has really opened my eyes to how passionate I am about science," said Wooldridge, who is set to graduate this fall with a degree in biochemistry and plans to attend graduate school for biochemistry at Virginia Tech. "I could not have asked for a better experience to lay the groundwork for the rest of my career."

In memoriam: Earl Davie
Earl Warren Davie, a pioneer in the study of blood clotting, died June 6.
Davie was born in Tacoma, Washington, in 1927 and earned his undergraduate and doctoral degrees from the University of Washington in the 1950s. As a graduate student, he worked with Hans Neurath on protein structure and function. (Read the Journal of Biological Chemistry's 2005 Classic article about their work, "Hans Neurath: the Difference Between Proteins That Digest and Proteins That Are Digested.")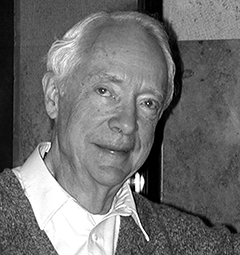 Earl Davie was named a Legend in Hematology by the American Society of Hematology in 2008.
Davie was a postdoctoral fellow at Harvard University, where he worked with Nobelist Fritz Lipmann. He then took a faculty position at Case Western Reserve University School of Medicine, where he met Oscar Ratnoff and blood research first piqued his interest. He returned to UW to join the faculty in 1962.
Davie and colleagues reported the waterfall sequence (sometimes called the waterfall cascade) in the journal Science in 1964. This sequence begins with the activation of a small amount of a factor and results in the production of large amounts of thrombin and then fibrin. (Read the JBC's 2006 Classic article on Davie's work, "The Waterfall Sequence for Blood Clotting: the Work of Earl W. Davie.") Davie's blood coagulation research informed the development of numerous clinical tests and therapeutics.
He became a member of the JBC editorial board in1968 and served two, nonconsecutive terms. By 1975, he became chair of the UW biochemistry department, serving for almost a decade. He also served as secretary of the ASBMB during that time.
He was elected to the National Academy of Sciences and named editor of the journal Biochemistry in 1980. And in 1981 he co-founded one of Seattle's first biotech companies, ZymoGenetics, which was later bought by Novo Nordisk and then Brisol–Myers Squibb.
Join the ASBMB Today mailing list
Sign up to get updates on articles, interviews and events.
Latest in People
People highlights or most popular articles