In Memoriam
In memoriam: Krishnamurti Dakshinamurti
Krishnamurti Dakshinamurti, a human rights advocate and a prolific biochemist, died October 13, 2022. He was 94 and had been a member of the American Society for Biochemistry and Molecular Biology since 1971.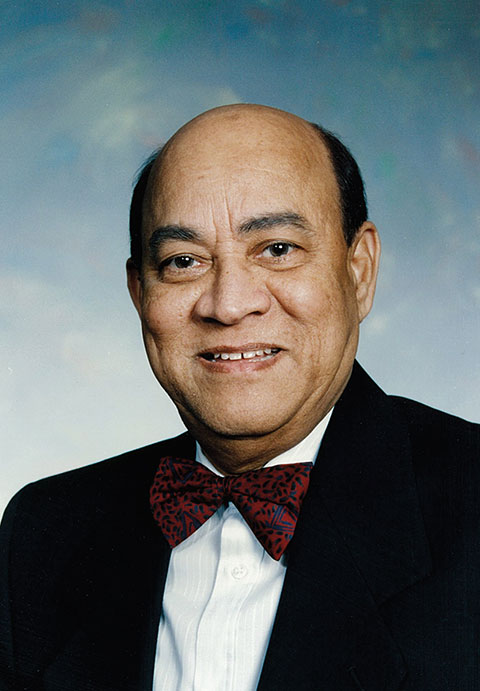 Krishnamurti Dakshinamurti first joined the American Society for Biochemistry and Molecular Biology in 1971.
Dakshinamurti was born in Vellore, India, on May 20, 1928, when the country was under British rule. His father's service in the British Army during World War I inspired Dakshinamurti to pursue peace, first through student activism in the 1940s and later by founding the Mahatma Gandhi Centre of Canada to promote nonviolence and human rights.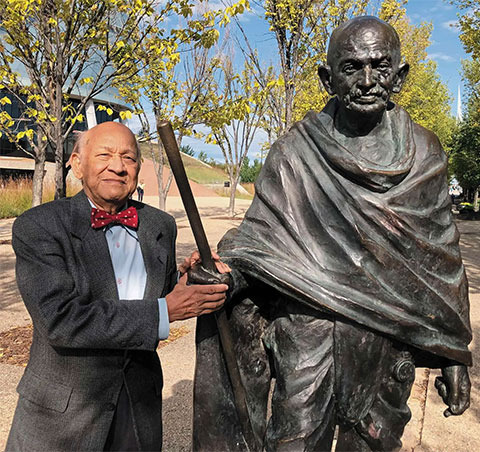 Krishnamurti Dakshinamurti was president of the Mahatma Gandhi Centre of Canada. Here he's next to a statue of Gandhi at the Canadian Museum for Human Rights.
Dakshinamurti earned his Ph.D. in 1957 from the University of Manitoba of Winnipeg. He was a postdoc at the University of Illinois and at the Massachusetts Institute of Technology, then served as associate director of a hospital research institute in Pennsylvania before returning to the U of M where he became a professor of biochemistry in 1965. Known affectionately as "Dr. Dak," he mentored many students over his career. He retired as emeritus professor in 1998, but continued writing and researching into his 90s.
Dakshinamurti's early studies focused primarily on pyridoxine and biotin deficiency diseases. He studied carbohydrate metabolism, lipogenesis and vitamins, and used methods such as fluorometry and rat models to investigate the effects of biotin deficiency on the physiology and pharmacology of whole organisms. One of his last papers was about mechanisms of therapeutic potential in vitamin D, vitamin A and a vitamin related to B6 to prevent and treat metabolic syndrome, a risk factor for Type 2 diabetes.
Dakshinamurti was also involved in human rights, peace and community work. He served as codirector and later senior adviser to the Centre for Health Policy Issues at the St. Boniface Hospital Research Centre and belonged to many Winnipeg committees and cultural organizations. In the 1980s, he was involved with the Nobel committee for Medicine, nominating scientists for prize consideration. In 2020, he was named to the Order of Manitoba for his achievements in biochemistry, one of many honors from Canadian and international organizations for both research and humanitarian work.
Dakshinamurti founded the Gandhi center in 2007 and also founded the Dakshinamurti Academy of Hindu Studies at Winnipeg's Hindu Temple, the largest collection of literature on Hinduism in Western Canada.
According to his family obituary, Dakshinamurti loved logical arguments in politics and science, Shakespeare, symphonic music and Sanskrit poetry.
He is survived by Ganga Dakshinamurti, his wife of 61 years, as well as two daughters and a brother.
Enjoy reading ASBMB Today?
Become a member to receive the print edition monthly and the digital edition weekly.
Learn more
Get the latest from ASBMB Today
Enter your email address, and we'll send you a weekly email with recent articles, interviews and more.
Latest in People
People highlights or most popular articles