ASBMB Annual Meeting
Understanding cellular function to understand life
When Geoffrey Hesketh was growing up in Canada, he loved sciences and math and wanted to be a medical doctor. He became curious about molecular mechanisms after he started volunteering in a biochemistry lab in his second undergraduate year at Queen's University, and he realized that his huge curiosity would be more satisfied working as a scientist than as a physician.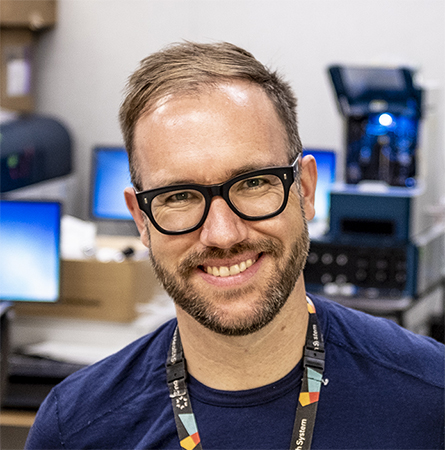 Geoffrey Hesketh
Since then, Hesketh has wanted to understand molecular processes, especially those that have evolved for billions of years but that we still are far from understanding, such as cellular nutrient uptake. "Experimentally unravelling a previously obscure or unknown biological function is the ultimate scientific achievement," he said.
Now a postdoctoral fellow in Anne-Claude Gingras' group at the Lunenfeld–Tanenbaum Research Institute of Mount Sinai Hospital in Toronto, Hesketh earned a Ph.D. in biological chemistry at Johns Hopkins School of Medicine in Baltimore and then did a postdoc at the Cambridge Institute for Medical Research.
Hesketh is interested in cellular membrane trafficking and signal transduction. "If you are understanding cell function at the molecular level, you understand life," he said.
Using advanced mass spectrometry and cell biology tools, he studies the molecular mechanisms by which lysosomes control cellular nutrient biology. In nutrient signaling, mechanistic target of rapamycin complex 1, or mTORC1, plays a key role.
"Life is largely driven by the flow of key elements — carbon, hydrogen, nitrogen, oxygen, phosphorus, and sulfur — in different chemical states, from organism to organism," he said.
Hesketh is fascinated by how mTORC1 is fundamental to life, participating in the sensing of the key elements, synthesis and degradation of macromolecules.
Many human diseases originate in cellular dysfunction, so Hesketh believes understanding cellular processes is the way to understand disease. Therefore, as a cellular biologist, he is pursuing his childhood interest in medicine and human diseases.
There's more than one way to activate this protein
Amino acids, sensed by the cell, can be derived through lysosomal degradation of external proteins or via amino acids acquired exogenously through cell surface transporters by macropinocytosis. Mechanistic target of rapamycin complex 1, or mTORC1, is activated by both these sources of amino acids, and mTORC1 function is regulated on the surface of lysosomal system organelles.
Exogenous amino acids are sensed by a mechanism dependent on the Rag guanosine triphosphatases, or GTPases, that control the mTORC activation. Geoffrey Hesketh and collaborators at the Lunenfeld–Tanenbaum Research Institute have demonstrated that lysosome-derived amino acids activate mTORC1 through a Rag GTPase-independent pathway. They have shown that both sources of amino acids activate mTORC1 by two different pathways. Using proximity-dependent biotinylation, known as BioID, and mass spectrometry for protein identification, they designed organelle sensors with which they showed the surface proteomes of late endosomes and lysosomes.
In highly lethal Ras-driven cancers, researchers know that macropinocytosis and lysosomal degradation of external proteins fuel cancer growth, but they do not yet know the mechanisms behind these processes. Hesketh's research results may lead to mechanistic insight into how lysosome-derived nutrients fuel the growth of Ras-driven cancers.
Enjoy reading ASBMB Today?
Become a member to receive the print edition monthly and the digital edition weekly.
Learn more
Get the latest from ASBMB Today
Enter your email address, and we'll send you a weekly email with recent articles, interviews and more.
Latest in People
People highlights or most popular articles