Annual Meeting
Using cross-linking to analyze protein interactions in mitochondria
Liu featured in a session hosted by MCP
Any introductory biochemistry student learns about mitochondrial proteins. We take it for granted that these protein assemblies must coexist in a super-complex. However, actually studying protein interactions in organelles remains challenging.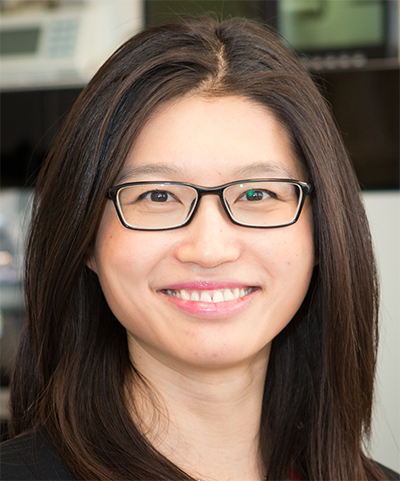 Fan Liu believes her cross-linking approach to analyzing mitochondria could be applied to describe the interactomes of other cellular organelles.
Fan Liu, a new faculty member and former postdoctoral fellow in Albert Heck's lab at the Leibniz-Forschungsinstitut für Molekulare Pharmakologie in Berlin, is making this picture clearer by using cross-linking mass spectrometry to describe the interactome of intact mitochondria. Based on her work, she will be featured in a special session highlighting up-and-coming researchers hosted by the journal Molecular & Cellular Proteomics at the American Society for Biochemistry and Molecular Biology annual meeting.
Liu isn't afraid of challenges. When she began as a postdoc, she learned computer programming and then developed a novel algorithm for analyzing mass spectrometry cross-link data. She then applied the cross-linking approach to mitochondria to understand the organization and arrangement of protein complexes.
"I like the challenges of tackling technical difficulties," she said. "It's fascinating to think about how thousands of proteins are organized to large macromolecular assemblies."
For Liu, this project is just the beginning. She thinks the next logical step is to use quantitative cross-linking mass spectrometry to understand how the mitochondrial interactome changes in different biological conditions. She also said this approach could be applied to other cellular organelles to describe their distinct interactomes.
This novelty and creativity are the reasons she finds research exciting.
"I like the freedom of thinking about interesting scientific questions," she said. "I also enjoy inspiring discussion with colleagues and friends."
Though she is dedicated to developing better analysis software and analytical procedures, Liu recognizes the importance of balance. She enjoys outdoor activities in her spare time.
"I like climbing in summer and skiing in winter," she says. "It's a good complement to sitting in front of the computer all day."
Probing the proteins in mitochondria
Mitochondria are responsible for an immense number of cellular functions. However, the protein-level structural basis for most of these processes is not well understood.
To address this, Fan Liu and colleagues used cross-linking mass spectrometry on intact mitochondria to probe the protein interactome. Their work was published in MCP in February 2018.
Their approach captures native protein contacts using a small cross-linker molecule. They can then localize the cross-links using mass spectrometry. Using intact mitochondria, Liu used this approach to identify the sub-mitochondrial localizations of protein assemblies.
The team identified four proteins that previously were unknown to be associated with the mitochondria, thus enriching the database about mitochondrial proteins and function.
Their studies also confirmed that the proteins involved in oxidative phosphorylation, which is probably the best-known function of the mitochondria, do interact. Their analyses suggest that all five of the oxidative phosphorylation complexes coexist in close proximity in intact mitochondria. Complexes CI, CIII and CIV also were confirmed to interact in a super-complex.
Lui's work provides the first detailed analysis of protein interactions in intact heart mitochondria and paves the way for similar studies in other organelles.
Correction
This article was corrected March 14. In the original version, Fran Liu's professional status was incorrect.
Enjoy reading ASBMB Today?
Become a member to receive the print edition monthly and the digital edition weekly.
Learn more
Get the latest from ASBMB Today
Enter your email address, and we'll send you a weekly email with recent articles, interviews and more.
Latest in People
People highlights or most popular articles