Outreach
Sparking the flame of science
Supported by an ASBMB grant, Salisbury University students guide children through activities in biology
One-fifth of all jobs in the U.S. workforce are related to science, technology, engineering or math, according to the STEM Education Coalition, and the STEM career field is predicted to grow as much as 13 percent in the decade between 2012 and 2022.
The American Society for Biochemistry and Molecular Biology Student Chapter at Salisbury University wanted to explore ways that teachers and people in STEM fields could work together to spark children's interest in STEM and lifelong learning. With funds from a Student Chapters Outreach Grant, we worked with the department of biological sciences at SU to hold two outreach events to inspire interest in biology in children living in Wicomico County, a rural area on the eastern shore of Maryland.
Patti Erickson, an SU associate professor, organized field trips for students and teachers from the Wicomico County Thinking and Doing program for fourth graders. More than 100 students visited SU's department of biological sciences; they ran gel electrophoresis and DNA extraction tests, learned about phenylketonuria and green fluorescent protein, and toured some of the SU facilities. The labs were run by professors and students supported by volunteers from the ASBMB Student Chapter and the department of biological sciences.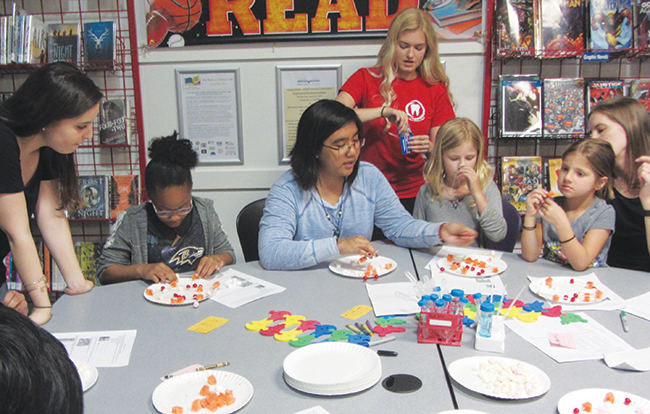 Salisbury University students help participants assemble their candy DNA structures during the Wicomico County Library outreach event. Left, Mariah Passwaters-Stamper; center, sitting at the table, Jeremie Barbosa; and right in red, Gabrielle Voithofer.
PHOTOS COURTESY OF LAUREN DELONG
The ASBMB Student Chapter executive board also organized a student-led event called DNA Discovery, a day of activities at a branch of the Wicomico County Public Library. Callista Brown, secretary of chapter, obtained materials and led the event. Erickson and chapter volunteers led 10 children ages 6 to 12 through three activities: DNA isolation, candy and foam DNA structures, and a Mystery Code worksheet. In the DNA isolation activity, the participants used Gatorade, detergent and alcohol to make DNA from their own cheek cells visible to the naked eye and then placed the white threads into microcentrifuge tubes as necklaces. The volunteers explained the structure of DNA and taught the children about nucleotide base pairing with foam model and let them create their own DNA molecules with candy. For the Mystery Code worksheet, students used the base pairing rules they had learned from the DNA structure activities to spell out a "secret" message. The students particularly loved putting their DNA into a necklace and making the DNA candy models, according to a review survey. Most said they were happy to learn something new.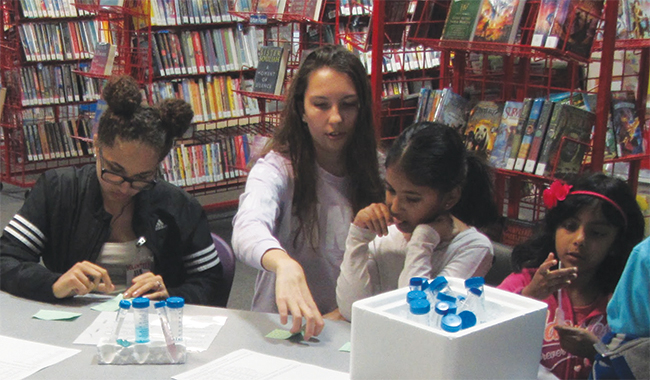 Andrea Carmack, ASBMB Student Chapter treasurer, helps a participant complete a nucleotide matching worksheet during the Wicomico County Library outreach event.
Andrea Carmack, the Student Chapter's treasurer, said she was "excited to share her love of biology with a younger generation." Vice President Jamie Barbosa called the experience "mutually enriching for both the young students as well as myself."
I personally enjoyed this experience because it allowed me to participate in something that involved two things I am passionate about: science and volunteerism. It was impressive to witness young kids just enjoy the process of learning.
After the activities, Student Chapter members decided they needed to improve the feedback process. In a later outreach program, we asked multiple-choice instead of short-answer questions. We also offered snacks as an incentive to complete the survey. This feedback is important to improve future outreach events. As a chapter, we hope to organize more events like these and continue to be active in our community.
The Student Chapters Outreach Grant Program
Twice a year, the ASBMB awards grants of up to $500 to help its Student Chapters bring science activities to their communities. The funds can be used to support existing outreach activities as well as to help pilot new activities. This grant program is an exciting way to encourage our Student Chapters to be more active in their engagement with the local community.
These grants support a variety of programs — everything from the University of Arizona's Blastoff! Summer Science Camp to the Marymount Manhattan College organ donation drive to the Salisbury University biology activities described on this page. The goal is to bring science to the public and encourage participation and partnerships in science outreach.
The grant program is sponsored by the ASBMB Student Chapters and Public Outreach Committee. In addition to funding, successful applicants have exclusive access to the committee's outreach expertise and resources.
Don't miss out on this exciting opportunity. The next deadline for applications is April 16. Each chapter may apply once a year. For detailed instructions, sample applications and more information, click here.
Enjoy reading ASBMB Today?
Become a member to receive the print edition monthly and the digital edition weekly.
Learn more
Get the latest from ASBMB Today
Enter your email address, and we'll send you a weekly email with recent articles, interviews and more.
Latest in People
People highlights or most popular articles