Award
Haynes' investigations
of mitochondrial stress response
put him on an 'upward trajectory'
He won the ASBMB's Young Investigator Award
Cole Haynes, assistant member at the Memorial Sloan-Kettering Cancer Center, won the American Society for Biochemistry and Molecular Biology's Young Investigator Award for elucidating pathways involved in the mitochondrial stress response.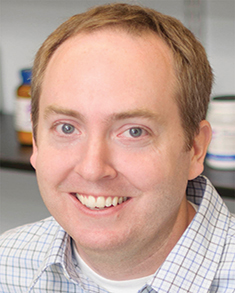 "I am certainly honored and thrilled that our work on the mitochondrial UPR is being honored by the ASBMB with the Young Investigator Award. I am grateful to many including my laboratory members as well as those in the mitochondrial and stress response communities that make these areas of research so exciting." — Cole Haynes
Though still early in his career, Haynes' work has had a substantial impact on the understanding of the unfolded protein response, or UPR, that occurs in the mitochondria in reaction to stress. In his letter supporting Haynes' nomination for the award, F. Ultrich Hartl at the Max Planck Institute of Biochemistry said, "Over a period of a few years, he has established himself as the international leader in the mitochondrial stress response field, an active and medically highly relevant area of research to which he has contributed the most incisive discoveries."
Haynes' gresearch career began in the lab of Antony Cooper at the University of Missouri–Kansas City. Using yeast as a model organism to study stress response pathways in the endoplasmic reticulum ignited Haynes' interests in the UPR and led him to take a postdoctoral research position at New York University School of Medicine. While there, Haynes studied the role of the mitochondrial unfolded protein response, or mtUPR, as a mitochondrial stress pathway in another model organism, C. elegans. Though some human components are lacking in this model, Jodi Nunnari at the University of California, Davis, expressed confidence in Haynes' abilities to expand his conclusions from C. elegans to humans. In her letter of support for his nomination, Nunnari said that now Haynes "is making excellent progress identifying the human counterparts (of the mtUPR), which will have a major impact on the field."
In 2010 in the journal Cell, Haynes identified the activation of ATFS-1, a previously unexplored transcription factor that accumulates in the nucleus in response to stress. This accumulation triggers existing UPR pathways that in turn signal to the mitochondria that the cell is stressed. In more recent work, Haynes showed that not only is ATFS-1 important in the mtUPR response, but it also illustrates a completely novel method of gene regulation. ATSF-1 functions as a transcription factor in two separate locations within the cell: the nucleus and the mitochondria. These findings are fascinating on their own, and they may hold further value as potential therapeutic targets. Nunnari cited the potential of Haynes' work to both "provide much greater insight into diseases" and identify "new therapeutic approaches." As a result, she says, "while (Haynes) has already contributed seminal work, his laboratory remains on an upward trajectory."
Beyond his many scientific accomplishments, supporters praise Haynes' personability and desire to educate others. In her nomination letter, Memorial Sloan Kettering Cancer Center cited Haynes' active involvement in graduate school teaching and mentoring and said he is a popular invited speaker for national and international meetings and seminars. Nunnari also praised Haynes for being "a real delight to spend time with in general," explaining that his dry wit helped him easily transition from a colleague to a friend.
Watch Haynes' award lecture, "Ada Adaptations to mitochondrial dysfunction via interorganelle communication," below.
Join the ASBMB Today mailing list
Sign up to get updates on articles, interviews and events.
Latest in People
People highlights or most popular articles