Award
Brenner recognized for devotion
to 'cutting-edge education'
and serving the biomedical community
He won the ASBMB Award for Exemplary Contributions to Education
Charles Brenner, professor and head of the biochemistry department at the University of Iowa, won the 2016 American Society for Biochemistry and Molecular Biology Award for Exemplary Contributions to Education. The award recognizes those who encourage effective teaching and learning of biochemistry and molecular biology through their own teaching, education leadership, research, mentoring, writing or public enlightenment.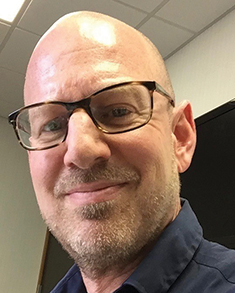 "Since moving to Iowa, I have had the pleasure of teaching metabolism to undergraduates and engaging with fellow educators in chemistry and biology, and in graduate, medical, physician assistant, dental and pharmacy programs. While there is always some inertia and there are the challenges brought by more students and limitations of resources, I have been pleased to see undergraduate institutions adapt to meet student needs and that some medical and professional schools continue to understand that biochemistry has not simply become an undergraduate subject. It is a language and a set of tools that researchers, educators and people in the health professions use to understand health and disease. There is still much work to be done to focus the premedical chemistry curriculum on the organic chemistry of functional groups, to improve our students' understanding of statistics and genetics, and to ensure that biochemical understanding is extended en route to medical, dental and pharmacy degrees. I appreciate the support of ASBMB in helping to spread these messages." — Charles Brenner
Debra Schwinn of the University of Iowa, who nominated Brenner for the award, says that Brenner exemplifies commitment to "cutting-edge education" by going above and beyond to ensure that educational opportunities are broadened for students. At Iowa, he helped develop a new semester-long biochemistry course for first-year dental students that builds on their undergraduate training in biochemistry. In addition to teaching undergraduate biochemistry, he helped craft a program that allows biochemistry postdocs to be appointed instructors of a biochemistry laboratory course for a semester.
Brenner's most recognizable contribution to education is in the area of premedical education. When the Association of American Medical Colleges began the planning process to revise the Medical College Admission Test, it became clear that core competencies in biochemistry would be required for premeds. However, the AAMC made no recommendations about the courses or educational structures necessary for students to attain these competencies. Brenner realized that about 500,000 U.S. college students a year begin their studies as premeds, such that curricular changes could have a profound effect on many more students than the approximately 20,000 that annually matriculate in medical schools. In March 2012, Brenner and Dagmar Ringe of Brandeis University published premedical curriculum recommendations in ASBMB Today that were endorsed by many leading biochemists. Additionally, in peer-reviewed articles in the journal Biochemistry and Molecular Biology Education and the Journal of Chemical Education, Brenner advocated for a rigorous grounding in genetics, chemical reactivity and biochemistry and the inclusion of data analysis in laboratory courses. These changes are expected to improve medical preparation and benefit the multitude of students who begin in premedical tracks and end up doing something else.
Brenner is also active in science outreach. Brenda Schulman of St. Jude's Children's Research Hospital and a member of the ASBMB Council, who wrote in support of Brenner's nomination for the award, notes that Brenner "champions raising general interest in molecular biology and biochemistry through what I can best describe as 'fun' content in ASBMB."
Brenner received his Ph.D. with Robert Fuller at Stanford University. After postdoctoral training with Gregory Petsko at Brandeis, he began his independent academic career at Thomas Jefferson University before moving to Dartmouth University and finally to Iowa. Brenner has served as chairman of the ASBMB Publications Committee and currently chairs the editorial advisory board of ASBMB Today. Milestones of Brenner's research include the discovery of the eukaryotic nicotinamide riboside kinase pathway and dissection of the roles of DNA methylation and demethylation in the epigenetic regulation of tumor-suppressor genes.
Watch Brenner's award lecture, "Biochemistry and molecular biology education in a transforming academy and a molecular world," below.
Enjoy reading ASBMB Today?
Become a member to receive the print edition monthly and the digital edition weekly.
Learn more
Get the latest from ASBMB Today
Enter your email address, and we'll send you a weekly email with recent articles, interviews and more.
Latest in People
People highlights or most popular articles