Member News
Belfort receives honorary degree;
Evensen wins Marshall;
remembering Mildvan, Fridovich
Belfort receives honorary degree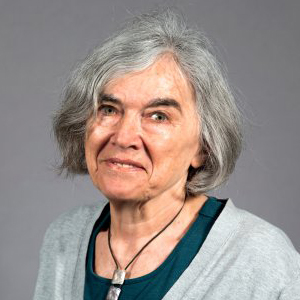 Marlene Belfort
The University of Cape Town has conferred an honorary Doctor of Science (honoris causa) on Marlene Belfort, a distinguished professor in the departments of biological sciences and biomedical sciences at the University of Albany, State University of New York.
Belfort received a bachelor's degree from UCT in 1965, followed by doctoral and postdoctoral work at the University of California, Irvine and the Hebrew University of Jerusalem.
Her lab at SUNY Albany explores the dynamics of elements that interrupt genes, introns and inteins, studying their structure, function and regulation, and their applications in biotechnology and infectious disease. Her achievements include discovering the self-splicing of introns in bacteriophage T4 and a detailed analysis of the splicing mechanism. Her recent work has led to development of a model for the mechanism of intron evolution that is applicable to prokaryotes and may shed light on vertebrate genes.
In addition to her research, Belfort has mentored younger scientists, technicians, undergraduates, postgraduates and even high school students. Within the global scientific community, she is known for her support of women in science.
Belfort received her honorary doctorate during a UCT graduation ceremony in December.
Evensen wins Marshall
Sheyenne Tung
Claire Evensen
Claire Evensen, president of the American Society for Biochemistry and Molecular Biology Student Chapter at the University of Wisconsin–Madison, is one of 46 students to receive a 2020 Marshall Scholarship.
Evensen is set to graduate this spring with a bachelor's degree in biochemistry and mathematics. For three years, she has researched the biophysics of transcription initiation with Thomas Record, the John D. Ferry Professor of Biochemistry. She earned several campus research grants to support her work and presented her research at national conferences. She is a Goldwater Scholar, an Astronaut Scholar and a finalist for a Rhodes Scholarship.
As president of her ASBMB Student Chapter, Evensen has organized a regional conference on networking and research presentation. In March, undergraduates from across the region are expected to attend the "Molecules in the Midwest" conference at UW–Madison.
Established in 1953 to honor the ideals of the Marshall Plan, the Marshall Scholarship Program gives high-achieving young Americans the opportunity to study at the graduate level at any university in the United Kingdom. Up to 50 scholarships are awarded each year.
In the fall, Evensen plans to begin a master's degree program in mathematical modeling and scientific computing at the University of Oxford. According to a UW–Madison press release, she says she wants to use math models to understand such things as how viruses evolve, how the body heals, how tumors spread and how neural degeneration progresses.
In memoriam: Albert S. Mildvan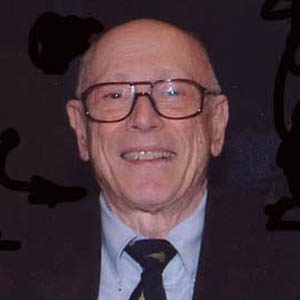 Albert S. Mildvan
Albert Samuel Mildvan, an emeritus professor of biological chemistry and chemistry at the Johns Hopkins University School of Medicine, died Oct. 24 in Baltimore after a prolonged illness. He was 87.
Born in Philadelphia, Mildvan earned an A.B. in chemistry and mathematics from the University of Pennsylvania in 1953 and an M.D. from Hopkins in 1957. After postdocs at the National Institutes of Health and Cambridge University, he did an advanced postdoctoral fellowship with Mildred Cohn at the University of Pennsylvania, where he developed expertise in nuclear magnetic resonance and electron paramagnetic resonance, spectroscopic techniques that became the backbone of his research career. He was on the faculty of the University of Pennsylvania and the Institute for Cancer Research Center before returning to Baltimore in 1981 to join the Hopkins faculty.
The author of more than 270 publications covering a range of protein biochemistry and enzymology, Mildvan studied the mechanism of enzyme action and its relevance to neoplastic, cardiovascular and metabolic disease. He discovered the first Mn2+ metalloenzyme, pyruvate carboxylase, and made key contributions to the interpretation of the effects of site-directed mutagenesis.
Mildvan served on the editorial board of the Journal of Biological Chemistry from 1979 to 1991, and in 1988 he received the American Society for Biochemistry and Molecular Biology's Herbert Sober Prize recognizing outstanding biochemical and molecular biological research.
He is survived by his wife, Patricia June Tarr Mildvan; children Heather Mildvan Pytel, Pamela Mildvan Cummins and Margo Susan Mildvan; sons-in-law Theodore R. Cummins and Eric T. Arnold; sister Donna Mildvan; and grandchildren Hannah and Benjamin Cummins and Clement Pytel.
In memoriam: Irwin Fridovich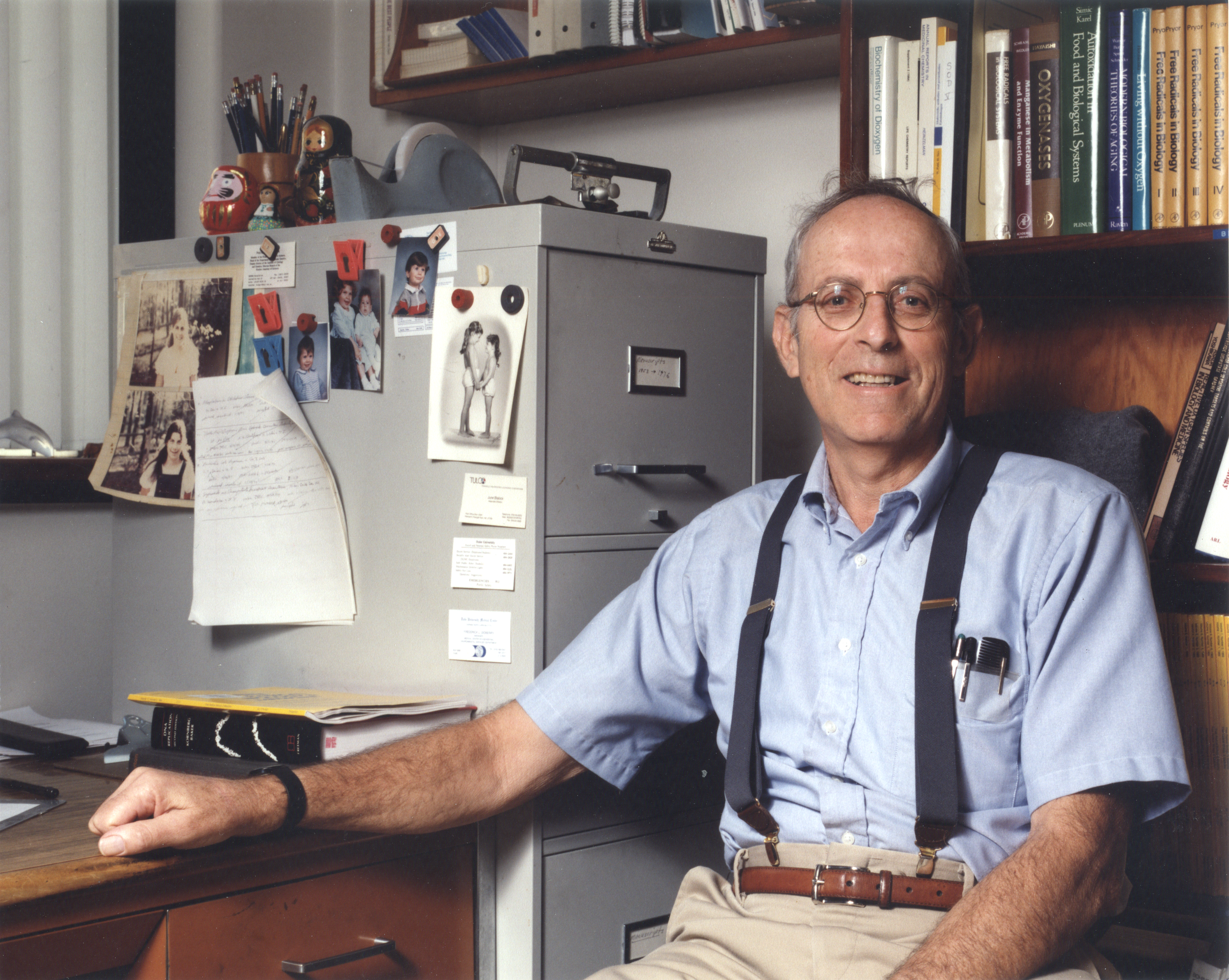 Irwin Fridovich in his office.
Irwin Fridovich, a professor emeritus at Duke University and past president of the American Society for Biochemistry and Molecular Biology who also served on the Journal of Biological Chemistry editorial board and on the ASBMB Today editorial advisory board, died Nov. 2. He was 90 years old.
Born in 1929 in Brooklyn, New York, Fridovich attended the Bronx High School of Science and the City College of New York before earning a Ph.D. in biochemistry at the Duke University Medical Center.
Duke invited him to become a faculty member, and he remained at the university for more than 60 years. In his long and distinguished career, he published more than 500 scientific articles and discovered superoxide dismutase, or SOD, essentially founding the field of free radical biology. A November 1969 paper about SOD, written by Fridovich and then–grad student Joe M. McCord and published in the Journal of Biological Chemistry, has been cited more than 9,300 times.
Fridovich served as president of several professional societies, including the ASBMB in 1982, and earned several lifetime achievement awards. He was a member of the National Academy of Sciences and the American Academy of Arts and Sciences. In 1997, he shared the Elliott Cresson Medal from the Franklin Institute with McCord. He was appointed the James B. Duke Professor of Biochemistry in 1976.
He continued to go to Duke every weekday until about four months before his death, to read the latest scientific journals and to enjoy weekly lunches with friends and colleagues.
Fridovich was married for 59 years to the former Mollie Finkel. He is survived by his daughters, Sharon F. Freedman (Neil), and Judith L. Fridovich-Keil (Mark); brother, David Fridovich (Miriam); two grandchildren and four great-grandchildren.
Join the ASBMB Today mailing list
Sign up to get updates on articles, interviews and events.
Latest in People
People highlights or most popular articles