Annual Meeting
Showcasing the future of BMB
The thematic symposia at Discover BMB will focus on today's hottest topics in biochemistry and molecular biology. Each will feature thought leaders and experts discussing exciting findings. And new this year is a symposium on natural products and their role in bioengineering and biotechnology.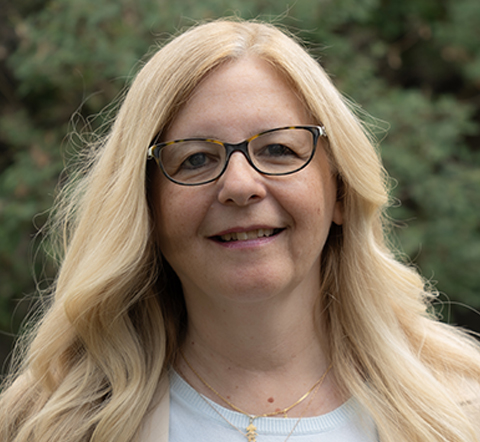 Vanina Zaremberg
Discover BMB 2024 co-chairs Vanina Zaremberg, a professor of biochemistry at the University of Calgary, and Benjamin Tu, a professor of biochemistry at the University of Texas Southwestern Medical Center, sat down recently with ASBMB Today writer Marissa Locke Rottinghaus to describe the cutting-edge thematic sessions they have selected, how to make your Discover BMB experience worthwhile and why they look forward to this meeting being the best yet. Their conversation has been edited.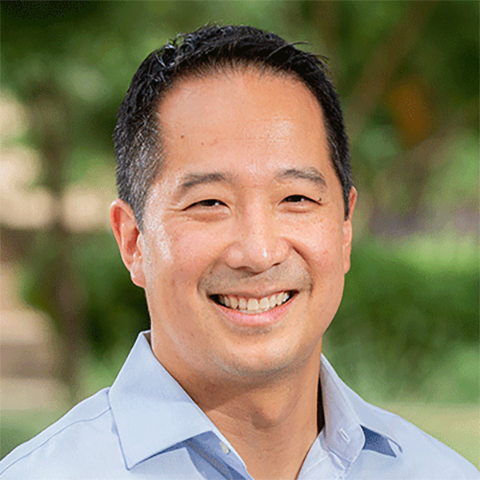 Benjamin Tu
Can you talk about why you selected certain themes? I understand the one on natural products is new, for example.
Tu: Vanina and I chose these themes because we think they represent molecules and organelles that make life possible. In particular, we thought natural products would be great to include because biochemistry is required to figure out how these molecules are made and how they act on their targets.
I think there's also a growing interest in job opportunities in technology and bioengineering related to natural products. Some of the best biochemists and molecular biologists are those who work in this area. So, we wanted to get them involved in Discover BMB.
Zaremberg: We think these themes reflect hot topics in biochemistry and molecular biology. Many of the themes have multiple different angles and reflect interdisciplinary approaches. We have a theme on membrane contact sites, which describes how organelles within the cell communicate and exchange metabolites, lipids, etc. We are bringing relegated organelles, like peroxisomes and chloroplasts, to the forefront as well.
How did you select the theme organizers? What qualities are you looking for in these scientists?
Tu: For the organizers, we wanted to choose people who are leaders in their respective fields, who have good taste in science and, most importantly, who will assemble a diverse panel of speakers who will share the latest developments in their research areas.
Zaremberg: We selected experts in all biochemistry fields who will uphold the standard of excellence at the ASBMB meeting. We tried to make sure the organizers were diverse, and the diversity came naturally with our selection of experts in each theme.
You've made some adjustments to the meeting schedule. For example, the scientific symposia will no longer be held only in the morning.
Tu: Since attendees are often interested in multiple themes, and with so many excellent speakers presenting, we felt that by scheduling themes in both morning and afternoons, instead of all concurrently in the morning, the attendees would be able to attend more talks and hear more of the latest science in their fields of interest.
When did you attend your first scientific meeting, and what was that experience like?
Tu: I attended my first meeting as a graduate student. My mentor couldn't make it, and it was in Spain. So, I was a lonely graduate student traveling all by myself. I was selected to give a talk in my mentor's place. It was extremely nerve-racking, and I still remember all of my emotions. As a student, all I could think was, "Oh my gosh; I have to give a talk in front of the experts, and I better not embarrass my lab and my professor."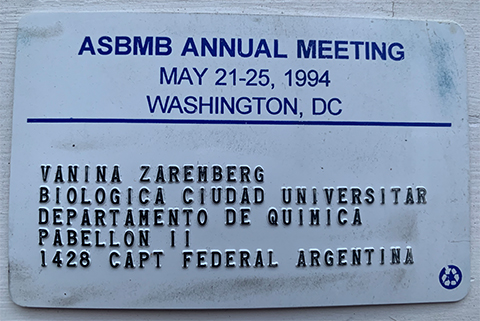 Vanina Zaremberg
Vanina Zaremberg saved this ID card from her first ASBMB meeting in 1994, when she was a Ph.D. student from Argentina.
But, everyone was really friendly and welcoming. It turned out to be all right, and it was definitely an experience that I'll never forget. It also made me realize how important meetings are and taught me to meet colleagues and key scientists in the field.
Zaremberg: I could talk for hours about my first ASBMB meeting — it was extremely exciting. Back in 1994 when I was a visiting Ph.D. student from Argentina in the U.S., I paid the meeting registration fee from my own pocket. I went to Washington, D.C., for the meeting, and I was in science heaven. I loved it. I thought it was so exciting that I could talk to and ask questions of the people who wrote papers I had read.
When I moved to Canada and started my own lab, I wanted my graduate students to have the same experience. So, I've been attending the ASBMB meetings for a long time. I look forward to it every year now. I've seen how the meetings have changed over the years, but the sense of community, the networking and the quality of the science has stayed the same.
What advice do you have for first-time attendees?
Tu: I would suggest taking a look at the schedule beforehand and making use of the app. Take advantage of the Meet the Experts sessions. There are various talks at the Career Hub that are quite helpful. Also, definitely attend the award lectures because many of them are quite inspiring.
Don't be afraid to approach senior scientists because we like it when random attendees come up to us to ask questions or seek advice.
Zaremberg: Participate, ask questions and engage in discussions. Go to the social events because they are fantastic for networking and meeting people. I agree with Ben; make a schedule of what you want to see and attend ahead of time.
Tell me about San Antonio. What are some of its appeals for prospective attendees?
Tu: San Antonio is centrally located. It's great that people from both coasts can easily access it. The meeting is going to be a great opportunity to experience culture and great Southern food. San Antonio is also home to the River Walk, which is fantastic, and the weather in late March should be great!
Zaremberg: I've never been to San Antonio, but I am really looking forward to it and have always wanted to visit. I think it is exciting that ASBMB is exploring new locations and venues for the annual meeting.
Enjoy reading ASBMB Today?
Become a member to receive the print edition monthly and the digital edition weekly.
Learn more
Get the latest from ASBMB Today
Enter your email address, and we'll send you a weekly email with recent articles, interviews and more.
Latest in Opinions
Opinions highlights or most popular articles