Contest
Part 1: 'Aha moments' essay contest honorable mentions
To celebrate our three journals going open access, we invited readers to share their moments of discovery in science. Here are two honorable mentions.

Fringe inspiration
By Miguel A. Contreras Hidalgo
When I was a junior faculty member, my only break from research was to have dinner with my family and, from time to time, enjoy a science fiction TV show and then get back to the lab.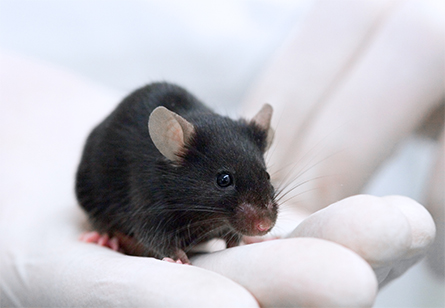 Back in September 2008, I sat down to enjoy the second episode of a new show called "Fringe." The show follows the adventures of FBI agent Olivia Dunham (assigned to the bureau's Fringe Division); junior FBI agent and sidekick Astrid Farnsworth; fringe science researcher Dr. Walter Bishop; and his son, Peter.
In this particular episode, a pregnant woman delivers a newborn that ages rapidly in minutes and soon dies, having aged into an 80-year-old man. Olivia and her associates are called to investigate. Eventually, Dr. Bishop makes a connection to the pituitary gland, which controls growth in humans.
I literally jumped from the couch. For the past three years, I had been using the twitcher mouse model to study the molecular mechanism of Krabbe disease, an inherited lysosomal disorder in which galactosylsphingosine (psychosine) accumulates mainly in the central nervous system. The mouse recapitulates genetic and enzymatic aspects of the disease and is characterized by its small size. It has been a valuable tool to advance our understanding of the development/progression of the disease's inflammatory process in the CNS.
It never had occurred to me before to investigate the molecular mechanism by which the toxic accumulation of psychosine in peripheral organs was responsible for the inhibition of the postnatal somatic growth of the mouse until this moment — my aha moment — and to understand the pathobiological and translational consequences of psychosine accumulation outside the CNS.
(In memory of Maria Leticia Sanchez Ortiz, a teacher and a mentor.)
A life filled with aha moments
By Danielle Guarracino
A life dedicated to science is filled with aha moments. For me, a few noteworthy ones define my trajectory.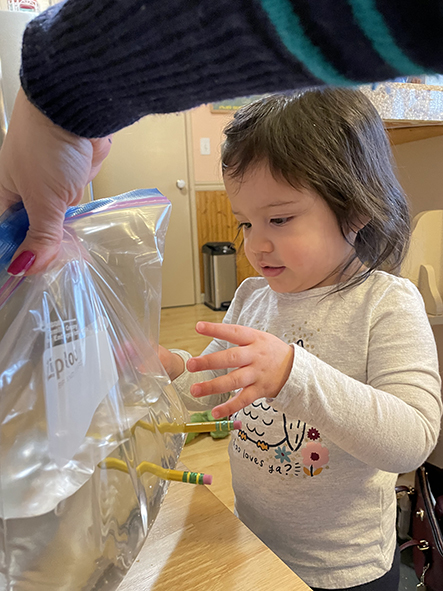 Danielle Guarracino
Danielle Guarracino's daughter enjoys an aha moment, discovering principles
of science first-hand.
In seventh grade, I had an inspirational female teacher who delved into biology with a memorable gusto. We did dissections, talked to marine biologists via satellite and had many hands-on activities. I remember one night, when studying, I realized that science offers an answer to every "why." My first aha.
Later, in high school, when I lost a close friend to what seemed like a medical mystery, I was empowered to want answers: in science, in medicine, in life.
Fast-forward through my doctoral program, where late-night incremental gains celebrated over a few hours of sleep and the whir of the laboratory instruments were punctuated with the aha of innovation.
Now I have been a professor for 10 years at a small college and am lucky to see aha moments for a living. Recently, a student, camera not on, stayed after our remote class in need of validation. When I assured her she understood a concept, she switched her camera on, doing a dance in excitement — the aha moment of a connection made.
As I bridge teaching remotely while caring for my toddler, I love introducing my daughter to science. One day we stabbed pencils through Ziploc bags filled with water, amazed they did not leak. When I asked her later about "science time," her face lit up as she remembered the pencils — her aha became mine, setting no age limits on science engagement.
Perhaps one of the most poignant aha moments in my career came to me unexpectedly this past summer. After muddling through several months of isolating at home, navigating issues with work and home life, I received an email from a former student who was about to start medical school after years in the service, including several tours in Afghanistan. He wrote to thank me for recommendation letters and for the materials from my class, which he was using to prepare for this new phase of life. I was humbled and proud to know I had played a small part in his path.
Some of us are heroes, but others get the unique opportunity to educate them. For me, that was the aha moment that speaks to me most and that I return to whenever I am in doubt of what I do and who I am.
Enjoy reading ASBMB Today?
Become a member to receive the print edition monthly and the digital edition weekly.
Learn more
Get the latest from ASBMB Today
Enter your email address, and we'll send you a weekly email with recent articles, interviews and more.
Latest in Opinions
Opinions highlights or most popular articles