Editor's Note
Share your aha moments!
I'm not a scientist. My background is in broadcast journalism. When I came to the American Society for Biochemistry and Molecular Biology in 2015, it was from a local TV station, where I covered high school sports online and worked with reporters and producers on related TV elements. Biochemistry and molecular biology were a far cry from Friday night lights. I was nervous to enter a new realm of content, but, more importantly, I was excited for a new challenge.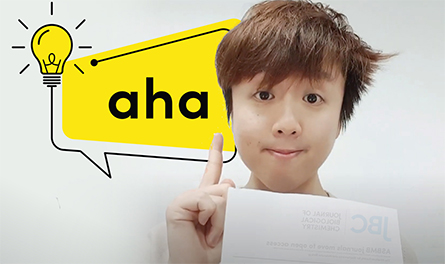 ASBMB
Ngee Kiat "Jake" Chua encouraged his fellow ASBMB members to share their
aha moments.
The thing that I absolutely love the most about working in communications is hearing people's stories. I love learning about how they've navigated life. In fact, when I was a kid, I really wanted to grow up to be an actress. My logic: I'd never have to choose just one job. I could try everything if I was an actress. It turns out performing is not my forte, but I never lost that passion for storytelling and learning about the human experience.
Once I got to the ASBMB and began working as a multimedia content specialist and sharing articles from ASBMB Today on our social media channels, I started getting to know our members and the scientific community. I quickly learned that scientists have fascinating stories. From their personal experiences to their research, they are inspired to figure out how this world works. I knew I was going to hear some amazing stories working here, and I have.
Fast-forward to January 2021, when ASBMB's journals made the transition to gold open access. Papers published in the Journal of Biological Chemistry, the Journal of Lipid Research, and Molecular & Cellular Proteomics were going to be published immediately and be permanently available for everyone to read, download, copy, distribute and reuse. In preparation for the change, our marketing and communications teams were tasked with coming up with a plan to share the news.
Last fall, Joanna Kotloski, our digital and content marketing manager; Anand Rao, our publications department's science communicator; and I all hopped on Zoom one afternoon and started brainstorming. We wanted to come up with a fun way to encourage scientists to share their discoveries in ASBMB journals. I love these brainstorming sessions and admire Joanna and Anand for their creativity. As we talked about what motivates us to connect with organizations and remember content, TikTok came to mind. Then Joanna remembered one of her favorite commercials from Southwest Airlines, and as the ideas kept coming, we landed on the slogan "Share your aha moments!" That was the beginning; we'd make a TikTok-inspired video with our members passing papers to one another and a second video with words of encouragement about the opportunities offered by publishing in an ASBMB journal.
We recruited help from our journals' associate editors and JBC's early-career reviewers. They showed up and went above and beyond to bring this to life. I have to thank Ray Blind, Craig Cameron, George Carman, Courtney Chandler, Ngee Kiat "Jake" Chua, Michel Geovanni Santiago–Martínez and Catherine Goodman for graciously appearing in these videos. Their performances were outstanding! You can see for yourself on the ASBMB's YouTube channel.
From there, another element of the "Share your aha moments!" project came to life, and for this, we have Angela Hopp to thank. She created an essay contest, asking our members to reflect on their careers or those of scientists they respect and to write about the aha moment that sparked a shift in their work. It could be any kind of revelation that changed the trajectory of their research or life. We received dozens of submissions. Wow. Thank you to all who contributed. It wasn't easy to select the winners. You can read the first-, second-, and third-place winning essays here. We hope you enjoy them as much as we did.
When I reflect on my own career, I realize my first few months at the ASBMB were huge for me. Before starting here, I'd taken steps toward changing fields. I wasn't sure communications was right for me, but my experience at the ASBMB reminded me how much I love storytelling and multimedia. It was career-changing. Working here was my aha moment, and to this day, not a month goes by when I'm not reminded I'm in the right place. This month, that's thanks to these essays. Thank you for sharing your stories and aha moments with us and reminding me just how grateful I am for mine.
Enjoy reading ASBMB Today?
Become a member to receive the print edition monthly and the digital edition weekly.
Learn more
Get the latest from ASBMB Today
Enter your email address, and we'll send you a weekly email with recent articles, interviews and more.
Latest in Opinions
Opinions highlights or most popular articles