Open Letters
Thank God for overlapping genes
Sometimes I feel weighed down as a scientist. Sometimes I feel overwhelmed by grant deadlines, unwritten papers, finicky experiments, endless forms, and so forth. Why am I doing this? Isn't there an easier way to earn a living? During times like this, I'll sometimes glance over to the corner of my desk. There I display pictures of special people and things — my wife, my children, my grandchildren … and a DNA sequence. Now, pictures of family are understandable, but why a DNA sequence?

The DNA sequence I have on my desk is from the INK4a/ARF gene locus. The DNA sequence (shown in black) and the corresponding proteins it codes for (shown in blue and red) read in part:

This DNA sequence is an exquisite example of an overlapping gene. Overlapping genes are genes where a single stretch of DNA sequence codes for parts of two proteins. In the case of INK4a/ARF, the in-frame reading of the DNA codes for the amino acids of the INK4a protein (shown in blue above) in a perfectly conventional way. But in the middle of this, the DNA also codes for different amino acids for a completely different protein — the ARF protein (shown in red above). It does this by shifting the reading frame of the triplet code. This results in an alternate reading frame — hence the name ARF protein. Amazingly, the overlapped coding of these two proteins continues for 105 amino acids. The same DNA sequence produces long stretches of two completely different proteins with different three-dimensional structures and functions!

I first heard about overlapping genes years ago in the virus PhiX174. The amount of DNA in the genome of this virus is too small to produce the 11 proteins it needs. To overcome this, the genome contains multiple overlapping genes. I was intrigued by this clever strategy, but it was only a virus. Then it gradually became clear that it was not just a virus thing. Examples of overlapping genes in mammals gradually accumulated. I became more excited. Now it is estimated that least 10 percent of mammalian genes contain overlapping sequences. To me, the fact that interlocking DNA sequences produce unique, functional proteins across the biological spectrum is remarkable. I feel that I am looking at something that transcends mere biology.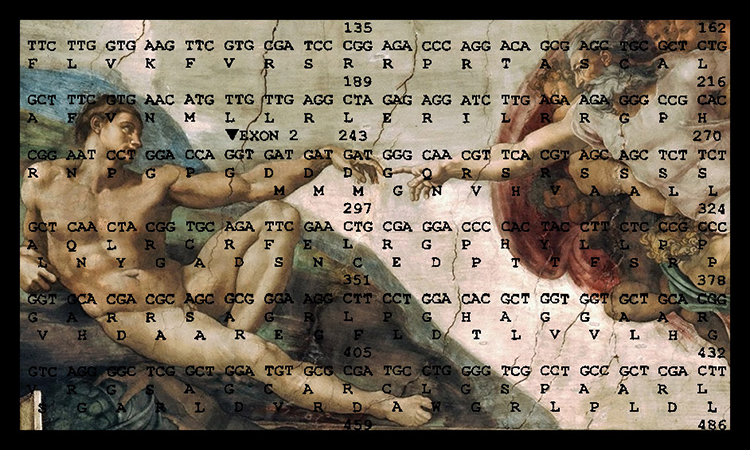 As I reflect on these overlapping genes, I am thankful for several reasons — some obvious, others perhaps not so obvious. At the functional level, many of these genes are essential for disease prevention, longevity and life itself. I display on my desk the sequence for the INK4a/ARF gene because, as a gerontology researcher, this locus is very important to me. These proteins play a major role in tumor suppression and perhaps the aging process itself. These two proteins are regulated by separate promoters, and they function in independent tumor-suppressor pathways. Mutations in this locus result in a marked increase in tumors in mouse models, and these genes are frequently inactivated in human tumors.

At the personal level, I am thankful for overlapping genes because they remind me of the beauty of the things we biochemists study. These genes come in a wide variety of motifs. Sometimes the overlap is on the same coding strand, as it is for the INK4a/ARF gene locus. But sometimes the code for the second protein is on the complementary (antisense) strand. It can even be on the complementary strand read backward!

Probably my favorite overlapping sequence involves the yeast protein Tar1p. Here the messenger RNA sequence that codes for Tar1p also codes, on the antisense strand, for a ribosomal RNA. Ribosomal RNA serves as a structural backbone for protein-synthesizing ribosomes. This is a completely different RNA function than that of messenger RNA. Scientists who study overlapping genes use words like "novel," "remarkable," "striking" and "statistically improbable" to describe them.

At the spiritual level, overlapping genes give me a glimpse of a reality that transcends our everyday world. Writers as different as Richard Dawkins ("An Appetite for Wonder"), Stephen Jay Gould ("Wonderful Life"), Ursula Goodenough ("The Sacred Depths of Nature"), Stuart Kauffman ("Reinventing the Sacred") and the author of Psalm 139 ("I am fearfully and wonderfully made") make the point that what we study is wonderful, transcendent, even sacred. To me, overlapping genes point to something greater than myself. When life is difficult, I look at the DNA sequence on my desk. From its intricate beauty, I draw strength and hope for the future.

Since this is a letter of thanks, who then do we thank? Who do we thank for the function, beauty and spirituality of these overlapping genes? Depending on one's worldview, a person might thank God, nature, evolution or perhaps all of these. Being a person of faith, I would thank God first. But whatever one's answer, it is a question that these genes confront us with.

I think that all of us as scientists have our overlapping-genes moments. Something in our field of study stirs our soul and evokes wonder. It may not be a DNA sequence. It could be a protein with amazing properties, an intricate signal=transduction network, a cell with marvelous abilities or a novel organism that provides new insights. But whatever it is, for a moment it captivates us. And if we take time to reflect on it, maybe it will lighten our daily burden of grants, papers and paperwork.

Looking at the big picture, we scientists can be thankful that we get to study biochemical systems as wonderful as overlapping genes. We get to apply our knowledge of them to the treatment of human diseases. We get to talk and write about them and perhaps inspire others. We get to enjoy their beauty and the meaning that they bring to our own lives. And maybe we even put a picture of them on our desk.
Enjoy reading ASBMB Today?
Become a member to receive the print edition monthly and the digital edition weekly.
Learn more
Get the latest from ASBMB Today
Enter your email address, and we'll send you a weekly email with recent articles, interviews and more.
Latest in Opinions
Opinions highlights or most popular articles