Jobs
NIH employment and training opportunities
The agency's institutes and centers have many permanent positions, fellowships and internships for those interested in doing or supporting science
As we all know, there has been a shift in hiring due to the COVID-19 pandemic. Since we are in mid-July and the fall hiring season is around the corner, this week's column will focus on opportunities at the National Institutes of Health.
The NIH, whose main campus is in Bethesda, Maryland, is made up of 27 institutes and centers that focus on specific diseases, systems and populations. These institutes and centers have many employment, fellowship and training opportunities, as well as helpful resources.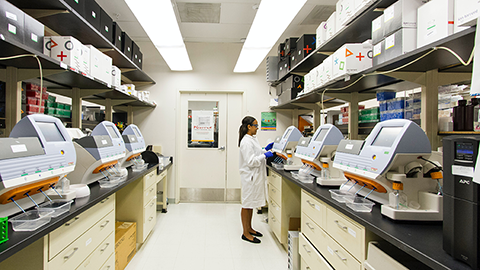 Whether you are looking to work in a research laboratory, train the next generation of scientists, review grants, communicate science or explore different research specialties, you probably can find what you're looking for at the NIH.
The competition for positions at the NIH is fierce. The agency is looking for candidates who are innovators, thought leaders, skilled at research and eager to learn. In April, I interviewed Roland Owens, director of research workforce development at the Office of Intramural Research, about what it takes to be a principal investigator at the NIH. If you missed that column or need to revisit it, check out his practical tips to help you stand out when applying.
If you are serious about working at the NIH, start learning more about the institutes and centers and figure out which areas speak to you. Check your network, set up informational interviews and look on the career services website to understand the agency's processes thoroughly.

Some fall job postings are open now and close in the next few months. Here are some of them.
Staff scientist openings
The NIH is looking to fill multiple staff scientist positions. There are opportunities for candidates ranging from the early-career level to the senior-scientist level. All staff scientists are doctoral-degree holders selected by institutes and centers to support senior investigators.
For example, there is an opening for staff scientist to work for John Ngai, director of the NIH's Brain Research Through Advancing Innovation Neurotechnologies (BRAIN) Initiative. This position is truly designed for a scientist who is skilled and interested in all research related to the brain. The research will focus on understanding genetic, epigenetic and cell signaling pathways. Requirements: Ph.D. in molecular, cellular and/or developmental biology, genomics or computational biology. Also, experience supervising laboratory trainees is required. There is no deadline listed, so act fast.
The National Institute of Diabetes, Digestive & Kidney Diseases (NIDDK) is also seeking a staff scientist. This role combines cell biology, molecular biology, genetics and biochemistry with a focus on cytokine-controlled physiology and disease. Requirements: Ph.D., a minimum of four years of postdoctoral biomedical research experience and a strong publication record. In addition, candidates should have experience working with gene-editing technologies and analyzing genome-wide data sets. The deadline is Aug. 10.
The Division of Intramural Research of the The National Heart, Lung, and Blood Institute is hiring a staff scientist to join the Laboratory of Cardiovascular and Cancer Genetics within the Cardiovascular Branch. This position is ideal for a scientist who has a strong molecular biology background, in vivo model experience and an interest in making connections from bench to bedside with scientists and physician–scientists. Requirements: Ph.D., experience developing independent projects, experience with animal models and cardiovascular knowledge. The deadline is Oct. 10 or until filled.
For NIH staff scientist positions, candidates who demonstrate research innovation and have strong publication records will stand out.
Fellowship opportunities
Fellowships are great way to gain training before you make the next move in your career. Depending on the type of fellowship, requirements and term lengths vary.
The National Biosafety and Biocontainment Training Program/Intramural Research Training Award Fellowship is accepting applications. If you are interested in public health-related careers, working in high-containment research environments or emerging diseases, this unique fellowship is for you. The NBBTP/IRTA fellowship is a two-year, immersive training program designed to prepare scientists to be successful in biosafety and biocontainment careers. Requirements: Bachelor's, master's or Ph.D. in microbiology, medicine, public health or allied sciences. In addition, microbiology knowledge and strong research experience are required. The deadline is Aug. 3.
The National Cancer Institute is the nation's leader in cancer research, and it has a Cancer Prevention Fellowship Program that is accepting applications. This fellowship provides postdoctoral fellows the opportunity to do mentored research on multidisciplinary teams and to develop independent research programs focused on cancer prevention. This fellowship provides competitive stipends for up to four years, health insurance, relocation expenses and other benefits. Requirements: M.D. or Ph.D.in epidemiology or a related discipline. The deadline is Aug. 17.
Other opportunities
The Early Career Reviewer Program teaches scientists what makes a grant competitive, how to evaluate research proposals, and about the grant-application process in general. Requirements: At least two years of experience as a full-time faculty member or researcher who conducts independent research. Also, at least one senior-authored research publication in a peer-reviewed journal within the past two years and one other senior-authored paper since earning a doctorate. This is an ongoing application with no deadline.
Finally, check out the NIH's intramural training page, which has information about internship programs for current undergraduates, programs for new college grads who wish to work at NIH between undergrad and grad school, training specifically focused on health disparities, and medical, dental and graduate student programs.
Join the ASBMB Today mailing list
Sign up to get updates on articles, interviews and events.
Latest in Careers
Careers highlights or most popular articles