Research Spotlight
Breaking barriers: From first generation to inspiration
As a child, Alberto A. Rascón Jr. dreamed of becoming a professional athlete, but an injury in college ended his football career, so he had to go back to the drawing board.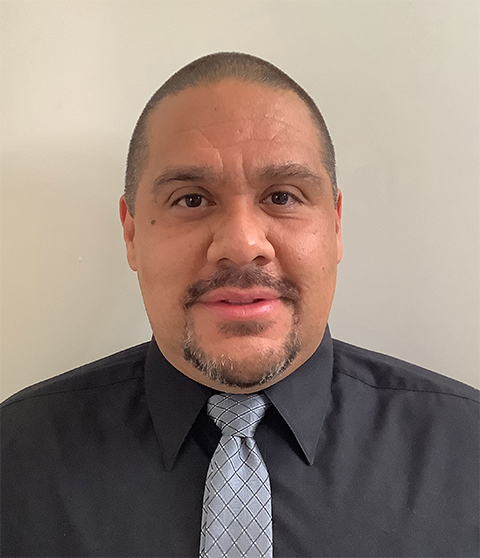 Courtesy of Alberto Rascón
Alberto A. Rascón Jr. is an assistant professor at San Jose State University and a member of the ASBMB's Maximizing Access Committee.
While he was healing and contemplating what to do next, he ran into his high school chemistry teacher. When Rascón shared his emerging interest in chemistry, his teacher discouraged him, saying he wouldn't pass and would end up dropping out. But Rascón has always faced challenges head on.
His response: Challenge accepted.
Rascón grew up in Culver City, California, and had few role models in science. "Growing up where I grew up, I mean, we were a low-income household," he said. "I lived in the ghetto, and everyone used to tell me, 'You're not going to do it. You're not going to amount to much.'"
Driven to prove the naysayers wrong, he decided to major in chemistry. Not thrilled with inorganic or organic chemistry, he began to take biology classes — and a light bulb went on. The combination of chemistry and biology proved to be the magic ticket that set him on a trajectory to becoming a biochemist.
The importance of mentorship
Rascón found a mentor in Ted Weinheimer, a biology professor at California State University, Bakersfield, where his grade point average went from a 3.0 to a 3.86 in two years. The mentor–mentee relationship didn't always come easy for Rascón. "The way I was brought up, living in the hood, we never trusted anybody outside of our circle," he said. "Especially older, white men because I didn't know if they would have my best interests at heart."
But working with Weinheimer changed his views. "He really took the time to ask how I was doing as a person. He really wanted to know me and my struggles. He uplifted me big time."
With his mentor's guidance, Rascón decided to pursue his Ph.D. in biochemistry at the University of Arizona.
As a first-generation college student, Rascón found it difficult to navigate his Ph.D program. He faced challenges with his first advisor. Rascón and his wife were raising two young children, and he struggled to balance his Ph.D. work with family responsibilities.
Stressed and on the brink of quitting grad school in his fourth year, Rascón reached out to Weinheimer, who encouraged him to talk with his committee members and, eventually, to change labs.
"I thought I was done with science. I hated science," Rascón said. "Once I made the switch, oh my gosh, I had so much fun."
When he began working with Roger Miesfeld, Rascón hit the ground running. In just two years, he wrote two manuscripts and a National Institutes of Health RO1 grant on Aedes aegypti mosquito midgut proteases. The female A. aegypti is a carrier for yellow fever, dengue fever, chikungunya and Zika viruses, and of those, only yellow fever has a licensed vaccine. By studying midgut proteases — the digestive enzymes that break down blood meals and provide the mosquito energy to lay eggs — Rascón and his colleagues could develop inhibitors to prevent digestion and halt the egg-laying process.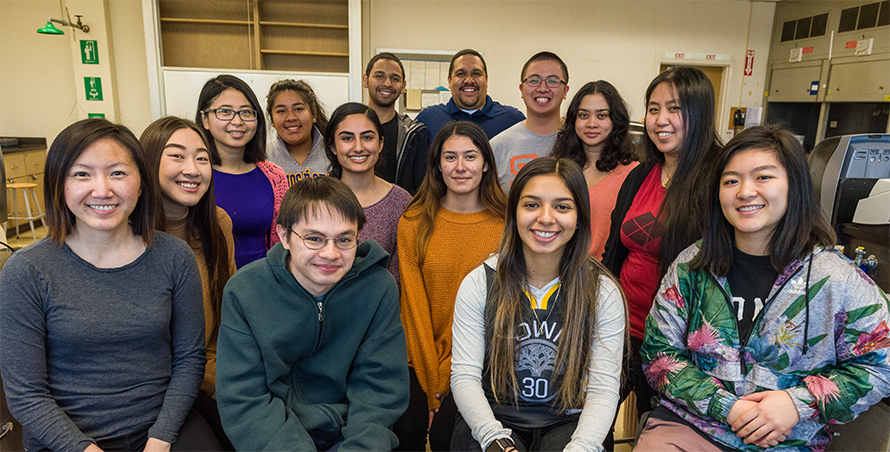 Courtesy of Alberto Rascón
Because the students in Rascón's lab learn a variety of skills, several biotech companies regularly recruit them.
Within nine months of starting in the lab, Rascón developed a method to detect mosquito protease activity in real time as opposed to existing end-point assays that failed to capture the early and late phases of activity. But midgut protease levels are insufficient to purify active proteases directly from mosquitos, so he needed a new method to characterize and study the protease activity in the lab. As a result, in his second paper, Rascón produced, for the first time, recombinant active proteases.
"The lab environment was amazing," he said, "and it really transformed my perspective not only on how to do science, but also manage people in the field."
Driven by his desire to teach and to continue learning how to manage a lab, Rascón was awarded a National Institutes of Health Institutional Research and Academic Career Development Award, known as IRACDA, and became a postdoctoral scholar at the University of California, San Francisco, under James McKerrow, studying parasitic proteases. There he learned a philosophy of teaching from his eventual good friend and teaching mentor, Teaster Baird.
"I learned a lot from him on how to deliver material, how to teach students, and how to be student centric," Rascón said. "If you really lecture to the students and think about them and their needs, adjust as you teach, it makes for a better teaching and learning experience."
Inspiring the next generation
Taking what he learned as a postdoc at UCSF, Rascón accepted an assistant professor position at San Jose State University. The administration asked him to teach the senior biochemistry lab. With no curriculum to guide his teaching, Rascón completely revamped the class to teach students lab skills and give them a chance to delve into research. Working with mosquitoes, his students learned to analyze a gene sequence, design primers for polymerase chain reaction gene amplification, clone the genes into a vector, and then do recombinant protein expression and even perform activity assays.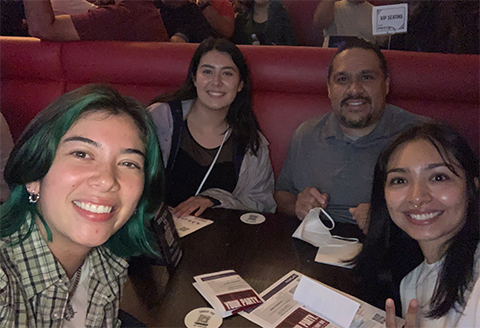 Courtesy of Alberto Rascón
Rascón likes to encourage his students to maintain work–life balance with activities such as taking them to a night of improv theater in San Jose.
In Rascón's first year teaching the class, one of his students found a new commercially available strain of E. coli bacteria that have a more oxidizing cytoplasm than the strain Rascón had used in his graduate school work to clone the mosquito proteases. This enabled proper folding of the proteases and allowed them to stay in solution. Using these cells, the lab produced soluble, recombinant proteases, eliminating the need for a denaturation/renaturation scheme that had reduced yield in Rascón's previous work.
The lab published a manuscript on this work in 2018, which fostered collaborations with the University of California, San Diego; UCSF; the University of Arizona and the New York Blood Center. Because of the skills Rascón's students learn, several biotech companies regularly recruit them, and in the fall semester of 2021, six students obtained jobs in biotech.
Rascón encourages his students to maintain a good work–life balance and helps them manage their time in the lab and in class. Just as his mentors encouraged him to take time for his family and be efficient, he passes on the same advice and understanding to the students in his lab: "Manage your time properly. Make a calendar and block off time. If you can't finish an experiment, I'm here. Let me know and I will take a sample if you can't do something. I'm here."
He also stresses happiness. "I tell my students, 'Science is 99% failure. Are you comfortable with that? You have to make sure that you're first and foremost happy. Once you have happiness then everything else will fall into place.'"
Rascón serves as a co-coordinator for the NIH Research Training Initiative for Student Enhancement, or RISE, program and won the 2021 College of Science Research with and Mentoring of Students Award at SJSU. "I would like to think my bad experiences have made me a very good mentor," he said. "People can either make you love or hate science. I want to give my students an environment where they are going to be successful."
Rascón is clear about his main motivation. "I do it because of my students," he said. "I do it because they inspire me to be there for them and be the mentor that they need. I'm going to transform science one way or another. We need great scientists, but you also need to live and have fun."
Enjoy reading ASBMB Today?
Become a member to receive the print edition monthly and the digital edition weekly.
Learn more
Get the latest from ASBMB Today
Enter your email address, and we'll send you a weekly email with recent articles, interviews and more.
Latest in People
People highlights or most popular articles