Annual Meeting
A pioneer in lethal pathogen research
The world has experienced multiple viral outbreaks over the past two decades, including severe acute respiratory syndrome, or SARS-CoV, Swine flu, Ebola, Zika and most recently SARS-CoV-2, or COVID-19. As travel, urbanization, and global land use increase, another outbreak is not just a possibility, it's a certainty.
Jean Patterson is an emeritus professor at the Texas Biomedical Research Institute, or Texas Biomed she was the initial director and for a time, chair, of the institute's biosafety laboratory level 4, or BSL-4, Task Force. She has overseen research on countermeasures for highly infectious pathogens that can lead to sporadic but lethal outbreaks.
"As a virologist, I don't know if there's a viral epidemic I haven't worked on," Patterson said.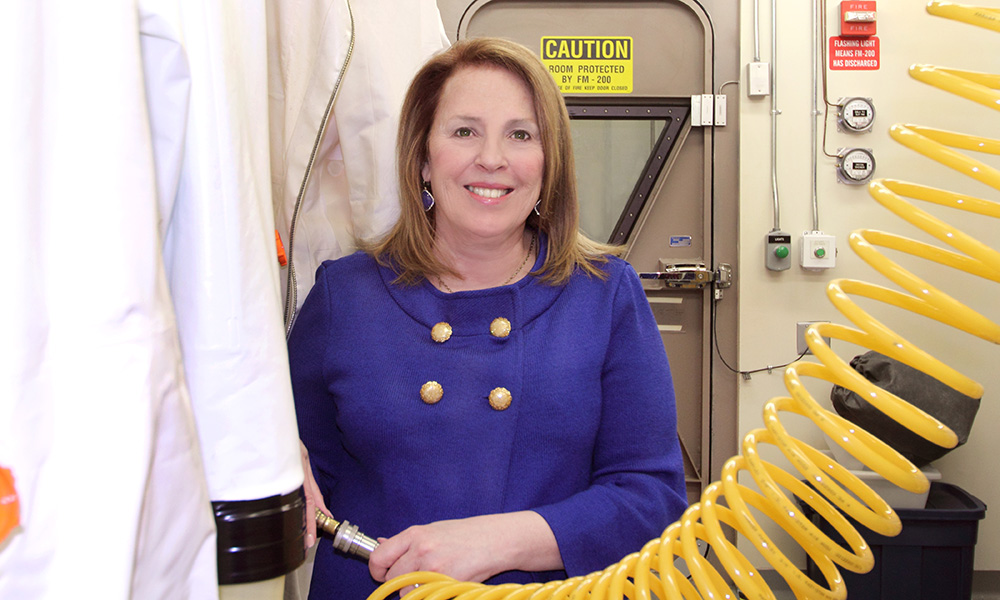 Texas Biomedical Research Institute.
Jean Patterson stands next to positive pressure suits in the BSL-4 laboratory at Texas Biomed.
BSL-4 represents the highest research safety level. These laboratories typically require researchers to wear full-body, positive-pressure air-supplied suits. BSL-4 labs also use biosafety cabinets and multiple redundant safety measures to protect both the users and the outside environment from the pathogens within.
Patterson became interested in virology when she was a postdoctoral fellow at the University of Geneva, Switzerland, where she studied RNA-based viruses. There she adopted teaching methods that emphasized tight experimental controls, something she instills in her students to this day.
"If you do the proper controls, you learn something from every experiment," Patterson said. "You shouldn't waste an experiment by not learning something from it."
Simultaneously, Patterson stresses the importance of collaborative work, something she has engaged in throughout her career.
"Collaboration is harder than competition," said Patterson. "With competition, whoever gets there first wins, but when we learn how to collaborate well, now that's real art."
Early in her career, Patterson worked at Boston's Children's Hospital affiliated with Harvard Medical School, where she studied respiratory syncytial virus, or RSV, and later witnessed the outbreak of human immunodeficiency virus, or HIV. She performed research on ribavirin, an antiviral medication used to treat infections caused by the hepatitis C virus, or HCV, which can opportunistically infect the liver of individuals with HIV due to reduced immune capacity.
In 2000, Texas Biomed recruited Patterson for her viral expertise to oversee the inception of a high-containment laboratory, the first of its kind outside of the federal government.
Why build a BSL-4 in Texas? Long before Patterson's recruitment, building a "city of science," was the mission of Texas Biomed founder, Thomas Baker Slick Jr., an inventor, entrepreneur and rancher. Slick's success in building three research organizations: Texas Biomed, the Southwest Research Institute and the Mind Science Foundation, at a time when Texas had no graduate education programs, was monumental in molding San Antonio into the research capital it is today.
"There is a strong military presence in San Antonio, and if there's one thing the military understand, it's risk," said Patterson. "They know nothing is ever 100% safe, and you can't pretend that it is."
Before planning construction for the new BSL-4 facility, Patterson and her team made many trips to labs at the Centers for Disease Control and Prevention, or CDC. Established in 1946 as the successor to the World War II Malaria Control in War Areas program, the CDC has since grown to study a wide array of diseases, environmental threats and health risks. Its BSL-4 is one of only two labs in the world that officially contain smallpox.
Patterson also consulted with labs at Fort Detrick, a biodefense research facility founded in 1943 that ran top secret U.S. biological weapon programs until 1969. During World War II, what was then known as Camp Detrick produced upwards of 500 bombs containing anthrax spores to fulfill an order from Winston Churchill. Detrick would later be at the center of the 2001 anthrax attack investigations, and widely recognized for its significant contributions to research involving cancer and infectious diseases like acquired immunodeficiency syndrome, or AIDS.
Based on what they learned from the BSL-4 labs at the CDC in Atlanta, and at Fort Detrick, in Frederick, Maryland, Patterson's team made plans for San Antonio.
"The facility was designed with simplicity in mind," said Patterson, "Local engineers and architects first drew it out on a napkin, saying, 'These are the principles, this is how it works.'"
At present, BSL-4 suit laboratories exist in about seven locations in the U.S., and one in Canada; there is also one BSL-4 glove box lab in Georgia. The exact number is often difficult to identify due to the semantics of BSL-4 classification. For example, whether suit laboratories but not glove boxes are included in the total lab number, or all facilities are collectively placed into one count.
Since the inception of Texas Biomed, federal agencies and pharmaceutical companies have used its BSL-4 for studies on select agents, pathogens and vaccine research. The advantage? Texas Biomed did not begin with a set mission and is unrestricted by long-term research goals. The research flexibility at Texas Biomed encourages government agencies and companies to work with them when they have to shift focus to meet agency or industry research goals.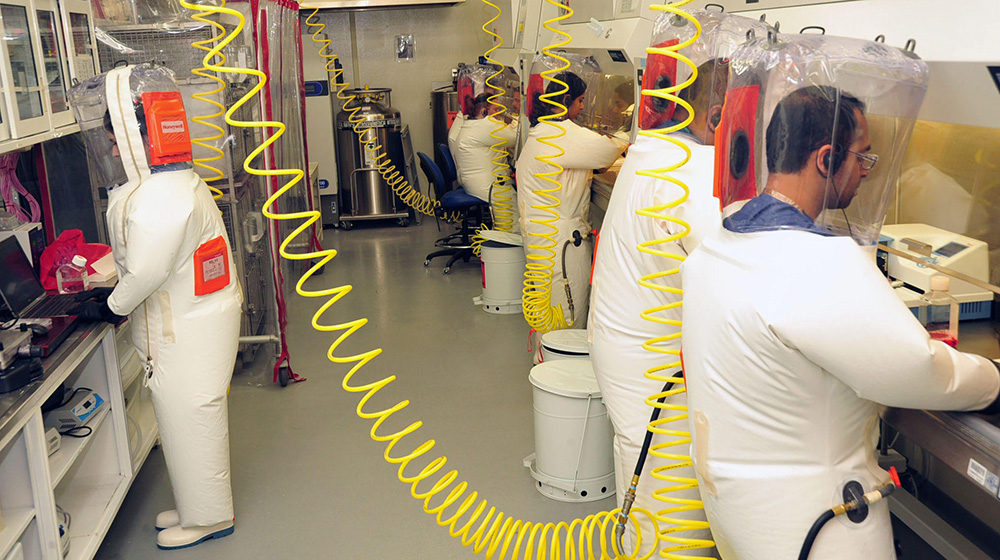 Texas Biomedical Research Institute
The biosafety level-4 labs at the Texas Biomedical Research Institute contain some of the world's deadliest pathogens.
When Patterson's BSL-4 lab opened in March 2000, her research initially focused on Lassa fever, a deadly zoonotic disease endemic to parts of West Africa. However, the anthrax attacks of 2001 triggered growth in U.S. bioweapons research, providing a foundation for later investigations in Patterson's facility, including the development of multiple vaccines targeting Lassa fever and the Ebola virus.
Patterson collaborated with former student and postdoc Ricardo Carrion to develop and use the marmoset as a model for viral pathogenesis for infectious agents such as Ebola, Lassa fever, Zika, Marburg virus and Eastern equine encephalitis. Unlike other nonhuman primates, marmosets do not carry herpesvirus B, which is beneficial as infections in humans can prove fatal. They are less aggressive, and their small body size makes for easy handling; marmosets are also particularly useful for studying the effects of Zika during pregnancy as they twin and triplet throughout the year.
"Animals can do unexpected things," Patterson said. "The part that takes the most skill [in the BSL-4 setting] is working with the animals; having a high-quality veterinary staff gives us confidence to work with animals in these settings, which requires specialization."
Most recently, Patterson collaborated with Holger Schmidt of the University of California, Santa Cruz on a new type of viral detection that combines microfluidics with photonics. Schmidt's group developed a sensitive chip-based assay that can detect RNA molecules using small fluid channels and light-guiding structures, making it unnecessary to amplify the gene product, which is often required for other detection methods.
"My collaborators are the real geniuses," Patterson said, describing her colleagues, former students, and postdocs, as "compassionate and brilliant problem solvers."
With the aid of Patterson's group, these approaches have been validated in detecting Ebola, Zika and SARS-CoV-2, and are moving toward commercialization for second-generation diagnostics.
"It has been an enormous pleasure to work with Dr. Patterson and her colleagues at Texas Biomed over the years," Schmidt said. "I have very much enjoyed her professionalism, collaborative spirit and sense of humor."
Of all the viruses Patterson has worked with, one of her favorites is the Leishmania virus, a tropical double-stranded RNA virus she helped discover early in her career at Boston Children's Hospital. And certain viruses still elude her, including RSV.
"[The US] had one of its first vaccine failures with RSV," she said, "and because it is such a prevalent and serious pathogen, it's always been the one in the back of my mind that you want to do something with, and find something that works."
There is hope, however; the CDC recommending as recently as September the first ever RSV vaccine, developed by Pfizer, for pregnant people to protect their newborns from severe infection.
Looking to the future of virology, pathogen research and vaccine development, Patterson is hopeful, particularly for broad-spectrum vaccines.
"We're never going to be able to predict the next outbreak or the severity of the next outbreak," she said. "I think the best way to go for public health is to develop vaccines that target across large viral families."
San Antonio: Reverence for history and a fiesta vibe
At the intersection of historical landmarks, unique culinary delights and a dynamic culture, San Antonio offers an exciting and engaging environment for locals and tourists. A resident for over 20 years, Jean Patterson describes San Antonio as "A warm welcoming city and very friendly."
The city is home to a number of military installations, including Fort Sam Houston, Brooke Army Medical Center and two Air Force bases — Lackland and Randolph. All members of the Air Force, including reservists and the Air National Guard, begin their basic training in San Antonio, and it is home to many retired service members.
San Antonio lures visitors with its historical sites, such as the five Spanish colonial missions, including the Alamo. The city balances reverence and celebration.
One of the most popular attractions is the River Walk, a 15-mile stretch of parks, restaurants, entertainment and residences along the San Antonio River; it includes five miles of the downtown area that maintain a year-round fiesta vibe.
"The River Walk is really nice," Patterson said, "and it also lets you know how welcome you are to visit San Antonio."
Enjoy reading ASBMB Today?
Become a member to receive the print edition monthly and the digital edition weekly.
Learn more
Get the latest from ASBMB Today
Enter your email address, and we'll send you a weekly email with recent articles, interviews and more.
Latest in People
People highlights or most popular articles