Student Chapters
Her research evolved from chore to passion
A high school chemistry class first got Grace Ferri interested in science.
"I learned why salt affects the boiling temperature of water," she said. "I learned to appreciate the atoms, the molecules, the ions. I could finally understand how the world around me worked on a deeper level."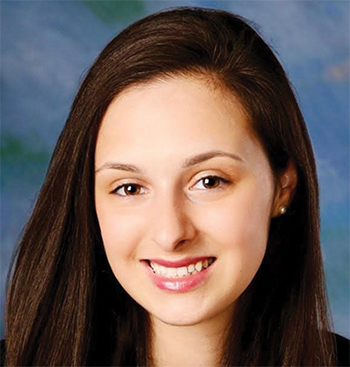 Grace Ferri, former president of the ASBMB Student Chapter at Boston University, is a singer as well as a scientist. Now in med school, she'd like to specialize in otolaryngology — care of the ear, nose and throat.courtesy of Grace Ferri
That chemistry class was the first in a series of experiences — including founding an American Society for Biochemistry and Molecular Biology Student Chapter — that helped the Massachusetts native identify her passions and shape her goals.
Ferri entered Boston University as a chemistry major but switched to biochemistry and molecular biology, which she thought would better prepare her to pursue a career as a physician.
As a pre-med student, Ferri was urged by her advisors to do undergraduate research, which she first perceived as a chore but later learned to love. She won a research fellowship sponsored by the Arnold and Mabel Beckman Foundation and joined an X-ray crystallography lab for her two final years as an undergraduate. Ferri was attracted to her lab by the enthusiasm and passion of Karen Allen, her research mentor.
Ferri said she eventually "fell in love with the process of crystallography, even though it can be tedious and discouraging at times."
As with high school chemistry, she enjoyed the way the scientific process built knowledge from the base up — data from those protein crystals was teased into atoms making up a newly solved 3D protein structure.
Ferri learned about ASBMB Student Chapters at a Beckman conference where she made a presentation as part of her fellowship. She wanted to bring the chapters' opportunities for networking and research development to BU. She sought advice from local ASBMB chapter presidents, especially from Northeastern University. This inter-chapter connection led to collaborative efforts such as a symposium where students from all the ASBMB chapters in the Boston area presented their research.
Ferri enjoyed being the BU chapter president in part, she said, because she led a great executive team. Each member would decide on a contribution they wanted to make and would lead that effort while simultaneously involving the team. One manifestation of this arrangement was a career panel featuring representatives from AstraZeneca and Constellation Pharmaceuticals.
A multitude of clubs and events competed for students' attention at BU. Ferri's advice to others facing similar challenges is to advertise events months in advance. She recommends relaying the value of involvement in the ASBMB to other students through personal stories and encouraging them to get involved.
Grace started medical school at BU in August with the goal of becoming a physician–scientist. As a singer herself (she occasionally performed the national anthem at BU hockey games), she is interested in specializing in otolaryngology.
Join the ASBMB Today mailing list
Sign up to get updates on articles, interviews and events.
Latest in People
People highlights or most popular articles