Member News
Aebersold wins Swiss award; Rodland receives HUPO award; remembering Bob Wheat
Aebersold receives Swiss prize
Ruedi Aebersold, professor emeritus of molecular systems biology at ETH Zurich and the University of Zurich, is this year's recipient of the Swiss Science Prize Marcel Benoist.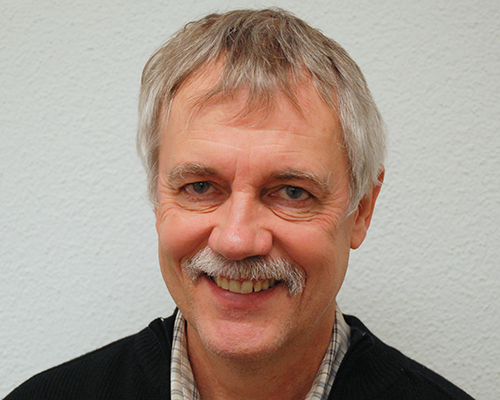 Ruedi Aebersold
A pioneer in the field of quantitative proteomics, Aebersold is a systems biologist who developed an early isotopic labeling techniques to allow researchers to determine quantitatively the concentration of proteins in two or more samples. He led some of the first studies to integrate proteomics and transcriptomics, giving scientists a fuller picture of the gaps between RNA and protein level and opening the way for studies of how these discrepancies arise. More recently, his lab has developed targeted proteomics methods such as selected reaction monitoring and data-independent acquisition, combining techniques into new types of multiomics, and using clinical samples for proteomic diagnoses.
Aebersold obtained his doctorate in cell biology in Basel in 1983. He held faculty positions at the University of British Columbia and at the University of Washington for years, co-founding Seattle's Institute for Systems Biology in 2000 with Leroy Hood and Alan Aderem, before returning to Switzerland in 2004 as a professor at ETH Zurich and the University of Zurich. He was an early editor of the journal Molecular & Cellular Proteomics. His honors include prizes from the Human Proteome Organization, the European Proteomics Association, the Swiss Chemical Society and the ASBMB.
The Marcel Benoist award, now in its centennial year, was named for a French lawyer and philanthropist who bequeathed the prize for a scholar in Switzerland studying "sciences … of particular relevance to human life." The laureate is selected by the Swiss National Science Foundation from peer nominations and receives a cash prize of 250,000 Swiss francs, or about $273,500.
Rodland wins HUPO award
Karin Rodland, a chief scientist at the U.S. Department of Energy's Pacific Northwest National Laboratory, is a recipient of the Human Proteome Organization's 2020 Distinguished Achievement in Proteomic Sciences Award.
Karin Rodland
Rodland studies mechanisms of signal transduction in normal cells and how these mechanisms are altered in cancer cells. She provides biological focus to the proteomics group at PNNL, insuring that the technologies are applied to the most significant biomedical problems and that issues of experimental design and data analysis reflect the needs of the biomedical community. She was among the first to demonstrate that variations in extracellular calcium concentration could be sensed by a variety of epithelial and mesenchymal cells through activation of the G-protein coupled calcium-sensing receptor, resulting in activation of the Ras-Raf-MEK-ERK signaling cascade.
Rodland earned her Ph.D. in biology from Syracuse University. Prior to joining the PNNL, she was an associate professor in the department of cell and developmental biology at Oregon Health Sciences University. She was named a fellow of the American Association for the Advancement of Science in 2011.
Rodland shares the award with Fuchu He, a member of the group that founded HUPO in 2001 and founder of the organization's Chinese arm. The 2020 HUPO awards are scheduled to be presented Wednesday via a live online webinar.
In memoriam: Robert Wayne Wheat
Bob Wheat
Retired Duke University biochemist and microbiologist Robert "Bob" Wayne Wheat
died
February 19 at Peake–Brookshire Nursing Facility in Hillsborough, North Carolina. He was 93.
Wheat was born Nov. 10, 1926, in Springfield, Missouri, where he was raised. After serving for two years in the Navy, he graduated with honors from Missouri State University. In 1948, he married Johnnie Maxine Simmons, with whom he had attended high school. Wheat then earned a master's degree in chemistry from the University of New Mexico, followed by a Ph.D. in biochemistry and microbiology from Washington University in St. Louis in 1955. After completing his doctoral research at Walter Reed Research Center in Washington, D.C., Wheat became one of the first postdoctoral researchers studying metabolic diseases at the National Institutes of Health.
In 1956, Wheat took a faculty position at the department of biochemistry at Duke University, where he remained for the duration of his career. Over the next four decades, during which he explored the relationship between antibiotics and bacterial cells walls, Wheat served on the editorial staff for the Journal of Bacteriology and as a study section consultant for NIH and the National Science Foundation.
After retiring from Duke in 1992, Wheat took up painting. He also played clarinet and piano, and he sang tenor in the choir at the Pilgrim United Church of Christ, where he was a member for over 50 years. Although Wheat gradually lost his vision to macular degeneration in the last decade of his life, he was able to continue his love of reading using books on tape provided by the services of the North Carolina Library for the Blind.
Wheat was preceded in death by his wife of 69 years, his parents, and three brothers. He is survived by three children, eight grandchildren, three great-grandchildren, and one sister.
Enjoy reading ASBMB Today?
Become a member to receive the print edition monthly and the digital edition weekly.
Learn more
Get the latest from ASBMB Today
Enter your email address, and we'll send you a weekly email with recent articles, interviews and more.
Latest in People
People highlights or most popular articles