Award
Nobel Prize recognizes development of asymmetric organic catalysis
Benjamin List and David MacMillan win chemistry prize for developing 'an ingenious tool for building molecules'
Benjamin List of the Max Planck Institute and David MacMillan of Princeton University today won the 2021 Nobel Prize in chemistry "for the development of asymmetric organic catalysis."
The prize honors the researchers' simultaneous, independent discoveries in 2000 that small organic molecules can catalyze reactions that selectively make chiral products.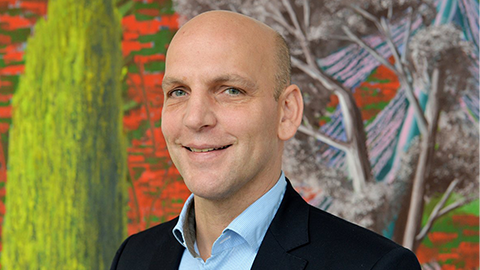 Benjamin List was born in Germany and earned his undergraduate degree from Free University of Berlin and his Ph.D. from Goethe University Frankfurt. He has been at the Max Planck Institute for Coal Research since 2003.
Chirality describes how the atoms in a molecule are arranged. Two molecules with opposite chirality, like two hands, have all the same components, put together into a mirrored structure. Biological systems show absolute chiral preference: All cells use L-amino acids and D-sugars.
David MacMillan was born in Scotland and earned his undergraduate degree from the University of Glasgow and Ph.D. from the University of California, Irvine. He's been at Princeton University since 2006.
During this morning's press conference announcing the award, List called this phenomenon "a mystery that chemists… have not been able to answer. Why in the world is biology single-handed? Why do we have this preference in nature?"
Organic reactions are generally not so selective. Pushing a reaction in the direction of one stereoisomer or another requires a catalyst that prefers one. Historically, those catalysts have been either enzymes or metals. But List and MacMillan's research teams found ways to use small, chiral organic molecules as catalysts — in one case, effectively stripping down an enzyme to the barest essential component of its active site.
The aldol reaction takes place when acetone and a second aromatic aldehyde form a carbon‒carbon bond. Carried out in cells by enzymes called aldolases, it is important for glycolysis and gluconeogenesis. List and colleagues reported in the Journal of the American Chemical Society that a single amino acid, proline, which is found in aldolase active sites, was enough to drive production of only one chiral product. They called the catalyst a micro-aldolase.
MacMillan and colleagues began with another well-known organic reaction, the Diels‒Alder reaction, which produces a ring from aldehyde and diene reactants. They found that a chiral organic catalyst can speed the reaction and push it toward one stereoisomer. They also reported their work in JACS.
"I think it is always gratifying when one can read a paper and, despite being field-adjacent, readily grasp the central concepts to understand the importance of the advance," J. Martin Bollinger Jr., a professor of chemistry and of biochemistry and molecular biology at Penn State, told ASBMB Today.
Bollinger praised the "elegant simplicity" of both chemists' work.
The Nobel committee, in public briefing materials, noted that using small organic molecules to catalyze organic reactions is not unprecedented. However, they wrote, "the work by List and MacMillan resulted in a turning point; there is a clear before and after."
The chirality of small molecules is important for their interactions with biological macromolecules, which can confer pharmacological effects, odors and other desirable properties. For example, one isomer of limonene smells pleasantly of oranges; the other has a lemon-and-turpentine scent. Many drugs include chiral centers and sometimes more than one. Stereopure drugs are of increasing interest; a single stereoisomer of the drug ketamine, known as as esketamine (brand name Spravato), was recently approved to treat depression, while using a single stereoisomer, L-dopa, for Parkinson's disease reduces unpleasant side effects.
The Nobel committee called the laureates' work "an ingenious tool for building molecules." Organic catalysts promise to make synthesis of chiral molecules more efficient and more environmentally friendly, although Peter Somfai, an organic chemistry professor at Lund University who is on the Nobel chemistry committee, emphasized this morning that organic catalysts are not yet in use at industrial scale. A pilot organocatalyst-aided scheme for synthesizing the flu drug oseltamivir (commonly known as Tamiflu), he said, reduces the process from 12 steps to five.
The Nobel committee was unable to reach Macmillan before making its announcement, but it reached List on vacation in Amsterdam with his family. He said that in early October, he and his wife often joke about a phone call from Stockholm — so seeing a phone call from Sweden was surreal at first. "I looked at her, she looked at me, and I ran out of the café," he said.
Join the ASBMB Today mailing list
Sign up to get updates on articles, interviews and events.
Latest in People
People highlights or most popular articles