Research Spotlight
A career in metabolism research and a drive to mentor minority students
Spurred to research by a program for undergrads from underrepresented groups, Claudio Villanueva pays it forward.
Claudio Villanueva is a born researcher. "As a child, I was always interested in science and wanted to learn more about the natural world," the UCLA associate professor said. "I would take toys apart, so that I could look inside to see how they worked."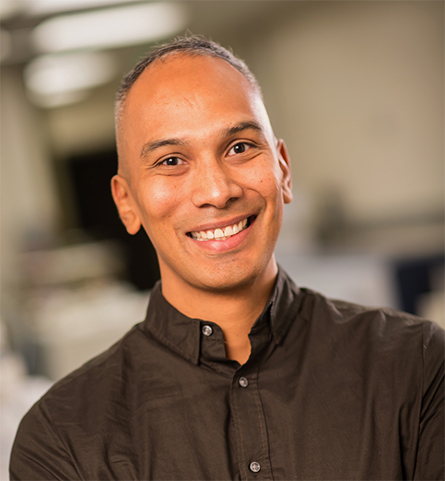 Courtesy of Claudio Villanueva
Dr. Claudio Villanueva is an associate professor in the department of integrative biology at UCLA, where he studies lipid metabolism and adipocyte development. He also volunteers his time with organizations that promote diversity and inclusion in the sciences.
However, Villanueva's childhood had limited exposure to careers in science. His family immigrated to Ontario, California, just east of Los Angeles, from Nicaragua when he was 9 years old. He attended schools with limited resources and struggled as a student.
"Looking back on it, I really lacked focus and a vision for how hard work in the classroom would lead to a career later," Villanueva said. "My parents didn't understand the U.S. education system, so my siblings and I had to figure it out for ourselves."
High school was a turning point for Villanueva. First, he took a test to match his interests and skills with career options. "The test told me to pursue a career in manual labor," he said. "I was really disappointed and felt like I had better options."
Second, during a schoolwide athletic and academic awards ceremony where he was recognized for his achievements on the wrestling team, Villanueva saw his classmates being honored for their work in the classroom with college admissions letters and scholarships. "The awards ceremony was a real wake-up call for me," he said. "I got a T-shirt, but I knew that my classmates' academic awards were much more meaningful."
He changed his trajectory and started working harder in his classes, Villanueva said. "I also started setting goals for myself, and quickly realized how much more effective I was at reaching an end point when I had a goal in mind. This lesson has actually carried me through my whole career — college, grad school, postdoc appointment, and now a faculty position."
After high school, Villanueva attended Chaffey College, a community college near his hometown, thinking he'd eventually go to dental school. When he transferred to California State University, San Bernardino, to finish his undergraduate degree, a professor encouraged him to apply to the McNair Scholars Program, which prepares students from underrepresented groups to attend and complete graduate research programs.
As a McNair scholar at CSUSB, Villanueva participated in a summer program that included preparation for the GRE graduate school entry exam, development of science communication skills and a lab placement. He worked in a biology lab, where he studied subcutaneous sodium transport in leopard frogs. At the end of the program, he traveled to Penn State to present his research and discuss science with fellow McNair scholars from around the country.
"In this simple model (leopard frogs), I learned how to design experiments and the technical aspects of measuring sodium transport using a voltage clamp," he said. "The research conference connected me to fellow young scientists and opened my eyes to the exciting possibility of a career in research."
Finding a research focus
Villanueva abandoned his dental school plans to pursue research and a Ph.D. at the University of California, San Francisco. In
Robert Farese Jr.
's lab at the Gladstone Institute, he studied lipid metabolism, with a focus on the role acyl-CoA:diacylglycerol acyltransferase, or DGAT, enzymes play in fatty liver disease. His results showed why mouse models missing the enzyme DGAT1 are protected against obesity, fatty liver disease and diabetes.
"Mice that lack the DGAT1 enzyme can't store triglycerides efficiently and actually burn fat more quickly," he said. "These mice are actually leaner than wild-type mice, even though they eat more food."
Villanueva returned to southern California to complete his postdoctoral training with Peter Tontonoz at UCLA. He continued to study lipid metabolism but shifted his focus to the genetic level, with a specific focus on transcriptional regulation of the enzymes involved. Humans have two types of adipocytes, or fat cells, he explained; white fat cells store energy in the form of lipids and are associated with obesity, while thermogenic (brown and beige) fat cells quickly break down fatty acids to generate heat.
"I examined gene transcription in white and thermogenic adipocytes, and identified a gene — TLE3 — that attenuates thermogenic adipocytes," he said. "Inhibition of TLE3 shifts white fat cells to so-called 'beige fat cells,' a process that enables exclusively lipid storing cells to start burning energy."
In 2012, Villanueva launched his own lab at the University of Utah to study the molecular mechanisms that regulate adipocyte biology and lipid metabolism. "We are interested in understanding how cells sense and control metabolism in response to stressors like temperature," he said. "This requires an understanding of integrative metabolism and physiology."
"Our lab explores the molecular mechanisms that promote energy expenditure. These studies will provide opportunities for intervening in metabolic diseases that are associated with obesity."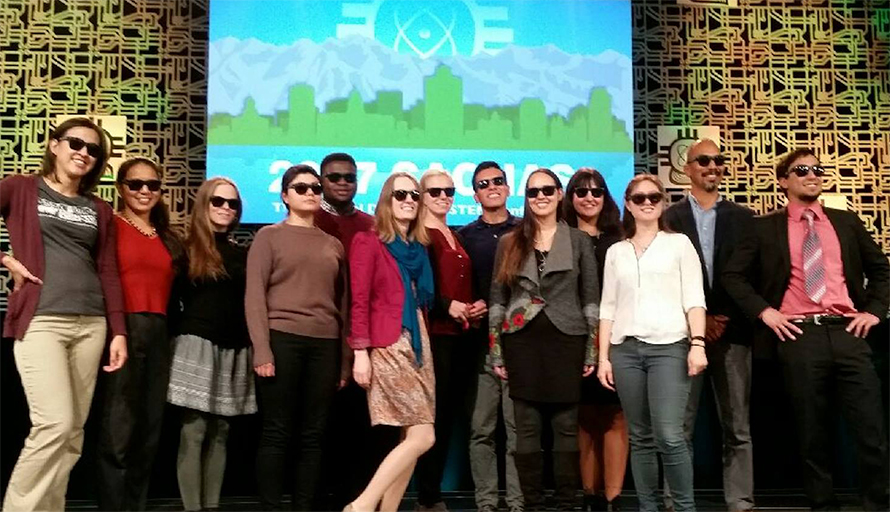 Courtesy of Claudio Villanueva
Villanueva and the University of Utah's SACNAS Student Chapter attended the 2017 national SACNAS conference in Salt Lake City, Utah. They handed out sunglasses at their University of Utah recruitment table.
Promoting diversity
At Utah, Villanueva began mentoring students in the lab and the classroom. He found joy in mentoring students. "It's a lot of fun to see trainees learn and grow as scientists," he said.
He was discouraged, however, by the scarcity of minority students, who at the time made up just 6% of the incoming graduate students in the Bioscience Graduate Program at Utah. "The U.S. population is changing rapidly, and the scientific workforce needs to reflect those changes in order to reliably serve the public," he said.
To address the issue, Villanueva and a few trainees started a local chapter of the Society for Advancement of Chicanos/Hispanics and Native Americans in Science. The mission of SACNAS is to help members of these underrepresented groups attain advanced degrees, careers and positions of leadership in science, technology, engineering and mathematics fields.
The new SACNAS chapter quickly gained popularity, and as involvement increased, so did minority recruitment. By 2019, 30% of incoming graduate students were members of minority groups. Villanueva credits this rapid growth to SACNAS's involvement with the process and hiring Jeanette Ducut–Sigala, who was involved in recruitment. "Prospective students feel welcome at universities when they see themselves represented in the current student body," he said.
Villanueva encourages current students to attend SACNAS's annual conference, which includes both professional development workshops geared toward undergraduates, grad students and postdocs and opportunities to speak with recruiters from major academic institutions, large private companies and government agencies.
"For me, the highlight of the conference is interacting with students interested in science," he said. "Many students come to the SACNAS conference not realizing how many people of diversity are actually doing science, since numbers are so limited at individual institutions. The conference is a really incredible experience because students realize, 'Wow, there are people with stories similar to mine doing science!' On top of that, lots of faculty members at the conference are really invested in student success and actively seeking to mentor and encourage the next generation. It's a unique experience."
The conference also includes cultural programs such as a powwow, songs, dances and art displays. Each year, the organizers take care to feature traditions from the original inhabitants of the host location (recent examples include Honolulu, San Antonio and Washington, D.C.).
Inspiring keynote speakers discuss diversity in the sciences and the relationship between science and society. These speakers often identify as minorities and hold leadership positions in STEM; recent speakers have included Nobel Prize winner Dr. Mario Cappechi, President of the Republic of the Marshall Islands and climate action leader H.E. Hilda C. Heine, and then-U.S. Secretary of Energy Dr. Ernest Moniz. Villanueva encourages young scientists seeking inspiration to listen to these speeches, which have been archived on YouTube.
Moving forward
Last year, Villanueva relocated his lab to UCLA. He was attracted by the university's strong consortium of labs focused on metabolism research (including the Tontonoz lab) and the corresponding opportunities for collaboration.
Villanueva also appreciates that UCLA is not complacent about diversity issues but constantly is seeking to innovate. "The university provides workshops for faculty about pedagogy as it relates to diversity and inclusion. Now, we are engaged in active discussions about how to create classroom environments that are more supportive of minority students," he said. "Organizations like SACNAS have been instrumental in increasing diversity in the sciences by making people feel supported, less isolated and alone. I hope we can create a similar environment at UCLA."
The move has been productive so far, though in-person lab work has been curtailed by the COVID-19 pandemic. For now, Villanueva and his students are spending time analyzing data, learning the computational skills needed to analyze next-generation sequencing results and planning future experiments. Villanueva said he looks forward to returning to the lab fully when public health officials deem it safe to do so.
"Ultimately, at the core," he said, "I'm fascinated by the natural world and love the fact that I have a career where I can make new discoveries and share them with the world."
About the Research Spotlight
The American Society for Biochemistry and Molecular Biology's Research Spotlight highlights distinguished biomolecular and biomedical scientists from diverse backgrounds as a way to inspire up-and-coming scientists to pursue careers in the molecular life sciences. Eligible candidates include Ph.D. students, postdoctoral fellows, and new or established faculty and researchers. To nominate a colleague for this feature, contact us at ASBMB Today.
Enjoy reading ASBMB Today?
Become a member to receive the print edition monthly and the digital edition weekly.
Learn more
Get the latest from ASBMB Today
Enter your email address, and we'll send you a weekly email with recent articles, interviews and more.
Latest in People
People highlights or most popular articles