Feature
Science globetrotters
Why and how do scientists work in two parts of the world at the same time?
This is a story without a single narrative — but rather tales of people who have maintained simultaneous scientific endeavors in two parts of the world, with one base in the U.S. Their motivations for doing so are all over the map.
Helping the home country:
Carlos Bustamante, University of California, Berkeley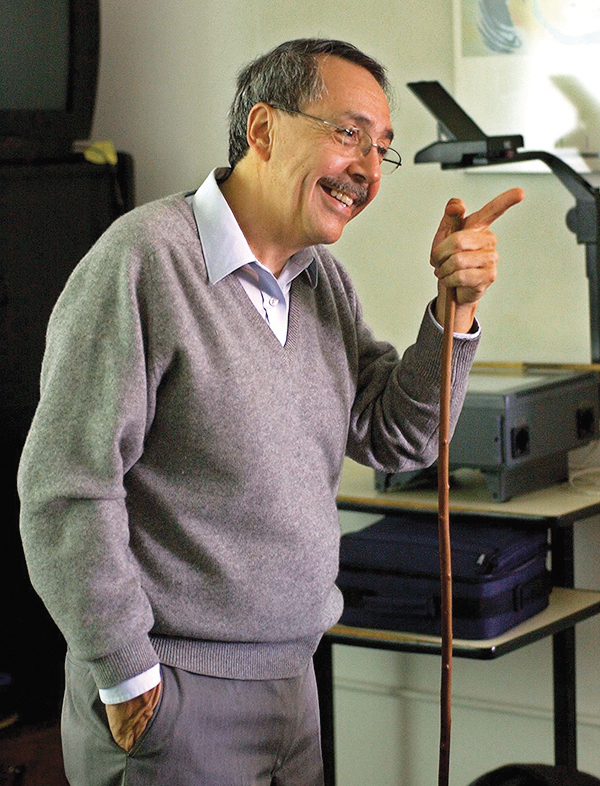 "Twin labs" is what
Carlos Bustamante
calls his setup. An expert in single-molecule manipulation techniques, Bustamante runs laboratories both at the University of California, Berkeley, and Cayetano Heredia University in Lima, Peru.
In the 1980s, Bustamante intended to return to his home country of Peru after completing his Ph.D. at Berkeley. "But by the time I was finishing my Ph.D., it was impossible to go back," he says. "The country was in the midst of a revolution by the terrorist Maoist group called Shining Path."
Bustamante built his career in the U.S. developing optical and magnetic tweezers that researchers use to manipulate individual molecules, such as DNA and DNA polymerase, and to get a close-up view of molecular dynamics.
In 2005, officials at Cayetano Heredia University asked him to help invite American scientists to give lectures to students at the university. With the lecture series for three years, "I realized that even though I was not going to go back to Peru as a scientist, I still could do something to help my country to strengthen its science and technology," says Bustamante. "Eventually the idea came up of creating a twin laboratory in Lima that would be parallel to mine."
Bustamante corralled representatives of the major universities in Peru and made his pitch for mirror labs. The next day, officials at Cayetano Heredia University offered to host the laboratory. Bustamante explained the idea to officials at Berkeley and got their support.
The laboratory in Lima got off the ground in 2009 and today has six undergraduate and master's students. The students get to spend a summer in the Berkeley laboratory, and the flow of people goes the other way as well. "I think the experience of American students going to South America and having the sense of what it is like to live in a country not as rich as this one is a very sobering experience," notes Bustamante.
The experience is not just for students. Bustamante acknowledges that as an investigator of the Howard Hughes Medical Institute, "I'm not only doing well but I'm doing better than well in some respects. From that point of view, [the Lima laboratory] is very important, because it gives me a perspective and a context that is always good to keep in mind."
The Lima laboratory, like the Berkeley laboratory, does both fundamental and applied research, but with a local twist. "At my lab at Berkeley, we study transcription by RNA polymerase from yeast or E. coli," explains Bustamante. "In Peru, we are purifying and isolating the RNA polymerase from Mycobacterium tuberculosis, because tuberculosis continues to be the main cause of death in Peru. The RNA polymerase from mycobacterium is the main drug target for most of the frontline antibiotics that are used today."
The laboratories stay connected by Skype, but Bustamante goes to Lima three times a year. Bustamante says his family in Peru has been enthusiastic about the project because "for them, it was a good pretext to see me more often instead of once every two years!"
One concern in doing science in developing countries is lack of easy access to reagents and instrument parts. Bustamante has outfitted the Lima laboratory with mostly older instruments from his Berkeley laboratory. "Instead of sending instruments to landfills, we fix them a little bit or the university in Peru pays for fixing them," says Bustamante. On every trip, Bustamante and his students carry instrument parts and reagents in their luggage to bypass delays they would otherwise hit with mail-order service. "We want to avoid the kind of delays this sort of collaboration normally involves," says Bustamante.
The Lima laboratory has had a ripple effect not just within the university where it's located but also in South America in general, says Bustamante. It's the only one in the region with an optical tweezers setup, so scientists from Chile and Argentina have requested collaborations because they want access to the instrument. "It's like a snowball rolling down a hill," says Bustamante. "The only concern that I have is that I don't want to be the only Peruvian scientist who does this. There are many Peruvian scientists in the U.S. I think if each one of them tried something like this, we could in a few years completely change the face of the science in Peru."
Enjoy reading ASBMB Today?
Become a member to receive the print edition monthly and the digital edition weekly.
Learn more
Get the latest from ASBMB Today
Enter your email address, and we'll send you a weekly email with recent articles, interviews and more.
Latest in People
People highlights or most popular articles