Interview
Meet Enrique De La Cruz
Enrique De La Cruz balances biochemical research with academic leadership at Yale University, where he chairs the molecular biophysics and biochemistry department and heads Branford College. He has served in a host of professional roles over his two decades at Yale, from committee member and chair to grant reviewer and mentor.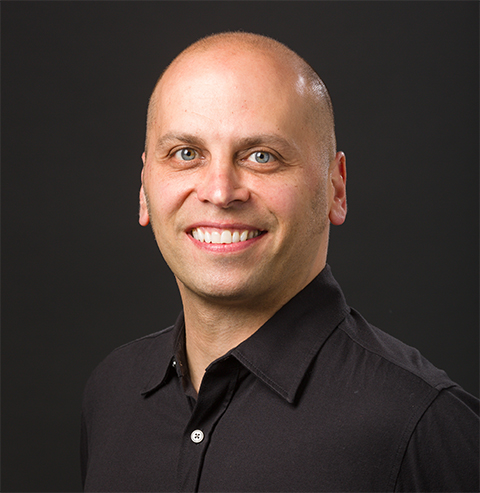 Enrique De La Cruz
Before coming to Yale in 2001, De La Cruz had a postdoctoral fellowship at the University of Pennsylvania School of Medicine. He earned a doctorate in cell biology at Johns Hopkins University School of Medicine and a bachelor's degree in biology and chemistry at Rutgers University in Newark.
Newark is this scientist's hometown. He largely grew up in Kearny, New Jersey, where much of the television drama "The Sopranos" was filmed.
De La Cruz has authored 92 research publications in peer-reviewed journals. His most recent studies explore the dance-like movement of actin filaments and bundles in the cell. He was a member of the American Society for Biochemistry and Molecular Biology's inaugural class of fellows in 2021. He was elected as a fellow of the American Association for the Advancement of Science in 2022 and of the Connecticut Academy of Science in 2021.
De La Cruz spoke with Paula Amann, ASBMB Today's science writer, about his career and his work as an associate editor for the Journal of Biological Chemistry. The interview has been edited for clarity and length.
When did your fascination with science begin?
My parents got married in Cuba in the early 1960s, shortly after the revolution when the politics were shifting. They left everything behind to come to the U.S., including family. Dad was a welder in a factory; Mom worked in a hospital. Education was impressed on all three of their children as one of the few things that could not be taken away from someone.
On a good day, I represent what can happen when good people step up for those younger and more vulnerable. I was fortunate to have many caring people pointing me in the right direction and helping create opportunities for me to grow and thrive. At 16, I started working in a lab at Hoffmann–La Roche in Nutley, New Jersey. I was fortunate to be the one person from my high school selected to participate in this inaugural work-study program. The bus commute from Kearny to Nutley was 40 to 45 minutes, on two buses.
It was a challenge, but that experience really got me excited about science and made me want to learn more.
I applied to one college: Rutgers University. At the Rutgers campus in Newark, I took part in the Minority Biomedical Research Support Program, a National Institute of General Medical Sciences — sponsored program designed to expose underrepresented students to laboratory research and careers. I did that for four years, and it was transformative. The fact that I had a job that was advancing my career and I was getting paid was absolutely essential for my subsequent career path and trajectory.
At Rutgers Newark, I had stellar professors and advisors who were excellent at teaching and mentoring. They were honest and tough but supportive. Their teacher-to-student message was: You should think about being a scientist. It was my experiences at Newark that made me want to be a scientist and a teacher.
Mentors were clearly important to you. What makes a good mentor?
Someone who has the capacity to see somebody for who they can and want to be and help them get there. One thing I know for sure: All of my mentors genuinely cared for me. Of this I am certain. When you have mentors like that, you have the courage to take chances, even if you lack confidence.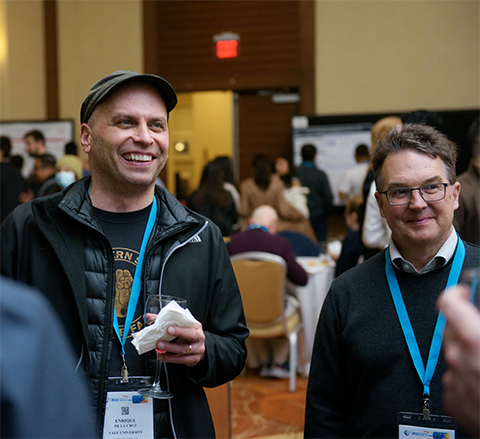 ASBMB
Enrique De La Cruz socializes with other scientists at an ASBMB annual meeting which he describes as "one of the most valuable national conferences you can attend."
What got you interested in studying actin?
I took Ed Bonder's undergraduate cell biology course at Rutgers. He taught me about actin, and I thought it was the coolest thing I'd heard of in my life. I fell in love with a molecule, and you never forget your first love.
I asked him, where was the best lab studying actin, and he said without a pause: Tom Pollard at Johns Hopkins. The next day I wrote Pollard a letter asking about graduate school opportunities.
He replied with a handwritten letter to an undergraduate student from Newark, explaining the opportunities, inviting me to apply to the various programs, and welcoming me to join his group if accepted. I hadn't even applied to graduate school yet, but I knew then that Pollard was the kind of person I wanted to be around.
What's involved in running Branford College?
At Yale, we are proud of the residential college system, which is modeled on the United Kingdom's system, Oxford and Cambridge in particular. It's a community within a community; it has its own gym, intramural sports teams, dining hall and, in some cases, a printing press, pottery studio or theater. Each college has its own colors, its own mascot, and its own crest or shield. It's a wonderful way to establish community and support.
Being head of the residential college is one of the most fulfilling professional roles I've ever had. It's also one of the most demanding. You lead the college: You serve as its chief executive officer and spiritual leader. Heads deal with everything from community-building activities, finances and budget and space management to disciplinary matters.
How do you juggle that role with running your department and your lab?
You have to believe in what you're doing, and you have to have the right people around you. In all these roles, you need to see yourself as part of a bigger team. I have amazing people in the lab, in the department and in the college.
The challenge is in the multiplicity: I have three assistants for three different things. The hardest part is switching roles. All of them — the lab, the college, the department — are about teaching, pedagogy, identity and community, so there is a shared mission, but the roles are quite different.
How did you get connected to the ASBMB and the JBC?
I was always a fan of the ASBMB, in large part because of the JBC. I've argued that you cannot write a good paper without citing the JBC. The journal was my first connection to ASBMB.
The ASBMB annual meeting is one of the most valuable national conferences you can attend. I tell people: If you can go to only one meeting this year, this is the one to go to, because of the breadth and excellence of the science.
As an associate editor, how do you sort the good from the great studies streaming in?
There's a lot of good work that should be published but not necessarily by JBC. As an editor, I look for quality and rigor as well as the defining feature of our journal, which is biological mechanisms.
I don't view editors as gatekeepers. We are the ambassadors and mediators for the field. Our goal is to disseminate data to the community and to help community members to disseminate data to others.
What do you do to unwind after a long week at Yale?
There are several things that I find therapeutic, and being beaten by my kids in sports is one of them. I like sitting with my wife when we have downtime — she always has something interesting to say that I did not know or did but didn't think about.
I love going to vinyl record stores. I have been doing this since I was 12 years old and have accumulated an extensive record collection. I have five turntable systems set up, including four at home and one in my office. My heart belongs to punk rock, especially The Clash, Stiff Little Fingers and The Jam, but I also love soul, power pop, mod and glam, and in recent years I've started appreciating jazz.
Like science, there's always something new to learn about and appreciate in music, even if it's not a new release.
Enjoy reading ASBMB Today?
Become a member to receive the print edition monthly and the digital edition weekly.
Learn more
Get the latest from ASBMB Today
Enter your email address, and we'll send you a weekly email with recent articles, interviews and more.
Latest in People
People highlights or most popular articles