Student Chapters
A virtual high school science fair — from the judges' perspective
The American Society for Biochemistry and Molecular Biology gave the Fairleigh Dickinson University ASBMB Student Chapter funding for an award at this spring's Nokia Bell Labs North Jersey Regional Science Fair, or NJRSF, a regional competition for high school students. Originally planned as an in-person event, NJRSF went virtual due to the COVID-19 outbreak.
A virtual science fair requires a video conferencing system. The NJRSF organizers selected a platform called BlueJeans, and they assigned each judging group to a different video conference, along with a science fair representative to help the judges stay on schedule and address any technical issues. Students entered the conference one-by-one for individual 15-minute slots to present their projects.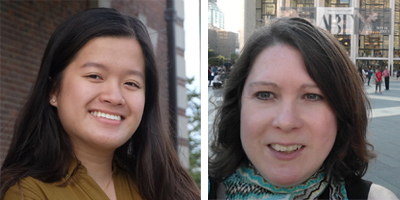 COURTESY OF ANNA HOANG AND PATRICIA MELLOY
Anna Hoang, president, and Patricia Melloy, faculty advisor, served as judges
for the Fairleigh Dickinson University ASBMB Student Chapter science fair prize.
The two of us participated in special awards judging for biochemistry and molecular biology–related posters. All eight students in our category presented their projects via PowerPoint with little or no technical difficulty. Most gave a brief presentation and then answered our questions. We saw how well they knew the subject matter, their methods and related research questions to tackle in the future, as we would at an in-person science fair. We were amazed at their professional demeanor. According to one of the fair's judging coordinators, Diana Vengsarkar, 80% of the projects slated for the in-person fair were shared in the virtual event, for a total of 79 projects and 97 students.
Ananya Raghavan, an 11th grader at the Academy for Math, Science and Engineering at Morris Hills High School, won the FDU ASBMB Student Chapter Special Award. She studied compounds that might facilitate the reactivation of a mutant tumor protein, p53, into wild-type, specifically in glioblastoma cells. She performed a green fluorescent protein assay using two genetically engineered tumor cell lines to see how quinolines could reactivate mutant p53, with the reactivation determined by the degree of fluorescence.
"I've always been interested in cancer research, ever since two of my close family members were diagnosed with lymphoma and ovarian cancer," Ananya said, adding that she emailed about 50 professors before finding a lab at Drew University where she could work on this project.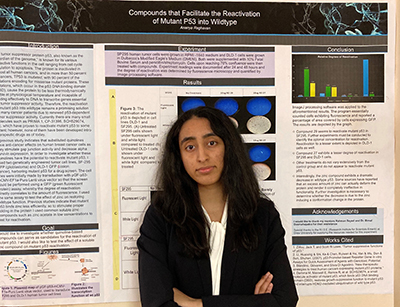 COURTESY OF ANANYA RAGHAVAN
Ananya Raghavan, who won the FDU ASBMB Student Chapter Special Award,
poses with the poster she did not get to present. For the virtual fair, she
presented her research as a PowerPoint.
"I found it very difficult to conduct my experiments at times," she said. "I had to go to the lab during my school hours, which limited the time I could spend with the cells so that I didn't miss too many of my classes … For me, this represents a year's worth of collecting data, redoing assays and culturing cells over and over again."
Ananya's persistence earned her four more awards at the fair, including an International Science and Engineering Fair Grand Prize, the top award in the NJRSF.
We missed moving easily to different parts of a poster and having the spontaneous conversations at posters and between posters that add to the fun of an in-person fair, but the virtual fair was a success. Most students and judges were disciplined about not running over their allotted time, so students competing in more than one special award category could move on to their next video conference.
A student judge's view
"This was my first year judging at NJRSF, and I have to say I was very impressed with all of the presentations. Since I was new to judging, I wasn't sure of what to expect. I approached the panel with an open mind and judged each student reasonably. Some advice I'd give to future judges is to expect the unexpected."
Anna Hoang
Join the ASBMB Today mailing list
Sign up to get updates on articles, interviews and events.
Latest in People
People highlights or most popular articles