Award
2022 PROLAB winners named
Ten early-career scientists will receive grants this year from the Promoting Research Opportunities for Latin American Biochemists program, which will allow them to advance their research by working in the labs of collaborators abroad.
Since 2012, the American Society for Biochemistry and Molecular Biology, the Pan-American Society for Biochemistry and Molecular Biology, and the International Union for Biochemistry and Molecular Biology have given 93 biochemists these travel awards. The program supports travel and other expenses related to temporarily relocating to the U.S., Canada and Spain.
This year's PROLAB travel grants are going to Ph.D. students and postdoctoral fellows from Argentina, Brazil and Uruguay.
The 2022 recipients are:
Delfina L. Borús
Delfina L. Borús
Project title: Gene expression regulation by FABP1 in enterocytes
Delfina L. Borús is pursuing a doctoral degree in biological sciences at the National University of La Plata in Argentina. Her thesis work focuses on the transcriptomic role of fatty acid binding protein 1, and she'll be working in the lab of Judith Storch at Rutgers University. Borús' adviser is Natalia Scaglia in the lab of Betina Córsico, which has collaborated with the Storch lab for more than two decades. "This trip is an amazing opportunity for my doctoral thesis work as Dr. Storch has a distinctive knockout mouse model. I'll be able to learn cutting-edge techniques along with helping me improve my skills at the lab," Borús said. "This is going to be for sure a life-changing experience."
Karina Flores Montero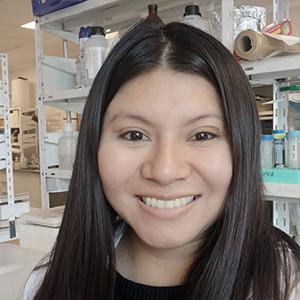 Karina Flores Montero
Project title: Analysis of cysteine string protein beta (CSPβ) binding to membrane by biophysical tools
Karina Flores Montero is working on her doctorate at the Histology and Embryology Institute of Mendoza at National University of Cuyo in Argentina. She is pursuing a thesis about the assembly of complexes of SNAREs in sperm under the direction of adviser M. Celeste Ruete. Flores Montero will work in the lab of Josep Rizo at the University of Texas Southwestern Medical Center at Dallas. The Rizo lab has extensive experience with biophysical techniques and membrane-reconstitution approaches. "For me, this award means a great opportunity to grow in my academic career, since I will work in one of the most renowned laboratories in my area of research. Also, this training will allow the quality and impact of my research to be greatly improved," Flores Montero said.
Sabrina A. Foscaldi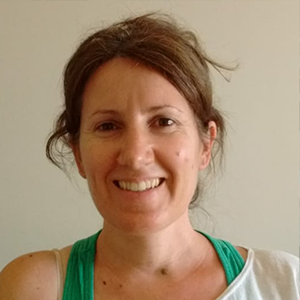 Sabrina A. Foscaldi
Project title: Rhizobium leguminosarum's biological response to light — Transcriptomic analysis induced by bacteriophytochrome
Sabrina A. Foscaldi is a postdoctoral fellow in the lab of Fernando Goldbaum at the Leloir Institute Foundation in Argentina. During the first part of her postdoc, Foscaldi worked on a project focused on the structure of a bacteriophytochrome photoreceptor from the phytopathogen Xanthomonas campestris. She's now working on a related photoreceptor in Rhizobium leguminosarum, a symbiotic bacterium that fixes atmospheric nitrogen. Foscaldi will visit California State University, Fullerton, to work in the lab of María Soledad Ramirez, which studies molecular mechanisms of antibiotic resistance in prokaryotes and has expertise in bacterial transcriptomic analysis. "The visit will contribute to my research on the bacteriophytochrome-mediated signaling pathway of Rhizobium leguminosarum. Through this grant, we expect to detect differentially expressed genes from light- and bacteriophytochrome-dependent transcriptomic analysis through RNA sequencing —RNA-Seq," Foscaldi said. "This travel grant will allow me to learn about this technology and is a valuable support to my research and professional growth. I'm very grateful for this opportunity."
Joaquin Garat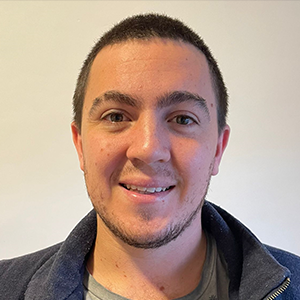 Joaquin Garat
Project title: Optimization of single-cell Ribo-Seq approaches to study protein synthesis regulation in Alzheimer's disease models
Joaquin Garat is a Ph.D. student studying ribosomal protein coding gene expression in the nervous system at the Instituto de Investigaciones Biológicas Clemente Estable. Garat is in the lab of Jose Sotelo, which has been collaborating with George Bloom at the University of Virginia for several years on a study of Alzheimer's disease's effects on protein synthesis. Garat will extend that work in the Bloom lab. "This opportunity will allow me to work with excellent investigators and to use transgenic animal models that are not available in my country," Garat said. "During my stay, we plan to work on single-cell Ribo-seq protocols in collaboration with Guillermo Eastman, a postdoc at Bloom´s lab, that will allow the study of translation regulation heterogeneity between different cell types in health and disease."
Geovana S. Garcia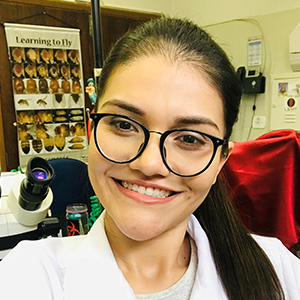 Geovana S. Garcia
Project title: The biochemical basis of the growth induced by the xenotopic expression of the mitochondrial alternative oxidase in Drosophila larva
Geovana S. Garcia is a Ph.D. candidate at São Paulo State University's Jaboticabal campus in Brazil. She's working on a thesis about mitochondrial alternative oxidase expression in Drosophila in the lab of Marcos T. Oliveira, with whom Garcia first began working as an undergrad. Garcia will be hosted by Jason Tennessen's lab at Indiana University Bloomington. The lab uses the fruit fly to study metabolism, physiology and development. "My research proposal aims to evaluate how the xenotopic expression of mitochondrial alternative oxidase — AOX, an enzyme with therapeutic potential — modulates larval growth in a metabolic level," Garcia said. "In Tennessen's lab, I will have technology available to quantify key metabolites and hormones in diverse larvae expressing AOX, aggregating our understanding of larval growth and metabolic basis of tumors. I will have the opportunity to work in the same building as Bloomington Drosophila Stock Center, one of the largest providers of stocks for fly research in the world. My academic career will be incredibly impacted by this opportunity."
Bruno Hernández Cravero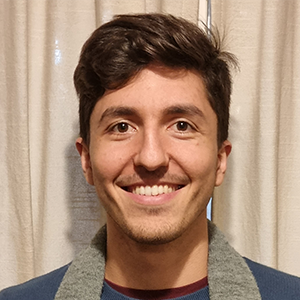 Bruno Hernández Cravero
Project title: Role of unsaturated fatty acids in alpha-synuclein aggregation in Caenorhabditis elegans
Bruno Hernández Cravero is pursuing a doctorate in the lab of Diego de Mendoza at the Institute of Molecular Biology of Rosario in Argentina. He will visit Luisa Cochella's laboratory at the Johns Hopkins School of Medicine, where he plans to establish mutant and transgenic strains of C. elegans to study polyunsaturated fatty acids' role in alpha-synuclein aggregation. "Parkinson's disease is a neurodegenerative disease of humans. Leveraging the easy genetic manipulation of C. elegans and the expertise at Cochella's lab, I'm going to use CRISPR–Cas9 technique to build a worm that mimics Parkinson's disease," H. Cravero said. "CRISPR–Cas9 technique has been highly developed, and its applications are extremely varied. I am very grateful to the ASBMB for giving me this award, as I am very happy and excited to learn this technique and then be able to apply it."
Horacio Martín Pallarés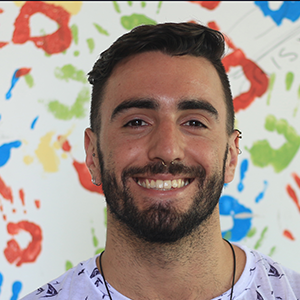 Horacio Martín Pallarés
Project title: Zika virus infection modulates translation of cellular antiviral factors
Horacio Martín Pallarés is a Ph.D. student at the Leloir Institute Foundation in Argentina. He's studying the mechanisms of Zika virus replication and viral immune system evasion processes in the lab of Andrea Gamarnik. Zika virus belongs to the Flaviviridae family, which includes a large number of emerging and re-emerging human pathogens that cause fever and encephalitis, such as West Nile virus, Japanese encephalitis virus and dengue virus. A Zika outbreak in the Americas and its suspected link to microcephaly put this virus at the forefront of an international research effort to understand its replication strategies and pathogenesis. Pallarés will spend time in the lab of Ariel Bazzini at the Stowers Institute for Medical Research. While in Kansas City, Missouri, he plans to use ribosome profiling and RNA sequencing to study how Zika virus regulates host gene expression. "I'm very excited about the PROLAB travel award. This is an invaluable opportunity for me! It will be crucial for my thesis project, and it will allow me to acquire new skills in techniques that are poorly developed in Argentina," Pallarés said.
Haydé Saracho
Haydé Saracho
Project title: Genetic and biochemical characterization of new defense systems in the genus Acinetobacter
Haydé Saracho is a Ph.D. student at Planta Piloto de Procesos Industriales Microbiológicos in Argentina. Her thesis is focused on identifying and characterizing plasmids using data of next-generation sequencing. Her thesis director and co-director are Daniel German Kurth and Julian Rafael Dib, respectively. Saracho will spend time in the lab of Mario F. Feldman at Washington University School of Medicine in St. Louis. The Feldman lab studies the Gram-negative bacterium Acinetobacter baumannii, which causes a variety of infections and has been classified by the World Health Organization as a top priority for therapeutics. In light of the emergence of drug- and phage-resistant strains, Saracho will work on characterizing new defense systems in sequenced genomes of the organism. "I want to express my gratitude to the program, which will allow me to travel to the laboratory of an experienced team to experimentally validate my predictions about the defense systems against phages of bacteria of the genus Acinetobacter. This could be the beginning of a longer collaboration between our laboratories," Saracho said. "The experience acquired will be essential to implement these techniques in our own laboratory. I believe that this award will be a milestone in my career and will improve my options for the future."
Juliana Topalian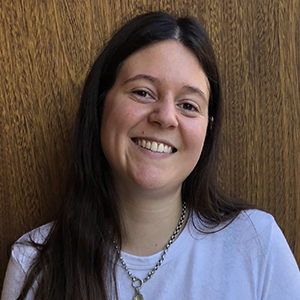 Juliana Topalian
Project title: Bacterial degradation of lignocellulose and fermentation of pentoses for cost-effective production of bioproducts
Juliana Topalian is working on her doctorate at the University of Buenos Aires in Argentina. She's studying how aerobic soil bacterial enzymes alter the structure of polysaccharides in lignocellulosic biomass — with an eye toward exploitation for various applications. Her thesis advisers are Eleonora Campos and Martin Blasco. Topalian will join the University of Georgia's Complex Carbohydrate Research Center to work in the lab of Breeanna Urbanowicz, which is focused on understanding the molecular pathways used by plants to synthesize complex polysaccharides. "I am grateful for this opportunity that will allow me to advance in my research, learn new techniques and gain experience in using equipment not available in my home lab. This will help me to expand our knowledge on structural polysaccharides and their degradation by lignocellulosic bacteria and strengthen the international collaboration between both laboratories," Topalian said. "I also believe this will be an extraordinary experience to grow not only professionally but also personally."
Harmonie Vallese Maurizi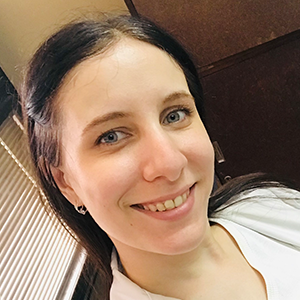 Harmonie Vallese Maurizi
Project title: Role of pigment epithelium-derived factor in the crosstalk between neurons and glial cells in the retina
Harmonie Vallese Maurizi is a Ph.D. student at the National University of the South in Argentina. Her thesis is focused on apoptosis and neuronal regeneration. Her thesis director and co-director are Lorena German and Luis Politi, respectively. Vallese Maurizi will spend time at the National Eye Institute in Bethesda, Maryland. She'll be working with S. Patricia Becerra, who leads the agency's Section on Protein Structure and Function and whose group studies pigment epithelium-derived factor, or PEDF, in the retina. "Scientific research is very difficult in our country, due to the sparse funding resulting from the bad economic situation. Receiving this grant is an excellent opportunity to push forward my research career," Vallese Maurizi said. "I am so happy and grateful for having been selected for this award! It is a great contribution to my academic growth; it will allow me to get extensive hands-on training in new top-notch techniques in a highly qualified research laboratory — one of the most recognized on PEDF research."
Enjoy reading ASBMB Today?
Become a member to receive the print edition monthly and the digital edition weekly.
Learn more
Get the latest from ASBMB Today
Enter your email address, and we'll send you a weekly email with recent articles, interviews and more.
Latest in People
People highlights or most popular articles