Pride
Listen, learn and support
In this special Pride Month issue of ASBMB Today, we feature four interviews with LGBTQIA+ scientists who are trained in STEM fields.
These scientists discussed their experiences in the science community and shared their stories. They also shared advice for people who want to better support LGBTQIA+ individuals and reflected on recent progress and setbacks in terms of inclusivity and support within science, technology, engineering, and mathematics.
The interviews have been edited.
Redefining what a scientist looks like
Riley Eisert–Sasse is a gay nonbinary transgender man and a computational biophysical chemist. He earned his bachelor's degree in chemistry at the University of Wisconsin–Platteville and is working on his Ph.D. at Pennsylvania State University.
Q: Talk about your research and how you got interested in it.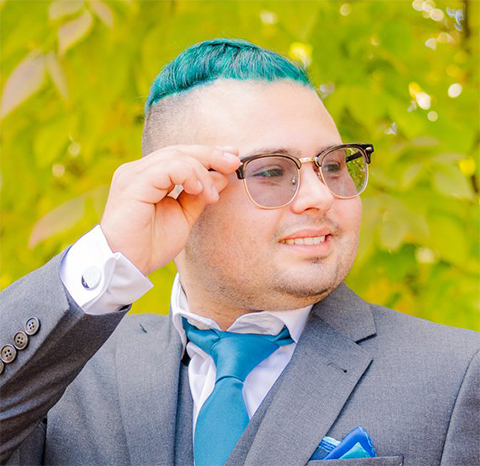 Riley Eisert–Sasse
A: I'm a chemist doing my Ph.D. at Penn State in Denise Okafor's lab. Most of my colleagues are molecular biologists, but Dr. Okafor was able to take me on because of her secondary appointment in chemistry.
My research focuses on human nuclear receptor proteins, specifically the farnesoid X receptor, or FXR, which is mostly found in the liver and kidneys. I'm working on finding predictive properties of different ligands of FXR through computational molecular dynamics simulations.
Q: What were you looking for in a lab, aside from research interests?
A: For me, finding the right culture is even more important than finding the right research interests. I wanted to find a group of people who would be supportive of my career goals and me as a person. It was about finding somewhere that I could do research and develop as a scientist.
Q: Have you encountered any challenges related to your identity as a member of the LGBTQIA+ community?
A: When I was doing my rotations, I was worried that people wouldn't view me as a scientist because of how I presented myself. Starting at a new institution and changing fields at the same time was a culture shock. Due to the difference in teaching styles between an R1 institution and a smaller college, many of my professors at Penn State assumed I had background knowledge that I didn't have.
Also, going to college in rural Wisconsin, although I did have a great support system and professors and supervisors that I still keep in touch with, I didn't present myself as openly queer because of safety concerns.
Q: What advice do you have for someone in a similar situation?
A: Prioritize your time and not try to do everything at once. Join committees or service organizations that get you interacting with people who are not your day-to-day lab mates.
Q: How can scientific work environments better support and welcome LGBTQIA+ individuals?
A: The most important thing is to not ignore our identities but also not reduce us to them. It's OK to ask questions and learn about different cultures and identities. And it's important to not assume that LGBTQIA+ individuals are going to do something just because of their identity.
Q: What inspired you to become an educator?
A: My math teacher in high school was the first person I came out to, and he found creative ways to respect my identity while never doubting my ability to succeed in STEM.
This experience influences the way I interact with my students. For example, I read the last names on their roster and tell the student to respond with their first name. This ensures that I will be using the correct name and am respectful to all students, including those who may go by a different name than what is listed on their roster.
Q: What's your philosophy of teaching and being a role model?
A: I believe that being a visible and openly queer teacher helps to broaden the perception of what a scientist can look like. Although I had many wonderful mentors, I did not have a role model who is queer like me and works in STEM.
I want to show my students that anyone can be a scientist, regardless of their identity. Hopefully, this will open up their vision of scientists to include more people like me, instead of a middle-aged white dude in glasses.
Leading with intention
Tom Welton is a sustainable chemist at Imperial College London, former president of the Royal Society of Chemistry, U.K., and a gay man.
Q: How did you become interested in sustainable chemistry?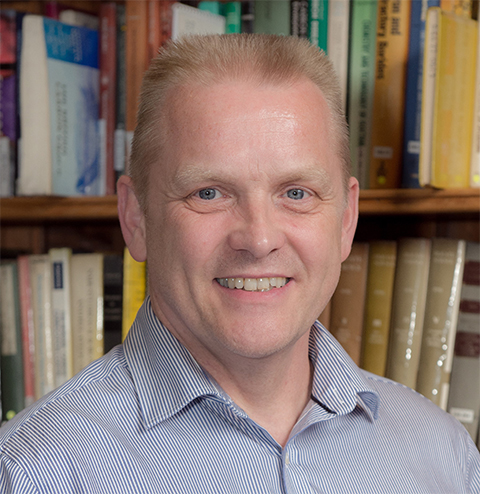 Tom Welton
A: Back in the early 1980s, I was interested in environmentalism and how humans interacted with the environment. As a chemist, I became particularly aware of how chemicals and chemical pollution could be hazardous to the environment, and I was interested in finding ways to produce useful chemicals in a less damaging way.
Q: Talk about your decision to come out as gay in the 1980s.
A: Coming out was an easy decision for me. I was so obviously gay that people didn't even look surprised when they found out. So the decision wasn't "Do I come out?" It was "Do I bother putting energy into staying in the closet?" I didn't want to waste my energy pretending to be someone I was not.
Being a successful academic is incredibly difficult and tiring, so I needed every last bit of resource available to me to achieve my goals. I did not want to waste any emotional energy on things that shouldn't go into my work.
Q: How have you modeled inclusivity in your work environment?
A: To increase inclusivity, you have to be deliberate about including people.
While I was head of the department, I always went in through an entrance at the other end of the building. I had to walk through the building to get to my office and say hello to everyone I saw in the morning and goodbye to everyone I saw in the evening. Additionally, I would stop and ask people how they were doing.
These were really small acts but made a difference. I made sure to take the time for inclusivity. Not only was it meaningful to meet and greet others in the hallway, but they appreciated that I paused from my busy schedule to do so. It showed people just how much their work matters when the department head takes a few moments out of his day to acknowledge them personally.
Q: What progress or setbacks have you seen in inclusivity and support for LGBTQIA+ individuals?
A: We're seeing an intensification of hostility towards transgender people in the broader community.
The double hit of being treated as a threat while at the same time being trivialized that was faced by gay men in the past is now being directed toward transgender people. This is not progress, but a setback.
We need to have more compassion and empathy towards transgender people and change the negative perceptions through ordinary people living their lives with dignity and openly.
Q: What advice do you have for people who want to be better supporters of the LGBTQIA+ community?
A: Don't be afraid to ask how you can be better, as long as your intent is good. People can tell the difference between someone who is deliberately trying to offend them and someone who is just being clumsy with their words.
Prioritizing DEI in science communication
Hope Henderson is bisexual and a science communicator. She translates science into lay language and does content strategy for the Innovative Genomics Institute. She earned a Ph.D. in molecular and cell biology from the University of California, Berkeley, and a bachelor's degree in biology from Brown University. She also has a background in science studies and bioethics.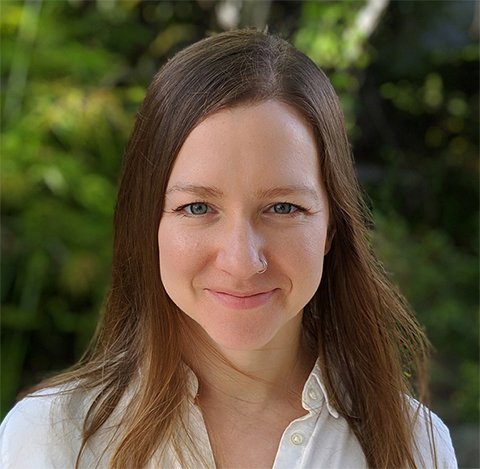 Hope Henderson
Q: Tell us about your work as a science communicator at the Innovative Genomics Institute?
A: As the communication strategist at the Innovative Genomics Institute, I am involved in planning our content strategy, writing and doing interviews, social media, managing our translation program, working with illustrators, and sometimes working with student writers to help get them experience and training in writing.
Q: How did you get started in science communication?
A: I started as a bench scientist in molecular biology and genetics. As a graduate student, I wrote a few pieces for science blogs and a grad student science magazine. While finishing my Ph.D., I began writing part time at the Innovative Genomics Institute.
Q: Discuss the importance of diversity, equity and inclusion in science communication.
A: DEI is always on my mind as a science communicator. In writing news articles, I have a rule for myself that I quote and show an image of at least one researcher who is not white and at least one researcher who is not a man.
When writing about disability and illness, it's key to use language that is factual, neutral and noneuphemistic. I'm also thoughtful about trying to use language that is inclusive around different family structures and cultures.
I believe the public has a right to scientific information. Writing in an inclusive way supports people in accessing that information and feeling like the research — that their tax dollars are funding — belongs to them.
Another one of my goals is to do what I can to help shift the image of who a scientist is, from someone who looks like Einstein to a much wider range of possibilities. Incorporating principles of DEI in science communications helps open the doors to everyone interested in a science career.
Q: What advice do you have for young LGBTQIA+ scientists?
A: Activism is an amazing thing to do, but it can also take a real toll on your well-being when it takes the form of going into unwelcoming environments and trying to change them. If you want to do that, all power to you. But another valid path is seeking out environments that accept you as you are, seeking out people who already have a more inclusive vision of what science can be, and working with them to build toward that shared vision.
Understanding trans people as individuals
Jan Eldridge is a transgender woman and a theoretical astrophysicist based in New Zealand as the head of the physics department at the University of Auckland.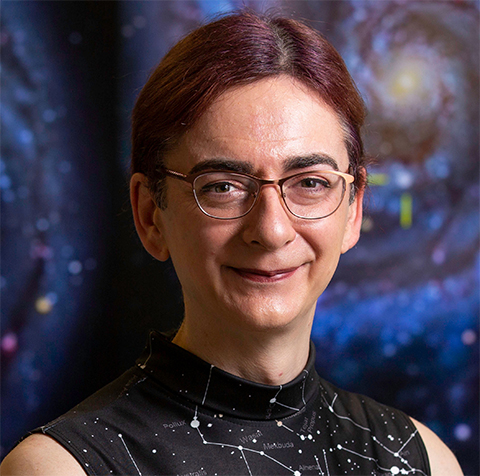 Jan Eldridge
Q: How you became interested in theoretical astrophysics?
A: I became interested in the field because of my love for science fiction. I grew up watching "Star Wars" and "Doctor Who," and later discovered my passion for math and physics in school. This led me to pursue a degree in astrophysics at the University of Cambridge.
As an astrophysics professor, you get to show your students the beauty and wonder of our universe. But it's not just about exploration, you work hard to make the university a better place for everyone. It's quite funny, in some ways it feels like being Doctor Who.
Q: How can institutions or universities better support and welcome young scientists?
A: By realizing that diversity is a good thing. Different groups have different needs, and changing systems to help one group can actually help everyone.
For example, having more all-gender bathrooms can benefit not only nonbinary and transgender students but also caregivers who need to bring their children of the opposite gender to work or those who have elderly parents of the opposite gender visiting them.
Q: What positives do you see for LGBTQIA+ people in the scientific community?
A: As a transgender person, my experience has been generally positive. The scientific community has been quite welcoming, and many people in the rainbow community are excellent scientists.
There have been setbacks in terms of inclusivity and support for the LGBTQIA+ community, including trans individuals. Some people still believe in the binary concept of gender and ignore scientific evidence that shows that gender is not just male or female. However, the scientific community has been working on making science more inclusive, and there is greater visibility of LGBTQIA+ scientists.
Many professional bodies of science have done surveys of the rainbow community within the work and have been aware of issues. There is a huge push to make science more inclusive, and many scientific conferences have groups for the rainbow community.
Q: What advice do you have for other transgender scientists?
A: Everyone needs to balance their personal safety, career, and relationships when deciding whether or not to come out as transgender or nonbinary. It's important to prioritize one's own well-being and only come out if it's safe and feasible to do so.
Many trans people are still in the closet, so to speak, and they go on living good and useful lives. But you have to wonder, if it were possible for them to be themselves, how much better would it be?
My advice for other trans individuals is to remember that they are not alone. There are many other trans and gender-diverse people in science, and there are role models. The stories about people like us have been hidden in the past, but there is now greater visibility and recognition of LGBTQIA+ scientists.
Enjoy reading ASBMB Today?
Become a member to receive the print edition monthly and the digital edition weekly.
Learn more
Get the latest from ASBMB Today
Enter your email address, and we'll send you a weekly email with recent articles, interviews and more.
Latest in People
People highlights or most popular articles