Retrospective
Jerry B. Lingrel (1935 – 2020)
Jeffrey Robbins, Eric A. Schon, Tim M. Townes and John Orlowski contributed to this retrospective.
Jerry B. Lingrel, a pioneer in the field of molecular biology, died Feb. 22 at the age of 84. He served with distinction as a member of the faculty of the University of Cincinnati College of Medicine from 1962 to 2019, rising to become chair of the department of molecular genetics, biochemistry, and microbiology, serving in this position for over 30 years and, subsequently, as interim chair of the department of cancer and cell biology for three years.
Jerry Lingrel was an associate editor of the Journal of Biological Chemistry for 28 years.
Jerry was an associate editor of the Journal of Biological Chemistry for 28 years; served on and chaired numerous study sections at the National Institutes of Health; chaired national and international scientific conferences; published groundbreaking work; and was an exemplary mentor to dozens of junior colleagues, postdoctoral fellows and graduate students. All who knew him remember him fondly not only for his outstanding scientific contributions but also for his exceptional work ethic, humility, integrity and decency.
"The important thing in science is not so much to obtain new facts as to discover new ways of thinking about them." — William Lawrence Bragg
Jerry poured himself into science with fearless intellectual curiosity. In a career spanning 60 years, he was a pioneer in the invention and use of molecular biological techniques and recombinant DNA technology. Beginning in the mid-1960s, he and his trainees were among the first to identify and characterize mRNA. He identified hemoglobin mRNAs, demonstrated their translation into protein using a reticulocyte cell-free system and determined that hemoglobin mRNA had a poly-A sequence at its 3′ terminus. His work contributed to new ways of understanding RNA splicing and stabilization. He later demonstrated that hemoglobin genes occurred in clusters, and his contributions led to the hemoglobin genes becoming a paradigm for our understanding of gene duplication and evolution in mammals.
To provide historical context, the use of recombinant DNA technology was viewed with considerable public suspicion in the 1970s, and Jerry, with characteristic integrity, was a pioneer in making sure that procedures, institutional review boards and safeguards were in place. In the 1980s, he and his collaborators were the first to demonstrate that a human gene (beta-globin) can function with correct developmental and tissue specificity in a transgenic mouse. This work established a foundation for the production of mouse models of human hereditary disorders and provided an experimental system in which the molecular mechanism of the switch from fetal to adult hemoglobin could be defined.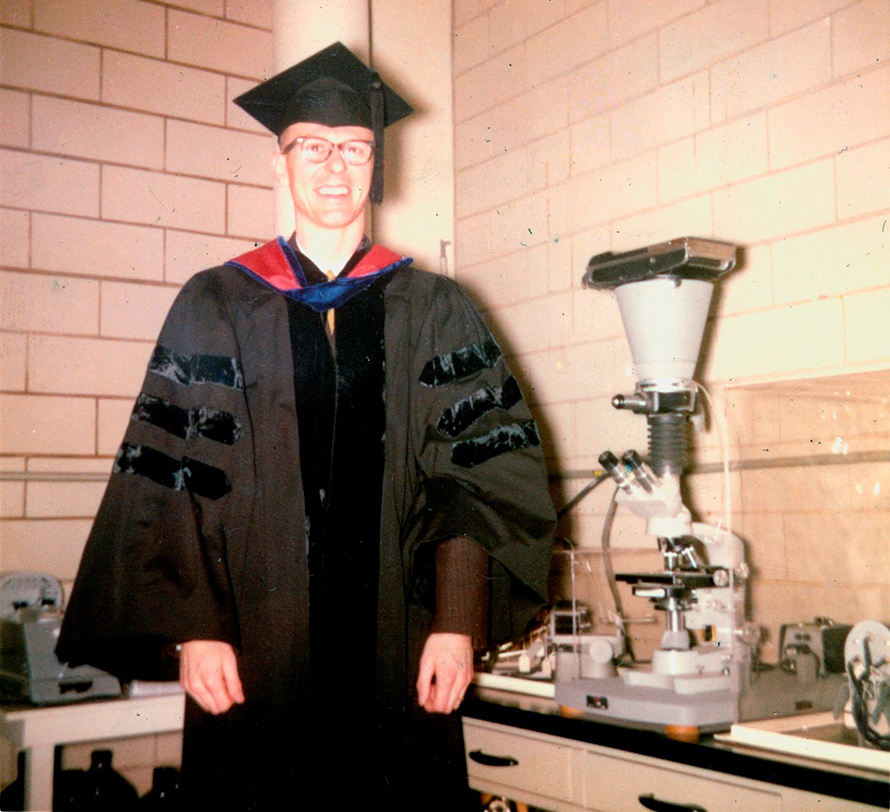 Courtesy of Lynne Lingrel–Partin
Jerry Lingrel earned his Ph.D. in biochemistry from the Ohio State University in 1962 and then moved on to postdoctoral studies at the California Institute of Technology, where he developed a deep interest in molecular biology. He subsequently spent a year as a visiting fellow at the University of Cambridge in the famed LMB, or Laboratory of Molecular Biology.
"Within the infant rind of this small flower, poison hath residence and medicine power" — William Shakespeare
Jerry was especially skilled at identifying critical bottlenecks in science. For example, hunters long used ouabain, the active ingredient in arrow poison, to kill prey, but traditional healers also used it to treat heart disease. Similarly, digoxin, the active ingredient from the foxglove (digitalis) family of plants, is toxic at doses that are barely above therapeutic doses. Breakthroughs in the 1960s had shown that ouabain and digoxin both acted by binding sodium–potassium adenosine triphosphatase, or Na,K-ATPase, the critical ATP-dependent pump that maintains sodium and potassium gradients across the plasma membrane of every cell in the body. However, further understanding of the physiology of this key ion pump had reached a bottleneck because the genes encoding its subunits were still unidentified, and there was no way to evaluate gene function in vivo.
Using cDNA cloning techniques, Jerry determined the sequence of the multiple Na,K-ATPase isoforms and identified the amino acid residues involved in cation transport and the binding of inhibitory drugs such as ouabain and digitalis. Then he made an inspired leap of imagination to take advantage of the then-nascent technology to create gene-targeted mice.
Before any such mice had been generated, Jerry quickly assembled a gene-targeting team at the University of Cincinnati and started a highly productive set of studies of the physiological and developmental functions of these cation pumps in the living animal. The members of this team went on to publish groundbreaking work as independent scientists and earned Cincinnati an international reputation as a center of excellence for transgenic and gene-targeting studies.
Jerry fearlessly explored cutting-edge gene-targeting techniques for making global and conditional gene knockouts and for gene modifications, and he identified unique functions of the Na,K-ATPase isoforms in heart and skeletal muscle and the brain. His gene modification studies provided conclusive evidence that an endogenous ligand regulates Na,K-ATPase activity and elucidated some of the physiological functions of these important ligands. He generously shared the gene-targeted animals that he developed with researchers around the world, and many of them are still being used today in a wide variety of studies.
"Chance favors the prepared mind" — Louis Pasteur
Jerry exemplified the alert mind that scans a wide scientific landscape, chooses questions carefully and then marshals the best forces to answer them. His team made major contributions to the understanding of atherosclerosis from his serendipitous discovery, decades earlier, of the zinc finger transcription factor Kruppel-like factor 2, or KLF2. The key observation was that KLF2 is highly expressed in endothelial cells that are subjected to high hemodynamic shear stress, and this prompted them first to identify the DNA sequence that responded to shear stress in the KLF2 gene and then to identify higher order transcription factors that regulate its expression.
Using gene targeting, the team showed that loss of KLF2 in myeloid cells results in a significant increase in atherosclerosis due to an increase in migration and adhesion of both neutrophils and macrophages to endothelial cells. They further showed that widely used statin drugs induce KLF2 and likely confer some of the protective effects of statins (beyond inhibiting cholesterol biosynthesis) by reducing inflammation, a major risk factor in atherosclerosis.
"The meeting of two personalities is like the contact of two chemical substances: if there is any reaction, both are transformed." ― Carl Gustav Jung
The contribution for which Jerry Lingrel will be remembered most is his transformative impact on the many graduate students, postdoctoral fellows and medical fellows whom he trained. Lab meetings were held every week without fail, and everyone from the newest graduate student to the most experienced postdoc would be in the rotation to present their latest findings and to discuss any difficulties they had encountered. In these meetings, there was remarkably little pressure; one was simply presenting data and ideas to a group of interested friends and colleagues. Regardless of experience, everyone was treated as an equal. Jerry actively sought out opinions, listened to and acted on good ideas, and pursued new directions, with new grant submissions often resulting from this process.
Jerry enjoyed challenging his mentees and being challenged by them in turn. His genuine enthusiasm and wonder at where the scientific path was taking him and what could be learned were both delightful and inspiring. He was eager to embrace new technologies but only in the pursuit of a "good biological question," and he had a farmer's good sense for quickly sizing up scientific papers and grants. This kept the lab fresh and productive as Jerry continued to make important contributions to the literature well into his 80s.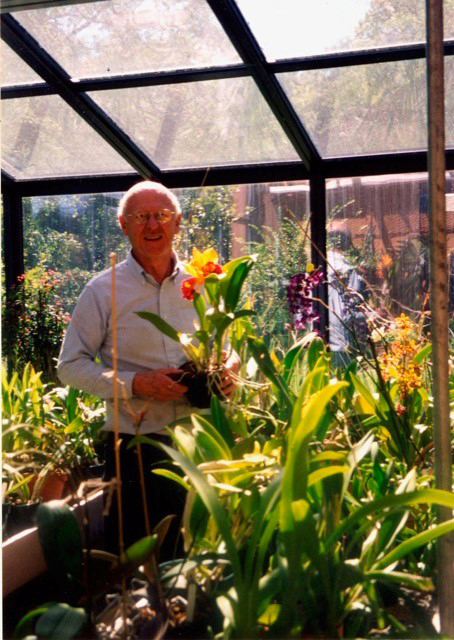 Courtesy of Lynne Lingrel–Partin
Jerry Lingrel was an avid gardener, both outside, where he grew many vegetables
and flowers, and inside his greenhouses, where he grew an astonishing array
of orchids and cacti.
Jerry believed and acted on the principle that everyone was capable of coming up with new ideas and approaches. When it was time to prepare a new grant submission or a renewal application, he expected everyone in the laboratory who was working in that area, including graduate students, to participate. He made it clear that this was not merely a training exercise but a result of his belief that everyone in the lab was fully capable of participating in a shared scientific endeavor.
"The poetry of the earth is never dead" — John Keats
Jerry loved the poetry of the earth and the rich soil of Ohio. He was born and raised on a farm in Byhalia, Ohio, which he visited frequently. It remains in the Lingrel family to this day. He had an interest in farming, gardening and landscaping that he pursued throughout his life.
Jerry was deeply devoted to Sally, his wife of 60 years, and to his children, Doug and Lynne. His devotion and loyalty extended to colleagues who worked in his laboratory, department and university, and indeed around the world. Shortly after his death, Sally told us that hundreds of daffodils Jerry had planted were blooming in their yard. This image reminds us of the great good that one individual can do on his journey from a farm boy to a leading scientist and educator — a flowering that transcends death and that lives in all who have had the privilege of knowing him. He will be greatly missed.
"No bubble is so iridescent or floats longer than that blown by the successful teacher" — William Osler
All who contributed to this narrative were Jerry's trainees and knew him at a deep and personal level over many decades as a teacher, colleague and friend. While our zone of comfort is writing scientific papers guided by data, writing this retrospective was guided by emotions and memories. This is a final act of gratitude to Jerry, our teacher, whose influence on our scientific and personal success cannot be expressed in mere words.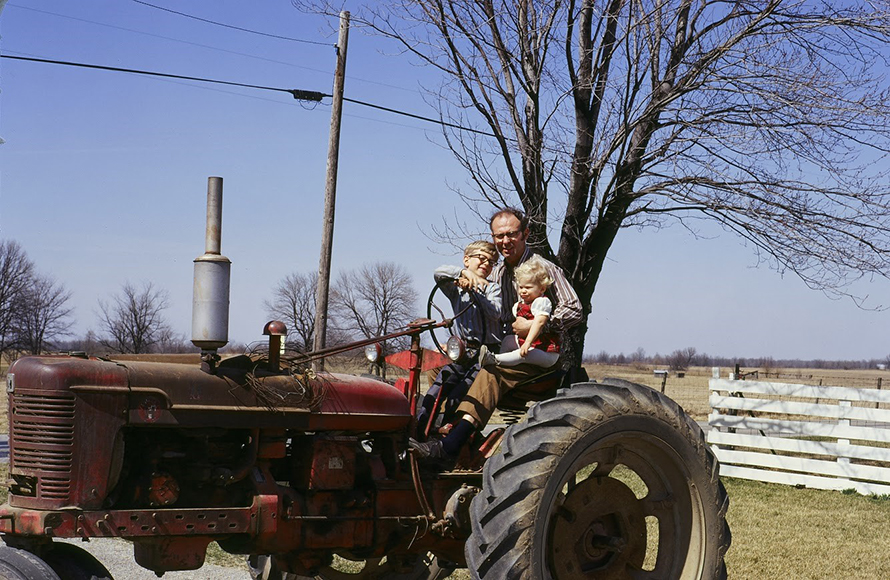 Courtesy of Lynne Lingrel–Partin
Jerry Lingrel with his two children, Doug and Lynne, sit on a tractor during a visit to the family farm in the early 1970s. His background as a farmer contributed to the work habits that served Lingrel and all who worked with him throughout his career.
Join the ASBMB Today mailing list
Sign up to get updates on articles, interviews and events.
Latest in People
People highlights or most popular articles