Member News
Clore named Royal Society fellow; remembering Paul Marks
Royal Society elects Clore as fellow
Marius Clore, National Institutes of Health distinguished investigator and chief of the Protein Nuclear Magnetic Resonance Section at the Laboratory of Chemical Physics in the National Institute of Diabetes and Digestive and Kidney Diseases, has been elected a fellow of the Royal Society.
Marius Clore
Clore, a molecular biophysicist and structural biologist, is best known for pioneering characterization of the three-dimensional structures of proteins and nucleic acids using nuclear magnetic resonance spectroscopy. In addition to describing proteins from pathogens, phosphorylation-dependent structural and binding changes, and the structures of macromolecular complexes, Clore is also known for development of biophysical methods that have continually extended the range of applicability of NMR. Recently, his work has focused on development of new NMR methods to capture very short-lived conformational states, which are a small proportion of a population of macromolecules but are often critical for function. He has received numerous honors, including election to membership in the National Academy of Sciences and fellowship in the American Academy of Arts and Sciences.
The Royal Society, the U.K.'s national scientific academy, equivalent to the U.S. National Academy of Sciences, was founded in 1660. It publishes journals, makes policy recommendations and hosts scientific meetings. The Royal Society has about 1,700 fellows, with 50 elected for life each year on the basis of their scientific contributions. Americans are eligible to join the Royal Society only as foreign members; the society, however, changed its rules two years ago to allow dual citizens (not resident in the U.K. or Commonwealth) such as Clore to become full-fledged fellows.
Clore discusses his JMR article, "A comnon sense approach to peak picking in two-, three-, and four-dimensional spectre using automatic computer analysis of contour diagrams," in this 2011 video.

In memoriam: Paul Marks
Paul Marks, a cancer researcher who helped turn Memorial Sloan Kettering Cancer Center into a world-class research institution, died April 28 from pulmonary fibrosis and lung cancer. He was 93.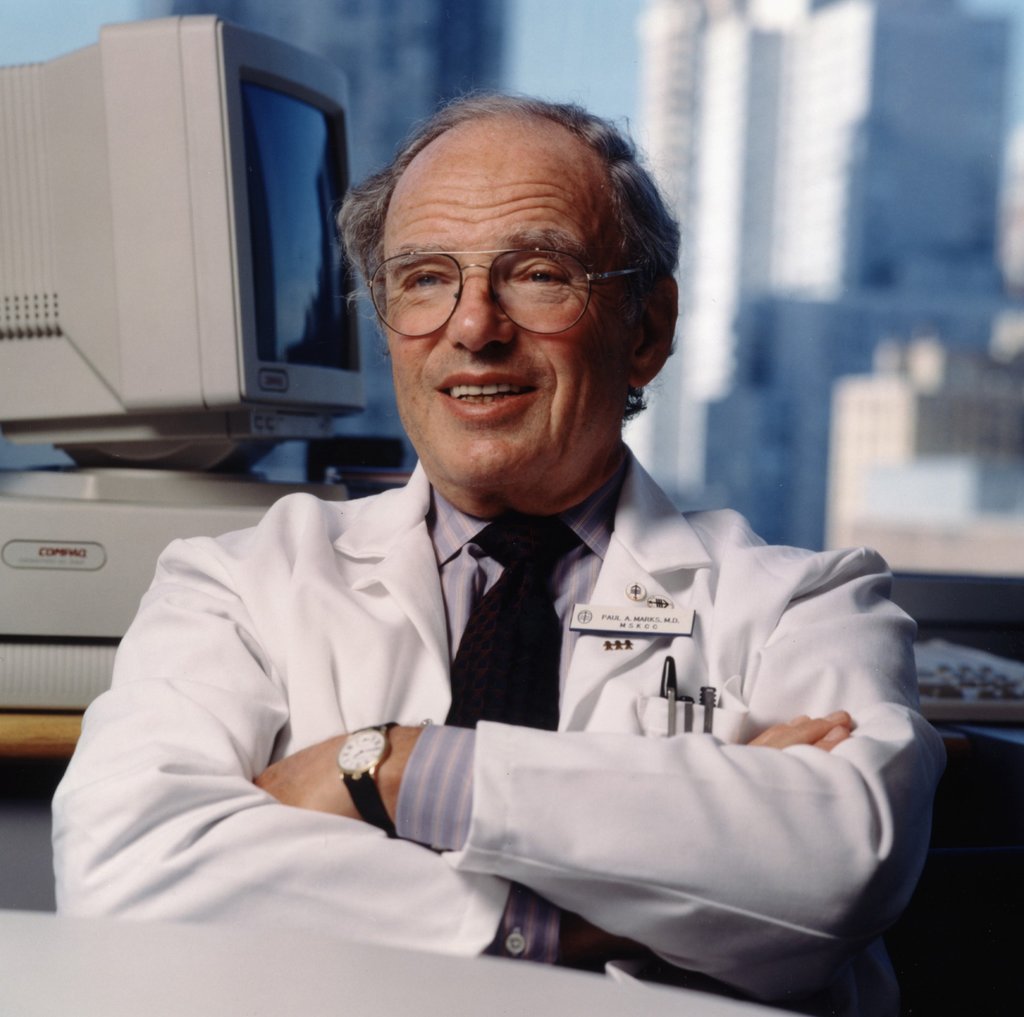 Paul Marks
Marks was born in Mahanoy City, Pennsylvania, on Aug. 16, 1926. After Marks' mother died when he was 4 years old, his father disappeared, leaving his son to a transient life staying with aunts, uncles and grandparents. His father reappeared with a new wife and son five years later and took Marks back.
Marks attended high school in Brooklyn and, with a teacher's encouragement, applied to Columbia University. He was accepted and awarded a full scholarship. At Columbia, he became interested in genetics and clinical research. He graduated with his bachelor's degree in 1945 and his medical degree from the university's College of Physicians and Surgeons in 1949. He then performed postdoctoral work at the National Institutes of Health before returning to Columbia in 1955 to work on glucose metabolism. He served as university's medical school as dean from 1970 to 1973 and as vice president for medical sciences from 1973 to 1980.
When Marks joined MSKCC in 1980 as the center's president —a position he would hold for the next two decades — he sought to apply the strengths and techniques of molecular biology research to cancer research. He helped oversee a top-to-bottom renovation of the center that included revising its tenure system, recruiting emerging talent and, most crucially, refocusing its research priorities from surgical innovations to the molecular basis of cancer.
He retired in 1999, having published more than 350 scientific articles and received numerous accolades that included the National Medal of Science in 1991.
Marks is survived by his wife, Joan Rosen, whom he married in 1953; his daughter Elizabeth; his sons, Andrew and Matthew; six grandchildren; and two great-grandchildren.
Join the ASBMB Today mailing list
Sign up to get updates on articles, interviews and events.
Latest in People
People highlights or most popular articles