Interview
Meet Joseph Jez
The new associate editor at the Journal of Biological Chemistry has ricocheted across the country pursuing new avenues for crystallography
Joseph Jez, professor of biology in the College of Arts and Sciences at Washington University in St. Louis and a Howard Hughes Medical Institute professor, joined the ranks of associate editors at the Journal of Biological Chemistry in October. A native of Alaska who received his undergraduate degree at Pennsylvania State University and his Ph.D. at the University of Pennsylvania and moved to the Salk Institute in San Diego for his postdoctoral fellowship, Jez now is settled in the Midwest. He recently spoke with John Arnst, ASBMB Today's science writer, about his career and work examining crystal structures. The interview has been edited for clarity and length.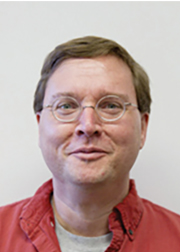 Joseph Jez runs a crystallography lab at Washington University in St. Louis.
What is your group currently working on?
This is one of the hardest questions for me to answer, just because my lab is a crystallography lab. We're tied to our method. I always say we're really interested in how nature's machinery works, and the tool of structural biology actually gives us a lot of latitude and freedom to explore those machines. Right now, the main focus of most of the people in the lab is trying to understand how plants modulate their hormones, be it chemical control of the hormones or how different protein-protein interactions interface with those hormone-signaling systems. Ultimately, for us, the structure becomes the starting point for hypotheses about how the machinery works.
We also have projects on a number of different plant metabolic pathways, and then, as a crystallography lab, we always have probably a dozen smaller projects that are exploratory or just starting along.
What's your academic background and research training?
So, this is not the job I thought I would have when I started college. I initially began as an English major.
I thought I was going to be a journalist when I was a freshman, but I had always liked science, and I kept taking all the introductory sciences while I was at Penn State. When I hit organic chemistry, I loved it. I had a very good organic chemistry professor during my first semester, and it was kind of like, "Oh, this is real chemistry. It's not like algebra that you see in introductory chemistry. This is actually stuff happening." And I thought maybe I should be a science major instead.
After my sophomore year, I took a year off. I ended up getting a job as a co-op at a (United States Department of Agriculture) research lab, doing biochemistry and a lot of protein work there (Author's Note: a cooperative education program is an arrangement with a company that lasts longer than an internship and allows for a student to take time off from classes). So I did that for six months, and then, after that year, I knew I was going to become a biochemistry major. I went back to Penn State, graduated with a biochemistry major and an English minor and then went off to grad school at the University of Pennsylvania in biochemistry and molecular biophysics.
When it came time for a postdoc, I headed off to the Salk Institute in San Diego under Joe Noel, and his lab was just starting. At the time, I don't think I really cared what I worked on. I just wanted to crystallize something and learn the technique.
I learned more about plant natural products, and then there was the checkpoint of "what am I going to do with my future?" My wife ended up getting a position with a company in the Bay Area. And so I'm like, "That settles it, we're going to the Bay Area." I ended up getting a position at a biotech company, Kosan Biosciences.
One of the places I had applied to when I was a postdoc was the Danforth Plant Science Center here in St. Louis. It was a very appealing position when I applied and went to visit, but the building wasn't built. There were three professors hired, and I couldn't commit to a place that didn't exist.
So a little bit of time goes by at Kosan, and the same job ad at Danforth comes out again. I ended up taking the position and starting my lab there and really took the plunge into plant biology. I had never done true plant work but brought the structural biology and biochemical expertise into a place where there was a lot of plant genetics and biochemistry. I started the group there, and over time I realized I missed teaching. Back in 2008, I had an opportunity to move down the street to Wash U, and I've been here ever since.
How does it feel to have moved around so much?
I was born in Alaska and grew up outside of Philadelphia, went to San Diego and met my wife, and then moved to the Bay Area and then here. She grew up in Denver, went to San Diego for her grad school, stayed there for her postdoc, and then moved to the Bay Area and then here. We still go back and visit our homes, where we came from, but for us St. Louis is really the place that we call home.
How long have you had a relationship working within JBC?
I did my first stint as an editorial board member back in 2008, had a year off and then jumped back in. Two years into my second term on the board, Jim Siedow of Duke University stepped down as one of the associate editors with a plant focus, and then I got a call from Fred Guengerich, the journal's deputy editor.
What does it mean to you on a personal level to be a member of JBC? What was your reaction when you were asked to join?
I was sort of surprised. My first paper from my graduate thesis was published by JBC, and I've always had a certain affection for the journal. It doesn't matter what organism I work in — it's always biological chemistry, and the JBC always has encompassed all of that. When I had a chance to come on as an associate editor, I was really flattered.
How is the role going so far? Has anything surprised you during your tenure?
It's going well. I've been really impressed with the depth of commitment of everyone on the board, especially at the AE level. There's also a lot of expertise and wisdom that you can tap into, which I think is phenomenal. Every time I've interacted at the editorial meetings, I've always learned something new just from a random conversation. I think I've been surprised with the interactivity — not necessarily formal collaborations but just learning as a community.
Do you have any advice for balancing life in the lab with life outside of it?
One of the things I try to tell everyone in the lab is that you're always going to be busy, it's never going to stop, and knowing when you need to put things down and go do something fun once in a while is one of the hardest pieces of life to figure out, but you need to do it, because it refreshes you when you come back and think about things.
Family stuff is always fun. Our daughter is in fourth grade now, so her activities are picking up: she's getting into music, and she's always loved reading and taking care of her pets, which are currently two guinea pigs and four chickens. We like games, gardening and roaming about different places, especially national parks — I am addicted to the National Parks Passport.
Do you have any words of wisdom or a favorite motto?
With crystallography, it's always about really small changes. The other one is that it's better to be consistent than it is to be right.
Probably the biggest rule is this: Are you having fun doing what you're doing? Because 90 to 95 percent of what we do ends in failure, and if you're somebody who gets discouraged by that, it's a pretty tough thing. There are going to be days when you say, "What have I done?" and other days it'll be like, "No, this is exactly what's supposed to be happening."
Enjoy reading ASBMB Today?
Become a member to receive the print edition monthly and the digital edition weekly.
Learn more
Get the latest from ASBMB Today
Enter your email address, and we'll send you a weekly email with recent articles, interviews and more.
Latest in People
People highlights or most popular articles