Member News
Goldwater scholars announced
The Barry Goldwater Scholarship and Excellence in Education Foundation has announced the 2021 Goldwater Scholars. The recipients of these scholarships are second- and third-year undergraduates from across the United States. Of the scholars in the natural sciences, the following eight are American Society for Biochemistry and Molecular Biology student members.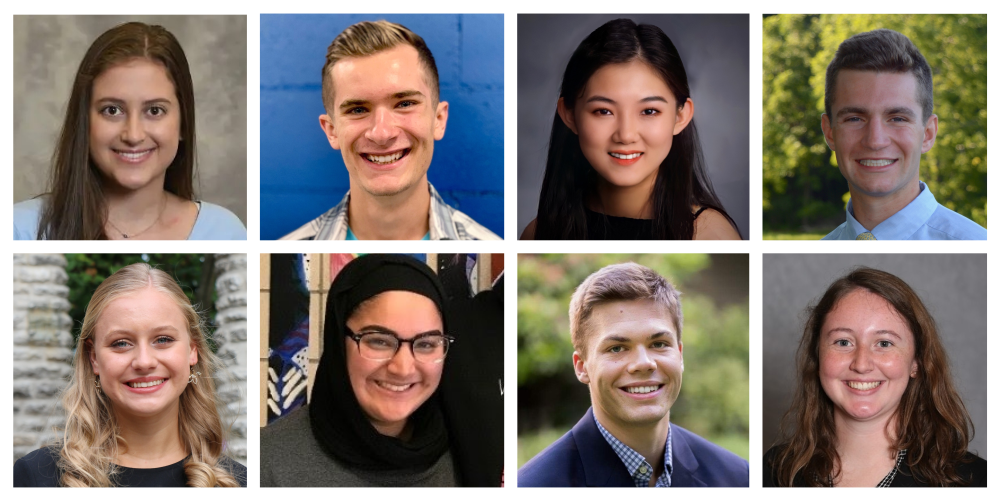 These eight ASBMB student members are among the 2021 Goldwater Scholars: top, Zoe Behrman, Caleb Lines, Qianyun Luo and Colby Agostino; bottom, Grace McIntyre, Ahlenne Abreu, Cameron Young and Paiton McDonald.
Ahlenne Abreu, a New York resident and a life sciences student at Smith College, hopes to earn a Ph.D. in molecular pharmacology and physiology and "conduct biomedical science research for a biotechnology company and eventually open my own biotech company." Abreu's mentors are Stylianos P. Scordilis, Kevin Shea and Leslie Nickerson.
Colby Agostino, a Massachusetts resident and a chemistry student at Providence College, plans to earn a Ph.D. in biochemistry and "conduct interdisciplinary research at the crossroads of chemistry, biology and computer science as a faculty member of a Research I university." Agostino's mentors are Kathleen Cornely, Seann Mulcahy and Darra Mulderry.
Zoe Behrman, a Maryland resident and a life sciences student at Salisbury University, aspires to attain a M.D.–Ph.D. in molecular microbiology and immunology and "lead a translational research laboratory producing therapeutics for patients experiencing autoimmune diseases." Behrman's mentors are Jessica Clark, Lindley Bark and Bethany Shivers.
Caleb Lines, an Iowa resident and a life sciences student at Wartburg College, hopes to earn an M.D.–Ph.D in biochemistry and "lead a cancer research team focused on developing clinical trials by conducting translational research at an academic medical center and pursue a teaching position." Lines' mentors are Shawn Ellerbroek, Suzan Turner and Derek Barchenger.
Qianyun (Lexi) Luo, an Illinois resident and a life sciences student at the University of Wisconsin–Madison, hopes to earn an M.D.–Ph.D. in cancer biology to "conduct translational research in the field of oncology studying how metabolism shapes the tumor immune microenvironment to improve cancer treatment." Luo's mentors are Randall Kimple, Alexandre Reuben and Zafer Gurel.
Paiton McDonald, an Iowa resident and a life sciences student at Iowa State University, hopes to earn a Ph.D. in immunology and infectious diseases and to "conduct immunology research and teach at the university level." McDonald's mentor is Jodi McGill.
Grace McIntyre, an Indiana resident and a life sciences student at Marian University, hopes to earn a Ph.D. in biomedical science and plans to "investigate the underlying molecular, cell, and integrative biology associated with how tissues communicate with each other in a university or industry setting." McIntyre's mentors are Jason Chan, Trisha Staab and Colleen Doci.
Cameron Young, a Massachusetts resident studying chemical engineering and biocemistry at Northeastern University, hopes to earn M.D.–Ph.D. in biomedical engineering and "develop the next generation of personalized cancer therapeutics." Young's mentors are Adrienne Randolph, Giovanni Traverso and Ambika G. Bajpayee.
The Goldwater Foundation was established by Congress in 1986 to honor the work of Senator Barry Goldwater, who served his country for 56 years as a soldier and statesman, including 30 years in the U.S. Senate. Each Goldwater Scholar receives up to $7,500 for tuition, fees, books, and room and board each year until they graduate.
Enjoy reading ASBMB Today?
Become a member to receive the print edition monthly and the digital edition weekly.
Learn more
Get the latest from ASBMB Today
Enter your email address, and we'll send you a weekly email with recent articles, interviews and more.
Latest in People
People highlights or most popular articles