In Memoriam
In memoriam: Donald Voet
Donald Voet, noted co-author with his wife, Judith Greenwald Voet, of biochemistry textbooks, died April 11 in Kennett Square, Pennsylvania. He was 84 and an emeritus associate professor of chemistry at the University of Pennsylvania.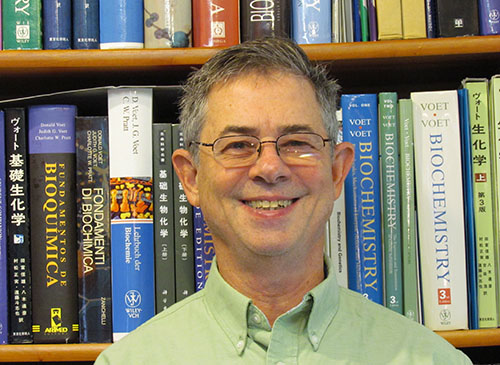 Donald Voet
With Judith Voet, he served as editor-in-chief of the journal Biochemistry and Molecular Biology Education from 2000 to 2014. Their college-level textbook "Biochemistry" first appeared in 1990 and is in its fourth edition. Their other college-level textbook, "Fundamentals of Biochemistry: Life at the Molecular Level," co-written with Charlotte Pratt, first appeared in 1999 and is in its fifth edition.
Donald Voet was born Nov. 29, 1938, in Amsterdam to Andries and Henrietta Hannah Voet. The family arrived in the United States in 1939, a year before German Nazi forces occupied their home country during World War II. Voet earned a bachelor's degree in chemistry at the California Institute of Technology and a doctorate in chemistry at Harvard University. After postdoctoral research at the laboratory of Alexander Rich at the Massachusetts Institute of Technology, he joined the chemistry faculty of the University of Pennsylvania.
In his research at U Penn, Voet used X-ray crystallography to explore the shape of important biological molecules as a means of describing how their structure informs their function. Notably, he studied yeast inorganic pyrophosphatase, the enzyme that catalyzes the hydrolysis of inorganic pyrophosphate to phosphate, a key step in building polypeptides and polynucleotides.
Voet's laboratory also studied granulocyte–macrophage colony-stimulating factor, a cytokine involved in the production, growth and activity of granulocytes and macrophages, two types of white blood cells. This cytokine could one day play a role in treating immunosuppressive conditions such as AIDS and the aftereffects of cancer chemotherapy.
Voet was a long-time member of both the American Chemical Society and the American Society for Biochemistry and Molecular Biology. For many years, he and his wife served as judges in the Undergraduate Poster Competition at ASBMB annual meetings. In 2012, the Voets received the ASBMB Award for Exemplary Contributions to Education. A 2012 article noted their "superstar status" at these conferences, replete with photos and requests for autographs.
"It is hard to imagine many other people who have as comprehensive overview of the discipline of biochemistry as Judy and Don Voet have, or who have influenced the learning of biochemistry more than they have," a member of the nominating group was quoted as saying.
Outside the classroom, office and lab, Voet loved scuba diving, swimming, hiking and skiing with family and friends. His passion for the outdoors led him to climb Mt. Rainier, Mt. Whitney and even to the Mt. Everest base camp, along with many trails from the Sierras and Rocky Mountains to the White Mountains. He enjoyed traveling and touched down on all seven continents, including Antarctica.
Voet is survived by Judith, his wife of 58 years; children, Wendy and Doug Voet; son-in-law, Lex; daughter-in-law, Sue; grandchildren Maya, Lizzie, Leo and Cora; brother, Martin; sister, Loesje; and extended family in the United States, Israel and the Netherlands. His sister Marion predeceased him.
Enjoy reading ASBMB Today?
Become a member to receive the print edition monthly and the digital edition weekly.
Learn more
Get the latest from ASBMB Today
Enter your email address, and we'll send you a weekly email with recent articles, interviews and more.
Latest in People
People highlights or most popular articles