Feature
A lab with a view
Peggy Whitson is gearing up for her next six-month tour aboard the International Space Station
Peggy A. Whitson's favorite thing about living on the International Space Station is the view. Being outside the atmosphere, looking down at the Earth, watching the Earth zoom by at 17,500 mph — these are the things Whitson misses most from her time in space.
Next year, Whitson will go to space for the third time, reinforcing her title as the woman with the most time in space. Also, Whitson is one of two active U.S. astronauts with a biochemistry or molecular biology background.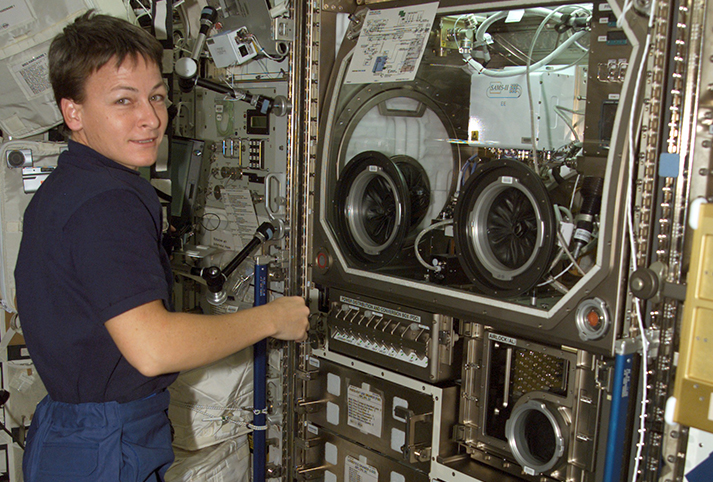 As part of Expedition 50 to the ISS, Whitson will serve as the hands of many different investigators, including GeneLab, a new NASA bioinformatics program studying the molecular changes model organisms experience in microgravity.
Passion for space and biochemistry
Whitson grew up in a small farming town in southern Iowa, and like many others, she watched awestruck on July 21, 1969, as humans first walked on the moon. "I wanted to be an astronaut from a very young age. I always hate to date myself, but I was 9 when Neil Armstrong and Buzz Aldrin walked on the moon," Whitson recalls.
The January before Whitson graduated from high school, NASA selected the first female astronauts. Whitson says this "really made it much more than a dream — made it a goal." She adds, "It was naive to assume that I could be an astronaut just because they had picked female astronauts, but I saw them doing it, and I was like, 'I wanna try and do that.'"
The 1978 class of 35 astronauts included six women. Sally Ride, the first U.S. woman in space, was among them. The class also included Judith Resnik, an electrical engineer who died on her second spaceflight in the Challenger shuttle explosion; Shannon Lucid, a biochemist; Margaret Rhea Seddon, a physician; Anna Fisher, a chemist and physician; and Kathryn Sullivan, a geologist.
Whitson went to a liberal arts college in southeastern Iowa — Iowa Wesleyan College — and ended up double majoring in biology and chemistry. The small school "had only one class in biochemistry, which I took my final year, and I just fell in love with it," she says. After college, Whitson's academic adviser suggested medical school, but, Whitson recalls with a chuckle, "I really felt like research was more up my alley."
Whitson earned her Ph.D. from Rice University in Houston, where she studied the thermodynamics of lac operon repression and the influence of DNA supercoiling on transcription in the lab of Kathleen Matthews, the winner of the 2015 ASBMB William C. Rose Award. After finishing her Ph.D., Whitson went to work at the nearby Johnson Space Center as a research biochemist.
There, Whitson performed molecular biology research studying tissue culture. She also studied urine biochemistry, focusing on the increased risk of forming kidney stones during spaceflight. This risk is caused by excess calcium and phosphate present in the urine due to the microgravity bone demineralization process. A potassium citrate therapy she developed is used today as an on-orbit countermeasure in those astronauts with a propensity to form kidney stones. Whitson went to the Johnson Space Center specifically because the work was directly applicable to the astronauts, and she hoped she might become an astronaut.
Portrait of Peggy A. Whitson.
IMAGES COURTESY OF NASA
'Watching the world go by'
In 1996, after almost 10 years working at the Johnson Space Center, Whitson's chance came. She was selected as a member of NASA's 16th class of astronauts. "I got lucky!" she explains humbly. "With thousands of applications for every position, there's got to be some luck involved." After years of training and evaluation, she was selected for International Space Station Expedition 5. Whitson left Earth for the first time on June 5, 2002.
Whitson recalls her two six-month tours in space rather wistfully. "Being outside the atmosphere, watching the world go by, going around the Earth in 90 minutes, all of that … is incredibly awe-inspiring." She continues: "It was a blast for me, because I enjoy being the hands of different investigators and making their experiments work on orbit."
Whitson was involved with many experiments while going 17,500 mph. An electrostatic microencapsulation technique she worked on is now used in a drug-targeting clinical trial. Whitson also grew soybeans in microgravity for the Pioneer seed company, which indirectly led to the development of Airocide, an air purifier now used in some operating rooms on Earth. Whitson also continued her own studies on the effects of microgravity bone demineralization on kidney stones — using herself as one of the 18 subjects.
One of Whitson's favorite experiments started — like many other breakthroughs – with an accident. She was studying the electric field-induced phase transitions of a colloidal iron solution for investigators at the University of Delaware. "One day, I put in the frequency for the electromagnet at 2 Hz instead of 20 because my eyes were getting a little old and they didn't see the decimal point," she says with a little laugh. Instead of forming a solid structure, it made this wave-form structure. "It was not something that they had ever observed on the ground."
GeneLab
GeneLab, a new NASA research program, will study the epigenomic, transcriptomic, proteomic and metabolomic changes of various common model organisms upon adapting to space. The model organisms to be studied include bacteria, yeast, plants, fish, mice and even common cell cultures. NASA is set to begin acquiring the data next year, so likely Whitson will be quite involved in the unprecedented high-throughput accumulation of biomolecular data.
These revolutionary studies are bound to experience some difficulties as part and parcel of doing research in microgravity. Since the U.S. space shuttles have been retired, the model organisms — along with other experimental material, food, ISS parts and care packages from home – will reach the station via various unmanned cargo vehicles.
Whitson explains that the U.S. laboratory module is designed to "plug and play" many different kinds of experiments, so the technical differences between studying mice and Saccharomyces cerevisiae won't pose much of a challenge. However, other experimental challenges do include needing to tether or Velcro everything down so little pieces don't float away and dealing with differences in fluid dynamics in microgravity, Whitson mentions. Even the humble pipette has difficulties in microgravity, requiring "technique development to make sure you don't do it too quickly, because you'll get air bubbles," Whitson explains.
Once the model organisms are grown on orbit in the desired amount of time — including multiple generations for some organisms — the biological samples will be harvested and preserved at -80 degrees Celsius. These biological samples will need to be brought back on the commercial unmanned cargo vehicle Dragon, which was developed by SpaceX, as it is the only cargo vehicle that survives reentry, or in the limited cargo room in the Russian spacecraft Soyuz. Once the biological samples have been returned, they will be processed with relevant ground controls and the DNA, RNA, proteins and metabolites will be extracted and analyzed. The vast databases of microgravity-induced changes will be available to researchers all over the globe to compare with their Earth-bound cousins.
'Really looking forward to going back'
Spending so much time on the International Space Station comes with some personal challenges too. "I know our folks have done just a tremendous job trying to make food as palatable as possible, but the lack of variety after a while is probably the most challenging part in my mind," Whitson says. While being away for six months is hard, with the satellite phone and the "pretty slow" Internet, she never felt isolated.
Those challenges aside, Whitson is excited to be a member of six-month long Expedition 50 in late 2016. "I'm really looking forward to going back up there." On her last two trips, she enjoyed being on the station long enough to feel like it was her home and her lab. One of the changes that excites Whitson the most is the new Cupola, a seven-window dome attached to the U.S. node Tranquility, which provides "a 360-degree view looking down onto the Earth, which I think will be quite spectacular," Whitson says.
Enjoy reading ASBMB Today?
Become a member to receive the print edition monthly and the digital edition weekly.
Learn more
Get the latest from ASBMB Today
Enter your email address, and we'll send you a weekly email with recent articles, interviews and more.
Latest in People
People highlights or most popular articles