In Memoriam
In memoriam: Peter Geiduschek
Peter Geiduschek, a pioneering researcher in DNA structure and gene expression at the University of California, San Diego and a member of the American Society for Biochemistry and Molecular Biology since 1963, died April 8, 2022, just shy of his 94th birthday, the ASBMB learned recently.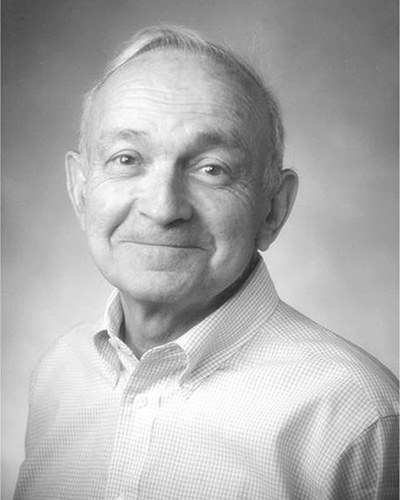 Peter Geiduschek
Geiduschek was born April 11, 1928, in Vienna. In 1939, after the Nazis annexed Austria, he was among the Jewish children transported to safety in England. There he earned his school certificate before rejoining his parents who had fled to New York. He completed his undergraduate degree in chemistry at Columbia University and earned his Ph.D. in physical chemistry at Harvard University.
After serving two years in the U.S. Army at the biochemistry department of Walter Reed Hospital in Washington, D.C. and working for the Committee on Biophysics at the University of Chicago for a decade, he joined the faculty at UC San Diego in 1970, where he remained until his retirement in 2014.
Geiduschek's research focused on genetic and transcriptional regulation in phages, yeast and archaea. He made seminal contributions to the field's understanding of the physical properties of DNA. Specifically, he was the first to show that DNA denaturation is reversible and he coined the term "chaotropic," which is used today to describe how salts can destabilize DNA and its hydrogen bonds by displacing water. In addition, his findings helped elucidate how viruses take over host machinery. Geiduschek also made major discoveries on RNA polymerases and the mechanisms of transfer RNA synthesis.
He was an elected member of the National Academy of Sciences and the American Academy of Arts and Sciences and a fellow of the American Association for the Advancement of Science and the American Academy of Microbiology.
In Geiduschek's UC San Diego obituary, James T. Kadonaga wrote: "(W)ith his wit, charm and warm and caring personality, he was a much-loved colleague. We thus honor and will fondly remember a remarkable and singular individual who has provided much of the basic knowledge of DNA and gene expression that we enjoy today and significantly and selflessly contributed to the establishment of UC San Diego as one of the premier research universities in the world."
Enjoy reading ASBMB Today?
Become a member to receive the print edition monthly and the digital edition weekly.
Learn more
Get the latest from ASBMB Today
Enter your email address, and we'll send you a weekly email with recent articles, interviews and more.
Latest in People
People highlights or most popular articles