In Memoriam
In memoriam: Paul Berg
Paul Berg, a Nobel Prize winner, a pioneer in the field of genetic engineering and a past president of what would become the American Society for Biochemistry and Molecular Biology, died Feb. 15 at age 96. He had been living on the campus of Stanford University, where he was an emeritus professor.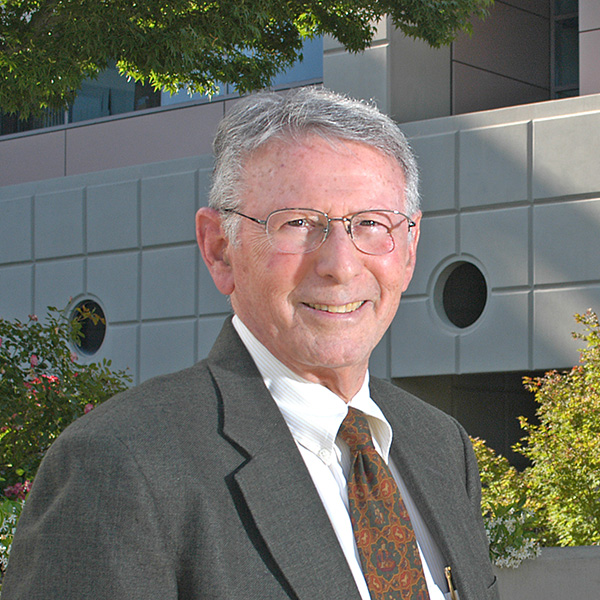 Paul Berg was a founding member of the biochemistry department at the Stanford University School of Medicine.
Berg joined the American Society of Biological Chemists, forerunner of the ASBMB, in 1955 and served in 1975 as the society's 52nd president.
A 1972 study on insertion of DNA from the E. coli bacterium into the animal virus SV40 was a milestone for Berg's career and for science. This first-known instance of recombinant DNA launched the field of genetic engineering. Resulting medical advances have included hepatitis vaccines, synthetic insulin and human growth hormone.
The work also won Berg the 1980 Nobel Prize in chemistry, which he shared with two other scientists, Walter Gilbert and Frederick Sanger. Berg was aware of public concerns about the new knowledge.
"The recombinant DNA breakthrough has provided us with a new and powerful approach to the questions that have intrigued and plagued man for centuries," Berg said in his Nobel acceptance speech. "I, for one, would not shrink from that challenge."
Berg also took part in the ethical debate over recombinant DNA. He had helped organize the 1975 Asilomar conference in California on the potential perils of the new technology. The meeting of some 140 international scientists set early standards for genetic research, with an eye to safeguarding public health.
Later, in a 2008 article in the journal Nature, Berg argued that profit motives, along with deeply held religious and ethical beliefs, make regulating research difficult: "(T)he best way to respond to concerns created by emerging knowledge or early-stage technologies is for scientists from publicly-funded institutions to find common cause with the wider public about the best way to regulate — as early as possible. Once scientists from corporations begin to dominate the research enterprise, it will simply be too late."
Berg was born June 30, 1926, in Brooklyn, New York. His parents were Jewish immigrants from Russia; his father worked in the garment business and his mother was a homemaker. After trying unsuccessfully to enlist at age 17 as a pilot, the younger Berg served on Navy vessels during World War II.
He earned his bachelor's degree in biochemistry from Pennsylvania State University in 1948 and his doctorate from Western Reserve University in 1952. A one-year postdoctoral stint in Copenhagen took him to the Institute of Cytophysiology where he and Wolfgang Joklik discovered a new enzyme that created the nucleoside triphosphates, building blocks of nucleic acids.
Berg returned to the United States to study with Arthur Kornberg at the Washington University School of Medicine in St. Louis. In Kornberg's lab, Berg discovered acyl adenylates, intermediates in the formation of fatty acyl-CoAs from fatty acids, ATP and CoA and went on to serve as assistant professor of microbiology at Wash U.
Kornberg asked Berg to join him on the faculty of the Stanford School of Medicine in 1959, as it was moving into its current Palo Alto campus and expanding research efforts. The two helped launch the biochemistry department, which Berg chaired from 1968 to 1974,
During the Vietnam War, Berg's popular biochemistry class drew a mix of students, including some who had enrolled in medical school to avoid the draft, according to a 2023 retrospective in Stanford Medicine.
In 1971, that class inspired a 13-minute film, "Protein Synthesis: An Epic on the Cellular Level." The student-produced "molecular happening" featured costumed, body-painted dancers on a grassy field representing amino acids, ribosomes and tRNA. Berg provided some of the funding and narration.
In the 1980s, Berg's efforts to establish the Beckman Center for Molecular and Genetic Medicine at Stanford drew $50 million in donations. The center opened its doors in 1989, and he was its first director until 2000.
Berg married Mildred Levy in 1947; she died in 2021. Survivors include their son, John.
John Berg told reporter Emily Moskal of Stanford University that his father "was never looking to be famous, he was never looking to win the Nobel Prize; he just did what he did because he loved it."


Enjoy reading ASBMB Today?
Become a member to receive the print edition monthly and the digital edition weekly.
Learn more
Get the latest from ASBMB Today
Enter your email address, and we'll send you a weekly email with recent articles, interviews and more.
Latest in People
People highlights or most popular articles