Annual Meeting
What indirectly links brain disease to COVID-19?
Meet a JBC Herbert Tabor Early Career Investigator Award winner
Armin Bayati's undergraduate years cemented his dual fascination with biology and the brain.
Bayati earned a bachelor's degree in biology and psychology with distinction at the University of Victoria in British Columbia, where he worked at a medical sciences lab and started doing electron microscopy, a technique used to capture high-resolution images of a variety of specimens, such as cells and biopsy samples. He became intrigued by cellular functions and structures.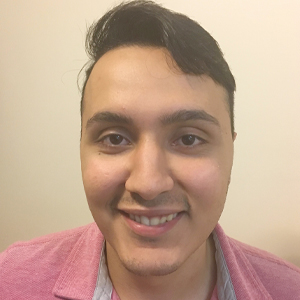 Armin Bayati
At the same time, Bayati worked at Saint Joseph's Hospital as an activity coordinator for patients with a variety of disorders, the most common symptom being dementia. Witnessing the cognitive decline of patients with nervous system disorders got him interested in neuroscience. "A lot of what affects the elderly's independence is neurological disorders, such as dementia, Alzheimer's, or movement disorders like Parkinson's and Huntington's disease," he said. "So that's where my interest in the neurological aspects of things comes in."
These experiences led Bayati to study the biological mechanisms behind neurodegenerative disorders at a cellular level. Now a Ph.D. candidate at the Montréal Neurological Institute and Hospital at McGill University, he works in Peter McPherson's lab, where his research focuses on alpha-synuclein, a neuronal protein linked to Parkinson's disease and other disorders. He investigates how the pathological form of alpha-synuclein is brought into cells and what type of endocytosis occurs.
Bayati recently has used his expertise in endocytosis to study the virus that causes COVID-19. "We were looking at how pathological alpha-synuclein enters the cell," he said. "The problem with COVID was the same thing. How does the virus enter the cell? It would be the same kind of experiments as we'd do for looking at the internalization of alpha-synuclein, but then I applied it to finding how the spike protein enters the cell."
Getting the spike protein into the cell
Understanding mechanisms of SARS-CoV-2 cellular entry is vital, as antiviral strategies targeting early stages of COVID-19 infection can be highly effective. Researchers know that the virus first uses its spike protein to interact with the cell's surface by binding to the ACE2 receptor on the plasma membrane. Next, SARS-CoV-2 likely is brought into the cell, but it's unclear how.
In a study in the Journal of Biological Chemistry, researchers at McGill University found that SARS-CoV-2 enters the cell via clathrin-mediated endocytosis, where the scaffold protein clathrin aids in packaging material into vesicles. In this study, purified spike protein and altered lentivirus bearing spike protein were used. The internalization of the spike protein into cells was examined and quantified.
Studies with purified spike showed that spike protein rapidly entered cells expressing ACE2 via endocytosis. When drugs known to block clathrin-mediated endocytosis were introduced, or when the expression of clathrin heavy chain was reduced, the cellular uptake of spike decreased dramatically.
Bayati devised the assay for spike protein uptake, which the team initially had trouble getting to work. Ideally, a fluorescently labeled spike protein would be used, but due to COVID-19 closures and a scarcity of available spike proteins, this wasn't possible. Bayati thought of using spike protein with a His6 epitope tag on it instead. With this, they were able to follow protein uptake using antibodies.
Enjoy reading ASBMB Today?
Become a member to receive the print edition monthly and the digital edition weekly.
Learn more
Get the latest from ASBMB Today
Enter your email address, and we'll send you a weekly email with recent articles, interviews and more.
Latest in People
People highlights or most popular articles