Award
Skiniotis has 'outstanding talent,' 'technical prowess'
He won the ASBMB's Earl and Thressa Stadtman Scholar Award
Georgios Skiniotis, associate professor of biological chemistry at the University of Michigan Life Sciences Institute and the University of Michigan Medical School, is the co-winner of the 2016 American Society for Biochemistry and Molecular Biology Earl and Thressa Stadtman Scholar Award for his innovative use of electron microscopy. The award, given every other year, honors outstanding researchers with fewer than 10 years of post-postdoctoral experience.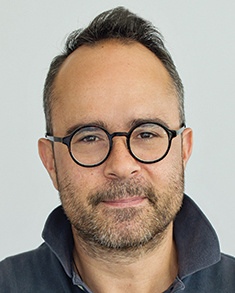 "It's an honor for our lab to receive an award named after such pioneers as Earl and Thressa Stadtman. Cryo-EM is a fast evolving technology poised to shed light on the mechanisms underlying complex cellular processes; in its application we strive to embody and transmit the tradition of excellent basic science and passion for discovery that is the Stadtmans' legacy." — Georgios Skiniotis
To initiate intracellular signaling, G-protein–coupled receptors, or GPCRs, on the surface of our cells transmit diverse information, such as hormones, neurotransmitters and light from our environment. Skiniotis pioneered the use of single-particle electron microscopy, or EM, to study GPCRs in complex with their cognate G proteins. These structures were groundbreaking in terms of both the small size of the analyzed proteins and the surprising amount of movement within the receptor-bound G protein.
In her letter nominating Skiniotis for the award, colleague Janet L. Smith at the University of Michigan said Skiniotis' "rare combination of outstanding talent in biochemistry and technical prowess with electron microscopy has allowed him to push the boundaries of EM analysis and obtain structural information from molecules and assemblies formerly considered too small for single particle reconstruction." She added that he has also "fearlessly tackled problems of great biological and chemical importance."
Skiniotis' work has important implications for human disease, because understanding the structural mechanism behind GPCRs allows for the development of novel therapies that target these receptors.
During his dissertation work at the European Molecular Biology Laboratory, Skiniotis developed a novel technique for labeling proteins for cryo-EM analysis. He used this technique to study the movement and processivity of the motor protein kinesin. He demonstrated that tubulin is not just a track for kinesin but rather actively modulates kinesin movement.
Most recently, Skiniotis applied his EM expertise to better understand polyketide synthesis by the multidomain polyketide synthases, or PKSs. Polyketides are naturally produced and structurally complex compounds. Many polyketides have antimicrobial, antifungal or immunosuppressant activity, and nearly a third of pharmaceuticals are based on or inspired by polyketides. By understanding the mechanism behind these polyketide factories, it may be possible to bioengineer PKSs to create novel antibiotics.
Skiniotis recently published a stunning series of structures of a PKS module in the journal Nature. In his letter supporting Skiniotis' nomination, Stephen Harrison at Harvard Medical School, who interacted with Skiniotis when the latter was a postdoctoral fellow at the school, described the series as "triumphs of structural biology." The structures not only represent the complete enzymatic cycle of a full PKS module for the first time but also detail an unexpected architecture. Unlike the related mammalian fatty acid synthase, the bacterial PKS module forms an arch-shaped dimer that creates a single chamber for the acyl carrier protein to deliver its substrate to the different active sites within the module.
Skiniotis adds the Earl and Thressa Stadtman Scholar Award to an already impressive résumé. He was named a Pew Scholar in Biomedical Sciences in 2011 and received the Presidential Early Career Award for Scientists and Engineers in 2012.
Watch his award lecture, "Molecular choreography of an antibiotic assembly line," below.
Join the ASBMB Today mailing list
Sign up to get updates on articles, interviews and events.
Latest in People
People highlights or most popular articles