Student Chapters
Undergraduate research award winners reflect on their work
One award offered to Student Chapter members is the Undergraduate Research Award, which grants $1,000 to support each awardee's summer research project. The deadline for this year's award is March 5. Applicants must submit a research statement that includes details of the methods used for data collection and a clear summary of the proposed project.
In her summer project, Helen Karimi of Wesleyan University studied short-lived catalytic intermediates.
Courtesy of Helen Karimi
Undergraduate students who are members of the American Society for Biochemistry and Molecular Biology's Student Chapters program have several opportunities to apply for awards and scholarships exclusive to the program.
In 2018, a dozen undergraduates at colleges and universities around the country received these awards. We asked some of them to summarize their summer research projects.
Alicia Bostwick, Hope College:
My research looks into the regulation of mitochondrial DNA transcription. Certain proteins called nucleoid proteins play key roles in this process, and I am investigating whether post-translational modification of these proteins regulates levels of transcription. This summer, I purified key wild-type and mutant nucleoid proteins, including the mitochondrial RNA polymerase. My mutant proteins of interest have replacement amino acids at specific sites that mimic post-translational modification of the protein at that site. Going forward, I am measuring the effects of these modifications on the proteins' ability to bind mitochondrial DNA and promote transcription.

Allie Larson, Bemidji State University:
Chemotherapy drugs remain the standard combative therapy utilized in ovarian cancer treatment. However, the usefulness of these drugs can be compromised by their side effects. The focus of my summer project aimed to alleviate such a phenomenon. We believe that the coupling of chemotherapeutic medications with an NHE1 protein inhibitor will induce a synergistic effect. This relationship would allow for a reduction in the administered drug dosage and subsequently patient discomfort.

Nicholas Jodush, St. Bonaventure University:
My summer research involved the Arabidopsis thaliana splicing protein SR45. I began by purifying the RNA recognition motif of the protein. I then used this to test potential RNA sequences it may bind to.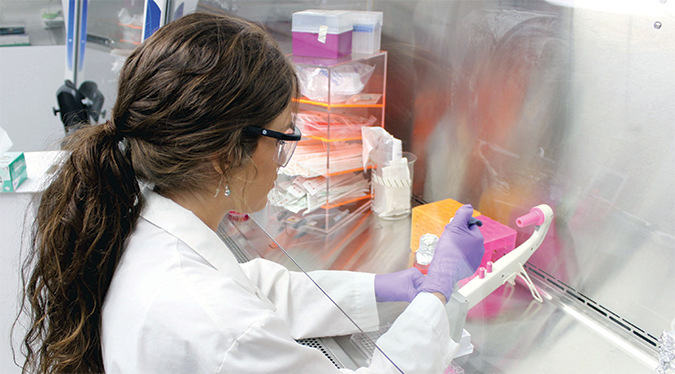 Courtesy of Allie Larson
In her summer research project, Allie Larson of Bemidji State University investigated the hypothesis that coupling
chemotherapeutic medications for cancer with an NHE1 protein inhibitor would induce a synergistic
effect, allowing for a reduction in drug dosage, decreasing patient discomfort.
Caitlyn Turner, Trinity University:
My summer research objective was to discover key residues in Dib1, an essential splicing protein, to further understand its function and importance in splicing. To achieve this, I constructed a random mutant Dib1 plasmid library and performed yeast temperature sensitivity screens via replica plating in order to analyze the effect the mutations have on cell viability. When creating the library, I synthesized randomly mutagenized megaprimers and with them performed PCR oligonucleotide-directed mutagenesis on DIB1 plasmids. Then, I carried out large-scale screens by transforming the plasmid library into yeast and growing them at lower and higher than optimal temperatures. From these cultures, I identified phenotypically different colonies that possibly obtain a temperature-sensitive Dib1 mutation that causes a loss of an important splicing interaction.

Colin Raposo, Tufts University:
Our lab is broadly interested in the variety of roles that repetitive proteins play in organisms across taxa. My project specifically is focused on epithelial adhesin 1 (Epa1p), an adhesin on the surface of Candida glabrata responsible for the binding to host cells, and how variation in this protein's repetitive region relates to virulence. We have found that Epa1p contains variable copy numbers between three and ten tandem repeats of a 40-amino acid region in its linker domain located between its cell wall anchor and lectinlike epithelial cell binding domain. We have utilized transgenic expression in the related yeast Saccharomyces cerevisiae to study the relation of repeat copy number to protein function and have identified a link between surface display of Epa1p and repeat copy number, which we have hypothesized to be a result of variable post-translational processing and cell wall linkage of Epa1p.

Charya Khun, Wesleyan University:
Of the many proteins involved in the maintenance of genomic stability of prokaryotes, HU is of interest, as it is highly conserved in prokaryotic organisms and is involved in many fundamental cellular processes including bacterial recombination, transcription, replication and nucleoid packaging. HU binds DNA four-way junctions with nanomolar affinity, and we are interested in understanding the elements of recognition for this non-sequence-specific DNA-binding protein. Using distance constraints obtained from FRET experiments, we have generated a structural model of the HU-junction interaction, which we want to confirm by generating a crystal structure of HU in complex with a Holliday junction. Our investigation aims to determine the ideal crystallization conditions in which to grow the protein-DNA crystals so that we can determine the 3D structure of the HU-junction interaction using X-ray diffraction.
Additional 2018 award recipients were Lokeshwar Bhenderu, University of Texas at Dallas; Tiana Fleming-Hogan, Duquesne University; Aravinda Ganapathy, Saint Louis University; Helen Karimi, Wesleyan University; Elliot Lowe, Towson University; and Grant Tillinghast, Wesleyan University.
For information on the 2019 Undergraduate Research Award program, visit the Student Chapters page or email Stephanie Paxson.
Enjoy reading ASBMB Today?
Become a member to receive the print edition monthly and the digital edition weekly.
Learn more
Get the latest from ASBMB Today
Enter your email address, and we'll send you a weekly email with recent articles, interviews and more.
Latest in People
People highlights or most popular articles