Member News
Chang has made the WWOX gene
his life's work
The National Institute on Aging announced last year that a study of more than 94,000 people had identified five new risk genes for Alzheimer's disease. One of the five was the WW domain-containing oxidoreductase, or WWOX, gene, which codes for the cytoplasmic WWOX protein, a tumor suppressor involved in apoptosis.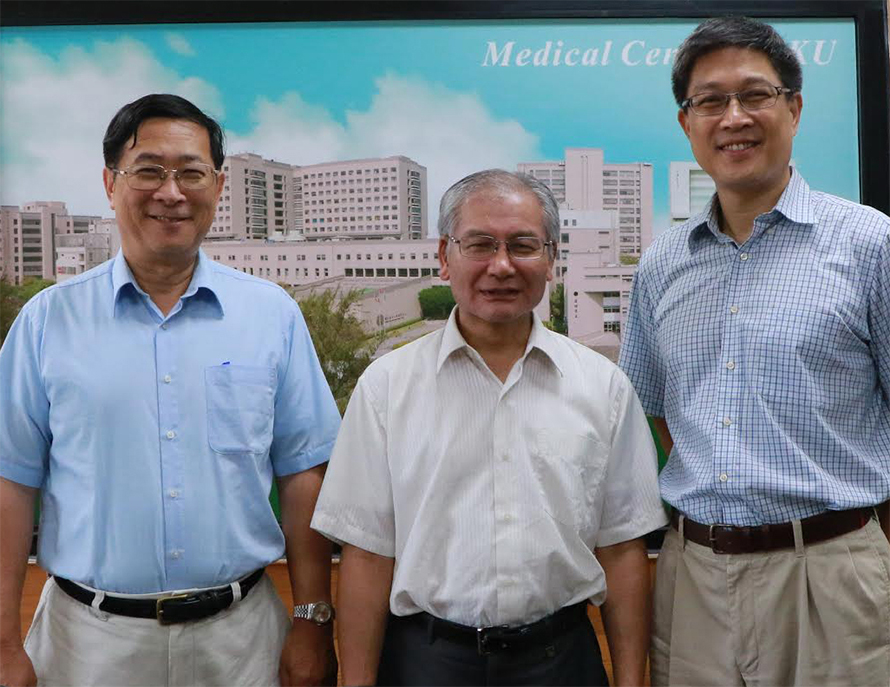 Courtesy of Nan-Shan Chang
Nan-Shan Chang (center) discovered the connection between WWOX and neurodegeneration through collaboration with two college classmates, neuroscientists Shur-Tzu (Su) Chen (not pictured), who died in 2015, and Chun-I Sze (left). Yu-Min Kuo (right) collaborates with Chang on a project studying the role of Zfra in Alzheimer's disease.
The importance of WWOX to Alzheimer's disease wasn't news to Nan-Shan Chang, a biochemist and immunologist at the National Cheng Kung University in Taiwan. Chang was involved in the initial cloning of the WWOX gene in the 1990s and since then has been studying the role of WWOX in both cancer and neurodegeneration. Chang is thrilled about the publicity around WWOX and neurodegeneration and said he hopes the "announcement encourages momentum, competition, collaborations, and new directions in WWOX research."
When Chang was ready to start college, his older brother told him that he'd make more money with a degree in food science, but Chang chose to follow his interests and study biology at the National Taiwan Normal University. He then earned a Ph.D. in immunology at the Medical University of South Carolina and completed his postdoctoral work in immunobiology at the Samuel Roberts Noble Foundation in Oklahoma.
While working as associate scientist and lab director at the Guthrie Research Institute in Pennsylvania, Chang became interested in the sensitivity of cancer cells to tumor necrosis factor, or TNF. At the time, scientists around the world were in what Chang described as a "crazy hot race to understand how WWOX works in cancer suppression," which was fueled by the WWOX gene's localization on a common chromosomal fragile site.
By functional cloning, we caught the fish — WWOX. It took us five years.
Though Chang's lab frequently numbered fewer than five people, his team was one of three to report independently the cloning of WWOX in the Journal of Biological Chemistry in 2001. He described his research journey in a recent interview: "I was interested in understanding why certain cancer cells resist TNF cytotoxicity. I noticed that cancer cells secrete large amounts of hyaluronan and hyaluronidase in order to metastasize. Hyaluronidase increases the expression of tumor suppressor WWOX in cancer cells, thereby rendering them sensitive to TNF toxicity. By functional cloning, we caught the fish — WWOX. It took us five years."
Chang's paper explored how hyaluronidase contributes to the cytotoxicity of TNF; it linked hyaluronidase exposure to increased expression of a small protein dubbed WWOX. The paper reported the isolation of WWOX and established that the protein mediates the cytotoxicity of TNF by upregulating the tumor protein p53 and downregulating mitochondrial proteins that block apoptosis.
Chang discovered the connection between WWOX and neurodegeneration through collaboration with two classmates and friends from his undergraduate days in Taiwan, neuroscientists Chun-I Sze and Shur-Tzu (Su) Chen. They had heard the hype about WWOX and wondered whether the small but potent protein might play a role in neurons. The team looked for WWOX in developing and adult mice and found that the protein was expressed. They characterized WWOX expression in postmortem healthy and diseased human brain tissue and found that it was significantly downregulated in Alzheimer's. To follow up on this observation, the research team used siRNA technology to knock down WWOX expression in cells; to their amazement, this treatment led to the phosphorylation of the tau protein, a state implicated in the formation of Alzheimer's signature neurofibrillary tangles. These studies produced another Journal of Biological Chemistry article in 2004. This early work on the role of WWOX in Alzheimer's was cited in the Nature Genetics paper highlighted in the National Institute on Aging's announcement about the five new Alzheimer's risk factors.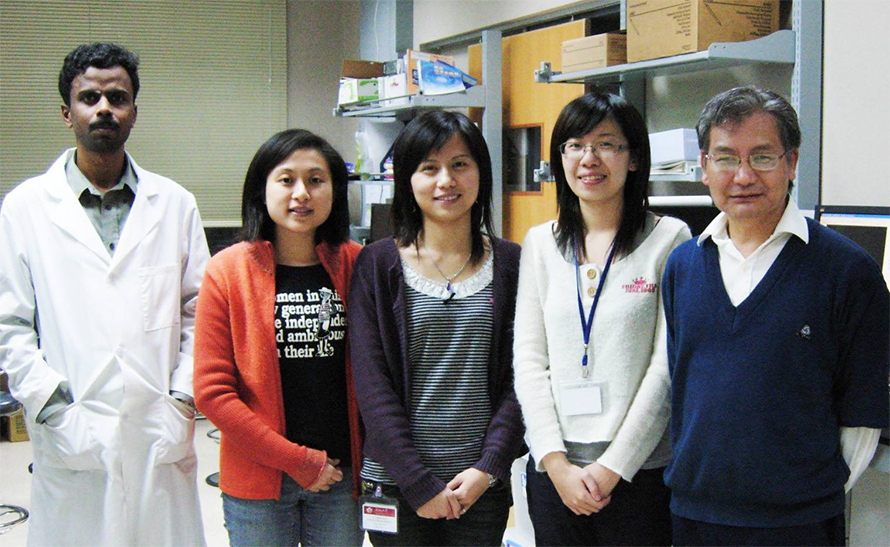 Courtesy of Nan-Shan Chang
Nan-Shan Chang, right, an ASBMB member for almost 20 years, has mentored many students and postdocs. Also pictured in this 2009 photo are, from left, postdoc Dudekula Subhan, technicians Ming-Hui Esti Lee and Sing-Ru Lin, and master student Jean-Yun Chang. Chang's mentees Li-Jin Hsu, Jean-Yun Chang, Annie Su, Yongda Sie and Charlene Kuo won travel awards to the 2005, 2009, 2012, 2015, and 2017 ASBMB annual meetings, respectively; Kuo also gave an invited talk at an ASBMB mini-symposium in 2017. Another mentee, Tsung-Yun Tom Liu, will give an invited talk at Experimental Biology 2020.
In November 2006, Chang moved his laboratory to National Chang Kung University in Tainan, Taiwan, so he could care for his ailing father. His move prompted new collaborations with groups studying WWOX in immunology, dermatology and cancer, and Chang remains committed to his craft, frequently logging 16-hour days in the lab.
The Chang lab now studies WWOX and Zfra, another small protein involved in the TNF signaling pathway. The team examines how WWOX and Zfra expression, trafficking and phosphorylation influence cancer and neurodegeneration. Both proteins have proven particularly challenging to isolate, clone and characterize, but Chang hopes that hard work and time will overcome these obstacles to elucidating a more complete understanding of the role of WWOX in cancer and neurodegeneration.
Enjoy reading ASBMB Today?
Become a member to receive the print edition monthly and the digital edition weekly.
Learn more
Get the latest from ASBMB Today
Enter your email address, and we'll send you a weekly email with recent articles, interviews and more.
Latest in People
People highlights or most popular articles