Member News
Inventors academy names fellows; Rylaarsdam is new Bethel provost
Inventors academy names fellows
Six members of the American Society for Biochemistry and Molecular Biology are among the 175 individuals named as 2020 fellows of the National Academy of Inventors.
The NAI describes its fellows as academic inventors who have demonstrated a spirit of innovation in creating or facilitating outstanding inventions that have made a tangible impact on quality of life, economic development and the welfare of society.
The six ASBMB members recently named fellows of the National Academy of Inventors are, top row left to right,Sachdev Sidhu, Mitzi Nagarkatt and Michael Jewett; bottom row, left to right, Robert Desnick, Irwin Chaiken and Carol Greider.
Irwin Chaiken is a professor in the department of biochemistry and molecular biology at Drexel University. He holds a Ph.D. in biological chemistry from the University of California, Los Angeles. His lab studies molecular and structural mechanisms of protein recognition and antagonism, with a current focus on the protein machine that controls HIV-1 cell entry into host cells.
Robert Desnick is the dean for genetics and genomic medicine, professor and chair emeritus of genetics and genomic sciences, and a professor of pediatrics, oncological sciences and obstetrics, gynecology and reproductive science at the Icahn School of Medicine at Mount Sinai. He holds an MD from the University of Minnesota Medical School. His lab works to identify variations in human genes responsible for the metabolism of drugs and studies the pathogenesis and treatment of lysosomal storage diseases and inhertited porphyrias.
Carol Greider is a distinguished professor of molecular, cell and developmental biology at the University of California, Santa Cruz. She holds a Ph.D. in molecular biology from the University of California, Berkeley. Her lab is focused on understanding the dynamic interaction between telomeres and telomerase that establishes the telomere length equilibrium, using telomerase-deficient mice to recapitulate age-related degenerative disease seen in families with inherited telomere syndromes.
Michael Jewett is the Walter P. Murphy professor of chemical and biological engineering in the McCormick School of Engineering at Northwestern University. He holds a Ph.D. in chemical engineering from Stanford University. His lab focuses on engineering biological systems involved in protein synthesis and metabolism, including glycosylation, ribosome engineering, nonstandard biopolymers and cell-free metabolic engineering.
Mitzi Nagarkatt is the SmartState endowed chair of the Center for Cancer Drug Discovery and Carolina distinguished professor and chair in the department of pathology, microbiology and immunology at the University of South Carolina. She hold a Ph.D. from the Defense Research and Development Establishment in Gwalior, India. Her lab studies inflammation as the cause of disease, using epigenomic and genomic approaches as well as in silico modeling and ex vivo cultures for determining cellular and molecular mechanisms.
Sachdev Sidhu is a professor in the Donnelly Centre for Cellular and Biomedical Research at the University of Toronto. He holds a Ph.D. in biochemistry from Simon Fraser University, Burnaby, British Columbia. His lab studies the relationships between protein structure and function, using phage display in conjunction with high-throughput screening and sequencing to improve library diversities and the scaffolds used for protein display.
This class of fellows will be inducted at the 10th Annual Meeting of the National Academy of Inventors to be held June in Tampa, Florida.
Rylaarsdam becomes provost of Bethel University
Geneticist Robin Rylaarsdam, who until recently was the dean of arts and sciences at Saint Xavier University in Chicago, has been named provost of Bethel University, an evangelical Christian university in St. Paul, Minnesota, after a national search. As provost, she will oversee the education of all students and coordinate between student service offices; one provost at another university described the role as "chief academic officer."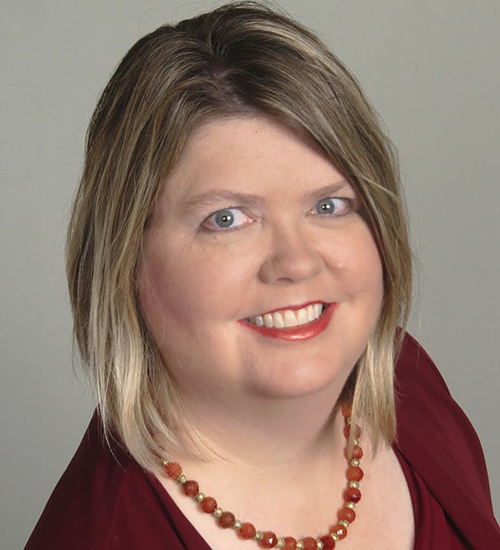 Robin Rylaarsdam
Rylaarsdam earned her Ph.D. at Northwestern University and conducted postdoctoral research at the University of Chicago and Northwestern studying signaling through G-protein-coupled receptors. She since has worked as a professor and administrator at several faith-based universities, spending five years at Trinity Christian College and 11 years at Benedictine University before accepting her most recent post at Saint Xavier Univeristy.
Rylaarsdam's lab studied G protein signaling, focusing on characterizing mutations to the Gsα protein that affect its function and can cause McCune–Albright syndrome. She has also become involved in pedagogical research, publishing on flipped classroom course designs, grading and other issues in undergraduate education.
Join the ASBMB Today mailing list
Sign up to get updates on articles, interviews and events.
Latest in People
People highlights or most popular articles