Student Chapters
What did you do last summer?
ASBMB Undergraduate Research Award recipients describe their research
It's never too early to start thinking about summer plans. Each year, the American Society for Biochemistry and Molecular Biology awards up to 12 $1,000 grants to support summer research by ASBMB Student Chapter members.
We asked our 2019 Undergraduate Research Award recipients to summarize their summer research projects and what they plan to do in the future. Seven of the 11 2019 recipients shared their stories, which have been edited for length and clarity.
Virginia Blackwell, University of Texas at Dallas
In Sheena D'Arcy's lab, I explored interactions between histone chaperone Nap1, the Taz2 domain of HAT p300 and linker histone H1. In particular, I investigated the possible formation of a ternary Taz2–Nap1–H1 complex.
My experience with full-time research taught me, more than anything, to have equal measures of patience and resilience. Some roadblocks take longer to resolve than others. Setting goals is a great exercise, but meeting goals is another matter entirely. Making progress toward those goals and resolving challenges along the way has been a satisfying experience and excellent opportunity for personal and professional growth.
I also had the good fortune to mentor a younger student while working on my project. This helped me learn that juggling priorities between bench work and other duties is a skill that takes practice to cultivate but is ultimately rewarding. I believe as much can be learned from sharing research with others as conducting the research itself. I am eager for more opportunities to mentor and educate in and out of lab.
I look forward to continuing with the characterization of members of the protein complex of interest. Continued work on this project includes identifying the key residues responsible for interactions between Nap1 and Taz2 and designing, cloning and purifying mutants to abolish binding.
Savannah Corradi, Bemidji State University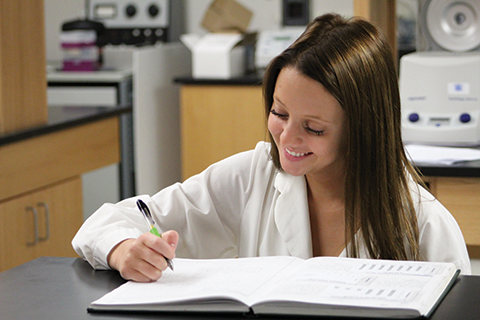 Courtesy of Savannah Corradi
For her summer research project in Mark Wallert's lab at Bemidji State University, Savannah Corradi tested a potential combination therapy in ovarian cancer cells.
The goal of my research in Mark Wallert's lab was to evaluate whether the combination of chemotherapeutic agent with an indirect NHE1 inhibitor could elicit a synergistic effect in ovarian cancer cells. This was previously shown through a reduction in proliferation rates. We did this work in a 3D environment, investigating the impact of these combination therapies in a spheroid assay for SKOV-3 and CAOV-3 cells. This new protocol provides a rapid and automated cell migration and cell invasion system in a highly reproducible standardized method. Combination therapies hold the potential to improve drug efficacy and patient experience. Specifically, this work could attenuate adverse side effects associated with chemotherapy.
This project remains the highlight of my summer and academic career, and I will continue to work on it through my junior and senior years of college. I will broaden my focus to both the direct and indirect inhibitors of NHE1 and their pairing mechanisms in ovarian cancer. I will focus primarily on completing spheroid assay profiles and an intracellular pH assay and creating NHE1 knockout cell lines for both CAOV-3 and SKOV-3 cells.
My summer experience is helping me build my scientific reputation and will help me reach my goal of a Ph.D. in biomedical science. I am vice president of the Bemidji State University ASBMB Student Chapter. As a Student Chapter member, I can present my research nationally at the annual meeting and locally in my community. My goal is to become a professor and have my own research lab to continue studying the role of NHE1 in a cancerous environment.
Ryan Fink, Monmouth University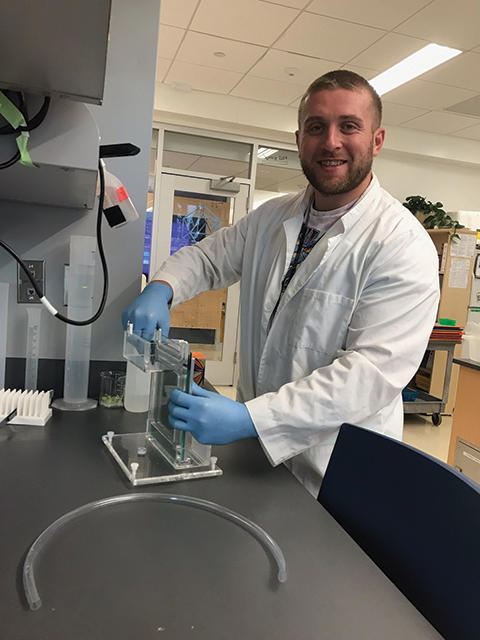 Courtesy of Ryan Fink
Ryan Fink gained confidence in his techniques, especially handling RNA and performing next-generation sequencing, during his summer project in Martin Hicks' lab at Monmouth University.
The project "Secondary structure analysis by SHAPE-MaP of the EGFR pre-mRNA transcripts: Uncovering novel regions for RNA anti-sense targeted therapy" allowed me to learn and master the fundamentals of molecular biology. I began with design and implementation of a gene therapy targeting EGFR followed by RNA transcription and modifying the RNA to reveal structural secrets about itself. Primarily, I gained confidence in my techniques, especially handling RNA and performing next-generation sequencing, which I now can carry into graduate school research labs. I believe that the ability to design an innovative project is an essential skill at the graduate level.
Through working with my mentor Martin Hicks and developing this project, my skills now include reading through literature to discover new and niche techniques and being able to read through a protocol and implement it in a lab setting. The future of this project is to continue developing another skill set through bioinformatics.
Going forward, I will continue to analyze data through a command-line program, ShapeMapper2. Follow-up experiments will include varying conditions to further validate the secondary structure. I hope this will lead to new insight for our gene therapy and produce figures in an upcoming paper.
Danielle Jamison, Trinity University
Courtesy of Danielle Jamison
Danielle Jamison's summer research project in Corina Maeder's lab at Trinity University focused on the interaction between the splicing protein Dib1 and U5 snRNA.
My research project focused on the interaction between the crucial splicing protein Dib1 and U5 snRNA. I made mutations in the conserved loop 1 of U5 snRNA at residues proposed to be the location of binding interactions in an attempt to disrupt this hypothesized interaction. This interaction and subsequent disruption could provide critical insight into the role of Dib1. Elucidating the role of this protein is a major goal for Corina Maeder's lab; we believe Dib1 may be acting as a linchpin to prevent premature splicing.
My project has expanded to consider also the broader interaction of Dib1 with spliceosomal components including the U5 snRNA. Due to its location in the heart of the precatalytic spliceosome, Dib1 can interact with numerous partners. Dib1 exhibits an intriguing property called autocleavage, which refers to its ability to cleave the last 13 amino acids from its own C-terminal tail. Dib1's autocleavage activity then may be a regulatory mechanism, allowing the tail to interact with its neighbors but then depart when necessary so the spliceosome can transition to be catalytically activated.
Through my experience, I learned many new techniques and different ways to approach the original hypothesis. There is still room for more work on my project, specifically creating the remaining mutations and creating the necessary haploid single knockout yeast strain. I intend to continue working toward obtaining the necessary yeast strain and the last mutations while simultaneously running autocleavage assays with new conditions. I am excited to examine further the role of Dib1 in pre-mRNA splicing.
How to apply
Applicants for the ASBMB Undergraduate Research Award must be current ASBMB Student Chapter members who will be doing a summer project in the lab of an ASBMB member.
Applicants must submit a research statement that includes details of the methods used for data collection and a clear summary of the proposed project.
The deadline for applications is March 4.
Meera Joshi, Wesleyan University
The Msh2–Msh6 protein complex is a member of the MutS family of proteins and is involved in postreplicative DNA mismatch repair. The protein diffuses along the DNA, specifically recognizing single base pair mismatches and small insertion/deletion loops. Recognition of a mismatch activates the recruiting of other proteins to repair the error.
Previous research in Ishita Mukerji's lab and by others has shown that Msh2–Msh6 binds DNA Holliday junctions, a central intermediate in the DNA repair and recombination pathway, with high affinity.
This summer, the Msh2–Msh6 protein purification method was improved in order to ensure the purification of pure, nondegraded, active protein. Our investigation aimed to understand the Msh2–Msh6-junction binding interaction by studying nucleotide utilization upon binding. By determining the rate of ATP hydrolysis and ATP and ADP binding, we understood how ATP is utilized in binding to DNA junctions. In particular, we addressed whether protein conformational changes are correlated with the ADP–ATP hydrolysis cycle and whether junction binding is an important Msh2–Msh6 function in mismatch repair.
My summer research experience has taught me not only valuable scientific skills but also the mindset needed to be a good researcher and troubleshoot problems that occur during research. It is important to have a creative approach that considers multiple angles to tackle problems and find solutions.
Ryan McCool, University of San Diego
This project in Jessica Bell's lab focused on the suppressor of IKK epsilon, or SIKE, a protein with unknown function in the dsRNA-activated TLR3 immune pathway. We did phosphomimetic studies based on replacing SIKE's six phosphorylated serine residues with phosphomimetic glutamates, or S6E SIKE, to further our understanding of the previously noted SIKE–tubulin interaction. We used size exclusion chromatography to determine that S6E SIKE experiences a shift from primarily dimeric to primarily monomeric species.
While no blatant alterations to secondary structure have been observed through circular dichroism studies, S6E SIKE loses its ability to renature to its initial state, as determined by thermal denaturation/renaturation assays. Through modeling of the phosphomimetic SIKE on the wild-type SIKE model, these alterations to quaternary structure have been attributed to an increase in negative charge density near SIKE's C terminus. This charge concentration also has suggested a possible site for the SIKE–tubulin interaction, specifically in the tubulin heterodimer's region of positive charge density. Although initialized to determine association and dissociation constants of the SIKE–tubulin interaction, surface plasmon resonance, or SPR, studies were hindered by nonspecific binding of tubulin to the SPR chips.
Future studies will attempt to reduce nonspecific binding, which currently may reduce our ability to detect SIKE–tubulin heterodimer interactions via SPR. Microtubule binding assays will test whether SIKE interacts with microtubules. Future studies will explore SIKE's effect on tubulin de/polymerization and map the surface of the SIKE–tubulin interaction via limited proteolysis coupled to liquid chromatography with tandem mass spectrometry.
Matthew Paal, St. Olaf College
Alcoholic fatty liver disease, or AFLD, is characterized by an increase in lipid droplet accumulation in the liver after acute ingestion of alcohol. If left untreated, AFLD can progress to cirrhotic liver, ultimately requiring a liver transplant.
In Laura Listenberger's lab, I examined how early changes to the structure of lipid droplets in AFLD could contribute to the progression of the disease. Specifically, I developed and utilized an in vitro assay to determine whether changes to the phospholipids at the surface of lipid droplets could impact protein binding. These experiments demonstrate that the relative levels of phosphatidylcholine and phosphatidylethanolamine (the two most prevalent classes of phospholipids) can impact association with perilipin 2, an abundant lipid droplet protein.
Through this experience, I developed a researcher's mindset. Mainly, I learned how to approach a problem from a scientific viewpoint through in-depth literature research on both topics and the methodology of prior experiments.
The most important thing I gained from this project was learning how to troubleshoot and move on from past mistakes. Performing research is rarely a straightforward road but rather a gravel trail full of potholes that requires critical thinking and carefully thought-out experiments.
More recipients
Courtesy of Destiny Paige
Destiny Paige received a 2019 Undergraduate Research Award for her work in Rajnish Singh's lab at Kennesaw State University.
Other 2019 Undergraduate Research Award recipients were Nana Aikins, working in Suzanne O'Handley's lab at the Rochester Institute of Technology; Josiah Byler, working in Nik Tsotakos' lab at Penn State; John Mullins, working in Tayo Odunuga's lab at Stephen F. Austin State University; and Destiny Paige, working in Rajnish Singh's lab at Kennesaw State University.
Enjoy reading ASBMB Today?
Become a member to receive the print edition monthly and the digital edition weekly.
Learn more
Get the latest from ASBMB Today
Enter your email address, and we'll send you a weekly email with recent articles, interviews and more.
Latest in People
People highlights or most popular articles