Profile
Student starts chapter to make science the focus
Nicki Nouri didn't grow up with a passion for science. While she knew she didn't share the same interests as some of her friends — like art or film — she wasn't set on one field of study.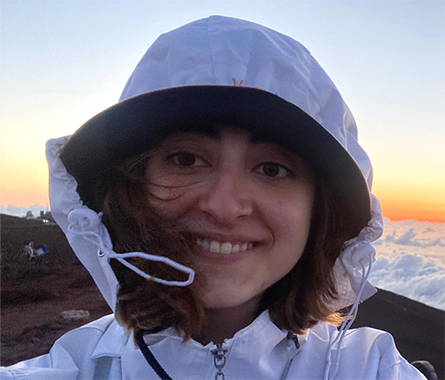 Courtesy of Nicki Nouri
Nicki Nouri, president of the ASBMB student chapter at the University of Illinois at Chicago, on a hike.
That changed the summer before her senior year of high school. After cold emailing researchers at the nearby University of Illinois at Chicago, she ended up connecting with Gonzalo Izaguirre, a research assistant professor in the college of dentistry. Because she was a minor, Nouri couldn't participate in lab research, but Izaguirre created a makeshift mentorship program that exposed her to the world of biochemistry through research using scientific databases and the literature.
"It was very eye opening for me and just fascinating," Nouri said. "He really inspired me to want to pursue science and opened the door for me."
After high school, Nouri chose to attend the University of Illinois at Chicago to pursue a degree in predental biology. She reached out to Izaguirre once on campus, and he told her to think about starting an American Society for Biochemistry and Molecular Biology Student Chapter at the school.
"We (had) a lot of pre-professional clubs, but nothing for specific topics of science or biochemistry," she said.
It began as a daunting task — Nouri was starting completely from scratch, without a blueprint from a previous president or past members. She asked people that she'd barely spoken to in her classes if they'd be interested in joining the executive board and slowly began to build a team.
"I really wanted to make sure it wasn't just something that goes on a resume," she said. "I had to figure out how to have meetings be meaningful and be something that students could come out of and feel like they gained something."
The chapter started having meetings in spring 2019 and was formally recognized in the fall. Meetings highlighted research opportunities and potential career paths and provided professional development, including guest speakers sharing their own career journeys.
The chapter also has hosted blood drives, organized biology experiment demonstrations with children at a nearby school, raised funds to provide lunches for frontline workers, and hosted a virtual symposium with high school students about the importance of mental health and well-being (with a biochemistry spin focusing on the neurological details of depression and anxiety).
Nouri remained chapter president until she graduated in December with a biology major and entrepreneurship minor. She then passed the reins to her co-presidents Sona Fokum and Simi Sharma (Izaguirre remains the chapter's faculty advisor).
Nouri said her time as an ASBMB Student Chapter president helped prepare her for a career in research.
"Founding and participating in ASBMB has significantly improved my time management and has allowed me to grow as a leader over the years," she said. "But most importantly, it really opened my eyes to what biochemistry is and what a career in that field can look like."
Nouri plans to pursue research positions with the ultimate goal of enrolling in a D.D.S./Ph.D. program. She hopes to combine a professional career focused on biochemical research with the dental care and patient interaction she has come to enjoy during her undergraduate studies.
Enjoy reading ASBMB Today?
Become a member to receive the print edition monthly and the digital edition weekly.
Learn more
Get the latest from ASBMB Today
Enter your email address, and we'll send you a weekly email with recent articles, interviews and more.
Latest in People
People highlights or most popular articles